Many homeowners dream of lounging by their in-ground pool, sipping a cocktail, and enjoying the warm summer breeze. But, unfortunately, this dream doesn't come cheap. So how much do inground pools cost?
Most homeowners pay between $28,000 and $55,000 for new in-ground pools. The average cost is somewhere around $35,500. Additional repairs and maintenance can easily add $2,500 and $5,000 annually. In-ground pools can increase property value, depending on the size, location, and market.
Don't let go of your dreams just yet. Constructing a new in-ground pool requires a lot of different considerations before you can start. Here's everything you need to know and more.
What is an In-ground Pool?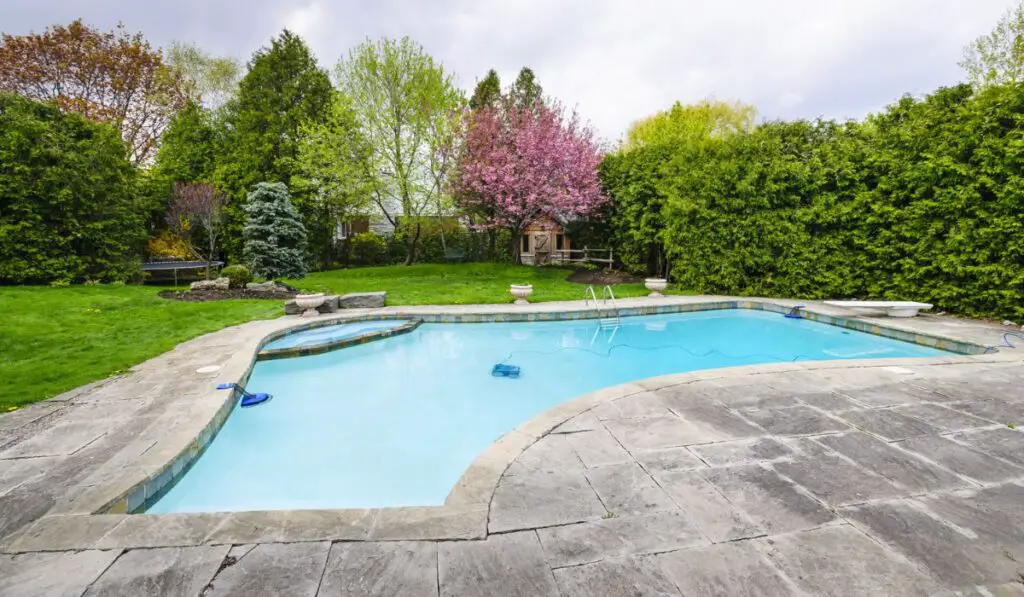 As the name suggests, In-ground pools are swimming pools built directly into the earth. In-ground pools are permanent fixtures and can be made from vinyl, fiberglass, or concrete. Vinyl pools are the most affordable, while concrete is the most expensive building material.
In-ground pool construction usually involves planning, excavating, setting the pool, backfilling, connecting equipment, and post-landscaping. As a result, in-ground pools are more expensive than above-ground options and cost around $35,500 on average.
How Long do In-ground Pools Last?
In-ground swimming pools are permanent fixtures that can sometimes last up to a lifetime. Most homeowners end up moving out before their in-ground pool is worn out.
In-ground swimming pools can last up to 20 years and even longer with proper maintenance. Here's a quick guideline for some of the most common in-ground pools and their lifespans:
Vinyl pools: This type typically lasts more than twenty years, but you will need to replace the liner every ten years.
Concrete pools: Concrete in-ground pools are made of more robust material and have a longer lifespan. The trick to ensuring a concrete pool lasts longer is resurfacing the concrete every ten years.
Fiberglass pools: These generally last the longest out of all in-ground pools. Plus, unlike the previous types, fiberglass pools rarely require any maintenance. Their nonporous surface enables them to stay in good condition for ages. Fiberglass pools could easily last up to 30 years.
Factors that Impact Lifespan
Other factors can impact the lifespan of an in-ground pool. An in-ground pools lifespan isn't entirely dependent on the material, and other factors may include:
Installation: Proper installation is vital, regardless of your pool type. If not done well, you risk your pool acting up, shortening its lifespan. Therefore, ensure the job is done by a professional.
Manufacturer: Manufacturers vary in terms of the products they sell. The expected lifespan will be cut short if the materials used to install your in-ground pool are substandard.
Maintenance: As previously mentioned, care is vital in ensuring your in-ground pool lasts longer.
How Much Does an In-ground Pool Cost
Several different factors impact the total cost of installing a new in-ground pool. Most homeowners pay between $28,000 and $55,000 for new in-ground pools. The average cost is somewhere around $35,000. Additional repairs and maintenance can easily add $2,500 and $5,000 annually.
Size
The size of the pool is one of the main factors that impact the total cost of construction. As you might expect, larger in-ground pools cost more than smaller projects. For example, homeowners pay between $50 to $100 per square foot to construct a typical 14′ by 28′ in-ground pool. Larger pools cost around $125 to $150 per square foot.
10×16 in-ground pools: $14,560 to $20,800
14×28 in-ground pools: $35,672 to $50,960
16×32 in-ground pools: $46,592 to $66,560
20×40 in-ground pools: $72,800 to $104,000
30×50 in-ground pools: $136,500 to $195,000
The average in-ground swimming pool is around 6.5 feet deep. However, head-first diving is recommended to be at least 9 feet by The Red Cross.
Material
The material dramatically impacts the total cost of a new in-ground pool installation. There are three pool materials, including vinyl, fiberglass, and concrete. Each material has advantages, disadvantages, and best-use cases.
Vinyl In-Ground Pools
Vinyl in-ground pools are typically the most affordable option. You might expect to pay between $24,000 to $45,000 to install a new vinyl in-ground pool. Vinyl is smooth to the feet and easily customizable. However, the vinyl liner must be replaced every seven to ten years, costing around $3,000 to $4,500.
Unlikely to develop algae on the surface.
Fast installation of two to five weeks.
Less maintenance-intensive.
Not as durable as other materials.
Vinyl isn't compatible with saltwater systems.
Sometimes less aesthetically appealing than other materials.
Vinyl needs to be replaced every seven to 10 years.
Fiberglass In-Ground Pools
Fiberglass pools are made of pre-built shells placed into an excavation site that matches the shape and size. Despite limited customization, homeowners prefer fiberglass for durability and fewer maintenance requirements. However, you can expect to pay $24,333 to $70,000 for a new fiberglass installation.
Installation time is less than two weeks.
It conserves heat better than other materials.
Compatible with salt water systems.
It doesn't require acid washing or replacement liners.
Typically does not need to be resurfaced.
Requires low amounts of electricity to run.
Shells usually measure no more than 16 feet across.
A slippery surface can cause accidents or injury.
You might need to resurface the gel coating, depending on the condition.
Most fiberglass inground pools don't require resurfacing. However, low-quality products treated with high quantities of chemicals will need resurfacing. Resurfacing in-ground fiberglass pools usually costs between $3,500 and $10,000.
Concrete In-Ground Pools
Concrete or gunite and shotcrete are the most expensive types of pool material. You can expect to pay between $31,000 and $71,700 to install a new concrete in-ground pool. However, you can shape concrete pools into nearly any design, and they last a lifetime.
Concrete can last over 50 years.
The shape, size, and design are fully customizable.
It is usually the most expensive pool type to install.
Extensive maintenance requirements.
Concrete needs high amounts of electricity and chemicals to stay in working order.
Susceptible to mold, algae, and other buildups.
The abrasive surface can make feet bleed, especially in children.
Not compatible with saltwater systems.
It takes an incredibly long time to install, sometimes months.
Concrete pools are high maintenance. Algae can easily grow on the concrete, meaning you'll need to clean your pool more often. You'll also need to perform an acid wash every three to five years, costing between $300 and $450.
Another downside to concrete is that it's prone to cracking and needs to be replastered every 10 to 15 years, costing between $2,500 and $13,000.
Location
The location also affects the total cost of a new in-ground pool installation. Areas with limited access or hard-to-reach places might accrue additional fees. This is because the builders will have more difficulty excavating and using their equipment.
You might also pay more if you build on a hill or a slope. Hills and slopes will require additional landscape preparation leading to higher construction costs.
Soil Condition
The condition of your soil will also impact the total construction costs. For example, rocks, hard dirt, and other obstructions can make the excavation more difficult, leading to additional fees and equipment rentals.
The Season You Install it
The season you have a pool installed will also impact the overall cost. Installing an in-ground pool in the off-season can usually help you save money.
Most professional services offer discounted rates in the off-season, as they're less busy and the weather conditions aren't as demanding. Be sure to consult your professional pool installers to determine whether or not they offer discounted rates depending on the season.
Additional Features and Add-Ons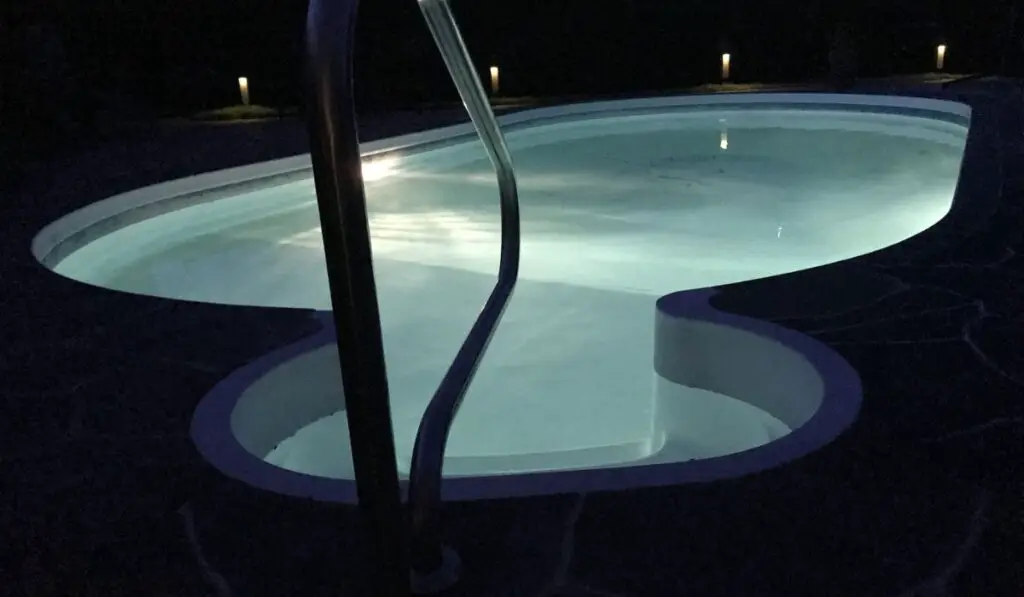 There are a lot of factors that impact the total costs of constructing a new in-ground pool. However, most homeowners include additional features and add-ons that increase the total costs.
Other elements can easily add thousands of dollars and some homeowners spend over $200,000 on an in-ground pool project.
Pool Lighting
Pool lights can enhance the aesthetic and atmosphere of an in-ground pool project. However, additional lighting inside and outside the pool will impact the price. Pool lighting can range in cost but usually ranges from $600 to over $1,500.
Water Features
Built-in water features, including rock waterfalls, splashing fountains, and bubblers, can enhance the vibe of your backyard. In-ground water features can cost around $1,500 and reach $20,000 for elaborate, custom designs.
Diving Boards and Pool Slides
You can consider diving boards and pool slides if your in-ground pool is deep enough. Installing diving boards cost around $400 in most cases. Some diving board projects can cost $5,000. A replacement diving board like this 8-ft one (example on Amazon) typically cost from $6-900 for just the board itself.
Pool slides vary in price ranging from $800 to over $15,000. These are hard things to build, and hard things to build right. They have to work properly and be safe because you're climbing something next to a pool…you really don't want to get the 'cheap model'! Options like this S.R. Smith Typhoon Pool Slide (on Amazon) can be had for a few thousand dollars.
Pool Deck
Pool decks provide a safe area that surrounds the pool that's also visually appealing. Pool decks can increase a home's property value in some cases. You can expect to pay around $3,500 to over $15,000 for a new pool deck installation.
Pool Fencing
Pool fencing can be beneficial as it increases privacy and safety and creates a more pleasing look. However, pool fencing can cost as low as $1,500 and reach over $8,000, depending on the material and size. Some common materials include:
Pool Heaters
Pool heaters can sometimes extend your swimming season by several weeks and even months. In-ground pool heaters vary in price but can range from $1,800 to $6,500, depending on the project's scope.
Landscaping
You might want additional landscaping features after you install your new in-ground pool. Landscaping can include grass, flower beds, shrubs, and more.
Landscaping can increase your property value in some cases. Landscaping costs will vary but might range between $4,000 and $20,000, depending on the scope of the project.
Pool Covers
Pool covers are essential for reducing evaporating, preventing debris from entering the water, and keeping people safe.
Depending on the model, in-ground pool covers vary from $400 to $2,500. High-end, fully-automatic pool covers can cost much more and range from $4,500 to $15,000 in most cases.
Pool Enclosures
Pool enclosures can be visually appealing additions that create a more intimate atmosphere. In-ground pool enclosures are typically created in wood, plastic, vinyl, and glass designs.
Enclosures lock out debris, reduce sun exposure, and extend your swimming season to nearly all year round. On average, new in-ground pool enclosures can cost between $6,000 and $20,000.
Pool Houses
Pool houses can enhance your in-ground swimming pool experiences. Pool houses typically cost between $100 and $600 per square foot. Pool houses provide several different benefits, including:
Changing Room: Pool houses provide a safe place for you and your guests to change. You won't have to worry about cleaning up wet floors in the hallways or bathrooms.
Guest House: Pool houses can also act as guest houses for friends and family, depending on the scope of the project. Pool houses provide additional privacy and can increase property value.  
Bathroom: Pool houses equipped with a bathroom can be handy when you have guests over or you don't want to head inside. An outside bathroom also prevents wet floors in the bathroom or hallways.
Storage: Pool houses provide additional storage for floaties, toys, and equipment. To save space, you can store extra chlorine and maintenance materials in a pool house.
These are just a few of the benefits of an outdoor pool house. In addition, you can add saunas and outdoor showers and create an outdoor living space. However, pool houses aren't cheap and range in price, depending on the project's scope.
What About a DIY Inground Pool?
Several factors should be considered before jumping straight into constructing an in-ground pool. Planning every detail from material, size, and the cost is best before you embark on this project.
Here are some things to keep in mind about DIY in-ground pool projects:
In-ground Vinyl Pool Kit Cost
When constructing an in-ground pool, costs will always vary depending on the size and shape of the pool. There are several pool shapes, each ranging in size. The larger the pool, the higher the pool kit cost. Basic vinyl in-ground pool kits may include:
Depending on your size, shape, and packet, pool kits should cost anywhere between $5,500 and $9,900. These costs increase by roughly 20% to 30%, depending on your choice of pool size.
The size of a pool kit is dependent upon your needs. To determine the best pool size for your backyard, measure the maximum length and width of your in-ground pool using tape. Next, you'll need to check with your local authorities for a proper building permit.
Remember that when choosing the pool size, you should also consider the placement and visibility of the pool. Place your pool in an area that restricts access and ensures privacy. Also, consider the position of your pump and filter.
Placing the equipment closer to the main house electrical panel will help you save in the long run. For example, if you plan to install a gas pool heater, having it closer to the gas meter could be cheaper.
Excavation Costs
Excavation costs vary depending on your location. Therefore you'll need to contact some excavators in your area to get a range of how much they charge. Be sure to ask if they charge hourly rates or a definite fee.
Generally, the excavation costs are approximately $1,000 – $1,500. This cost should cover the digging and the backfilling around the pool once installed.
Dirt Hauling Costs
In most cases, you can use the dirt you dig out later for bankrolling around the pool. But for this to work, it should be possible to compact the material. Often DIY pool projects use the leftover dirt to fill out the terrain around their property.
Removing the dirt takes up additional costs of loading the truck and having the soil hauled over to a legal dumpsite. You might want to check with local construction companies to see if they'd be willing to get the dirt off your hands. Removing any extra dirt should cost around $300 to $900.
Plan and Permit Costs
You'll need to visit your building permit department to get legal information about building your pool. There, you'll get the necessary information and the plans you'll need to present to obtain a permit.
You'll need to apply for several permits, including a pool, electric, and gas pumping. After your permits are approved, you're now free to begin construction. Keep in mind that permit fees vary according to location.
Pool Plumbing Costs
Although plumbing costs were included in the pool kit, you might need to upgrade the plumbing to handle the variable speed pool pump. You might also need to install sweep elbows to help reduce resistance.
If you're installing a gas line, you'll likely need to contact a plumber for assistance. The gas line plumbing should cost an average of $1,000, and the pipes and elbows about $400.
Labor and Electrician Costs
When installing an in-ground pool, you'll need the assistance of an electrician to help ground equipment and ensure the pool is in line with your area's local codes.
While there are no definite electrical codes, just check with your local authorities to ensure you comply with the regulations. The electrician should charge you $1,500 to $3,000.
When it comes to labor, the costs are dependent on the number of helpers you'll need. Hiring around two to four helpers is advisable to make the job easier. It takes the workers typically 120 to 140 hours to complete the job. The cost of labor depends on your agreement.
Material Costs
Keep in mind the cost of materials such as concrete, gravel, and flooring that could be a mix of cement and sand or vermiculite. Other costs could include the pool fence and deck installation.
Concrete Delivery Costs
Depending on your pool's size and shape, the amount of concrete needed will vary. Before pouring the concrete collar, you'll need around eight to ten inches of concrete on the outside of the panel and underneath the stairs.
If you're purchasing concrete locally, you'll want a pocket-friendly concrete mix; the 2500 mix. Concrete costs you $100 per yard, although these prices vary with location. In addition, the delivery charges can be anywhere between $800 to $1200.
Flooring Material Costs
Before installing the liner, you'll need to put around 2 inches of finished material around the bottom of the pool. And here's a great tip. A mixture of sand and cement in the ratio of 4:1 should provide a cheaper alternative to vermiculite.
Although using sand and cement could cost you almost 50% less than using vermiculite, if you have groundwater, vermiculite is the better option. Vermiculite is porous and therefore acts as an absorbent.
The amount of flooring material you use will depend on the size and shape of your pool. However, flooring should typically cost around $400 to $1800.
Pool Deck Costs
The cost of installing your deck will vary according to the deck's size and the material used for the patio around the pool. A patio brushed with concrete is the cheapest option. Other choices include tiles, travertine, and brick pavers, all of which cost more.
For this part of the job, it's advisable to contact a professional concrete deck installer. You'll need to provide information regarding the number of square feet your deck covers to get a quote.
The price per square foot for a deck varies between $4 and $20, depending on the type of deck. Installing a pool deck should cost anywhere from $500 to $5,000.
Additional Pool Equipment Costs
The pool kit you purchase should include a pump and sand filter. But you could opt for an improved cartridge filter that also helps save on water. The filter will cost you around $1000. You could also opt for a variable speed pump to save on energy. This should cost about $1300.
You could add a saltwater chlorine generator that costs around $900 and an efficient gas pool heater for an additional cost of up to $2,700. You may also want to upgrade the pool's lighting by adding LED lights that will help save electricity. The lights could cost you around $1,500.
Pool Inspection Costs
You previously filled out some forms and paid a fee so that your construction can be inspected later. These inspections ensure structures (in this case, your pool) are safety compliant.
Usually, the inspections shouldn't cost you any additional fees. Typically you'll have to pass the following inspections before steering clear of any violations.
Concrete collar inspection.
Frequently Asked Questions
Below are some of the most common questions people ask about in-ground pools.
Is it Worth the Money to Put in a Pool?
Adding a pool to your home is an excellent way of increasing the value of your home. It's likely to increase the value by almost 7%. Especially if you live in a more lavish area with a warm climate, an in-ground pool could be the perfect addition to your home.
However, before installing an in-ground pool, you should first consider the cost of installation and maintenance. A backyard pool comes with extra expenses, so ensure you check if installing a pool in your home makes financial sense before making any decisions.
As earlier mentioned, a pool could increase your home's value by almost 7%. But contrary to what many people imagine, this value is not that significant, so it's not a good idea to base your decision to install one on increasing your home's value.
Your location also largely determines whether your pool will be an investment or a waste of money. If you live in a good neighborhood with short winters, your pool will likely serve as an investment. Your location determines the type of potential buyers who can afford the costs of having an in-ground pool.
Some additional factors could determine the value of your pool. These include the pool's size, type, and condition and how long you've had it.
If your pool is old and doesn't fit the style of the home, it could throw off potential buyers. Some buyers may consider the pool a hazard if they have little kids. Therefore, installing a pool could limit your potential market to couples with older children. Having an in-ground pool has its advantages and disadvantages.
How Long Does it Take to Build a Pool?
When you finally decide to install a pool in your backyard, you're filled with nothing but anxiety and excitement. All you can think about is finally relaxing in your pool during the hot days and inviting over friends and family for a splash.
With that being said, you might be asking yourself how long it takes to build a pool. Well, it typically takes around 8-12 weeks for your pool to be ready. Below are some of the most notable steps followed when building a pool.
#1. Designing the Pool (1-4 weeks)
This is the first stage where you get to decide on the shape of your pool. You'll begin by consulting a pool installation professional to see how to make your dream a reality.
Most professionals will use 3D visuals to give you a clearer picture of how your pool will look once it's done. The 3D visuals quicken the turnaround time; however, more time is spent during the back and forth between you and the contractor.
#2. Acquiring the Required Permits (2-4 weeks)
The next stage is ensuring you get the required permits to have the government's go-ahead before construction begins. Each area has different regulations regarding the construction of in-ground pools.
Ensuring you have the essential permits assures your neighborhood and the government that your pool is safe. Your indoor pool installation professional is more acquainted with the permits, and you should discuss how long it will take to acquire a permit. In some cases obtaining a permit could take almost a month, while in others, it takes only two weeks.
#3. Excavation (1 week)
This is the digging stage that typically takes around one to two days. However, for safety planning, it's best to allocate a few extra days in case of any issues. For instance, you might encounter unforeseen obstacles like utility lines while digging.
#4. Plumbing, Electrical, and Steel (1-2 weeks)
After the excavation process, you're left with an empty hole, and it's time to get to work on the more technical details of the pool. The pool installation professional will likely lat the steel before routing any electrical and plumbing components. This ensures your pool is reliable and durable for years.
Additional features, including lighting, water, and other features, are put in place during this stage. Depending on the amenities you choose, shape, and pool size, the time taken during this stage could vary.
#5. Vinyl, Plastering, or Fiberglass (1-3 weeks)
During the stage, you'll see the design of the place come to life. The stages will vary in the time taken according to the type of pool you decide to go with. Fiberglass pools take a shorter period to be constructed, unlike the other types, especially plastering pools which will likely take longer than any other kind of pool.
#6. Custom Features, Deck, and Landscaping (1-4 weeks)
The last stage involves installing custom features that make the pool appear uniquely yours. Here is where people go all out and spring for an outdoor kitchen, retaining walls, and a seating area. You could also add decks and landscaping to make your pool more comfortable and enjoyable.
What is the Easiest Type of Pool to Maintain?
A pool, like any other amenity, requires maintenance. With in-ground pool maintenance is vital in ensuring it has a long lifespan. Maintaining your pool is something you'll have to deal with time and again. However, some types of pools require more maintenance routines than others.
When installing a pool, most people look out for the size, durability, and cost, forgetting to keep in mind the maintenance required which later comes as an unexpected expense. Below are the three common types of in-ground pools and the level of care they need.
Concrete Pool
Concrete pools are the most common type of pool in people's houses. Their sturdy build often makes it the desired choice for an in-ground pool. In addition, concrete pools are often aesthetically pleasing, making them a popular choice.
However, concrete pools are the most expensive type of pool because they require the most maintenance. The reasons why concrete pools are costly to maintain include:
The possibility of algae growing continuously.
The role played by the acid wash.
The pool requires steel brushing at least once a week.
The pool needs to be professionally cleaned every year.
The pool's filter has to carry out two circulations a day.
Occasionally you'll need to refinish the pool.
You'll need to monitor the water's chemistry closely.
Vinyl Pool
Vinyl pools are the second most common type of pool in homes today. People often opt for vinyl pools because they're cheaper in terms of the sticker price. However, there are some inner lining maintenance fees to keep in mind. Some of the maintenance required include:
It is replacing the inner lining from time to time since it's prone to trade-in and leaking.
Like with the concrete pool, water chemistry needs to be maintained.
The filter circulates water at least once a day.
Theft could be cases of algae growth that could require maintenance.
Fiberglass Pool
Fiberglass pools are the least common type of in-ground pool. However, most people are unaware that fiberglass pools require the least maintenance compared to any other kind of pool.
Fiberglass pools are not susceptible to algae growth, requiring less maintenance. Some of the care that fiberglass pools require include:
Water circulation at least once a day.
The water chemistry needs to be monitored.