It's important to understand the basics of pool covers, regardless of whether you already have one or are considering purchasing one. Pool covers are an excellent way to save money, reduce maintenance, and prevent debris from entering the pool water. But should you use a pool cover every night?
You shouldn't cover your pool every night. Pool covers used for extended periods of time can suffer from unnecessary damage and excess water accumulation, or cause bacteria in the water. You should also avoid using covers during heavy storms to prevent wear and tear.
Don't worry: you can still use your pool cover at night, you just don't need to every night. Let's take a look at the benefits of pool covers, the risks associated with them, and the different types available, so that you can make the best decision for your unique situation.
Why Should You Cover Your Pool?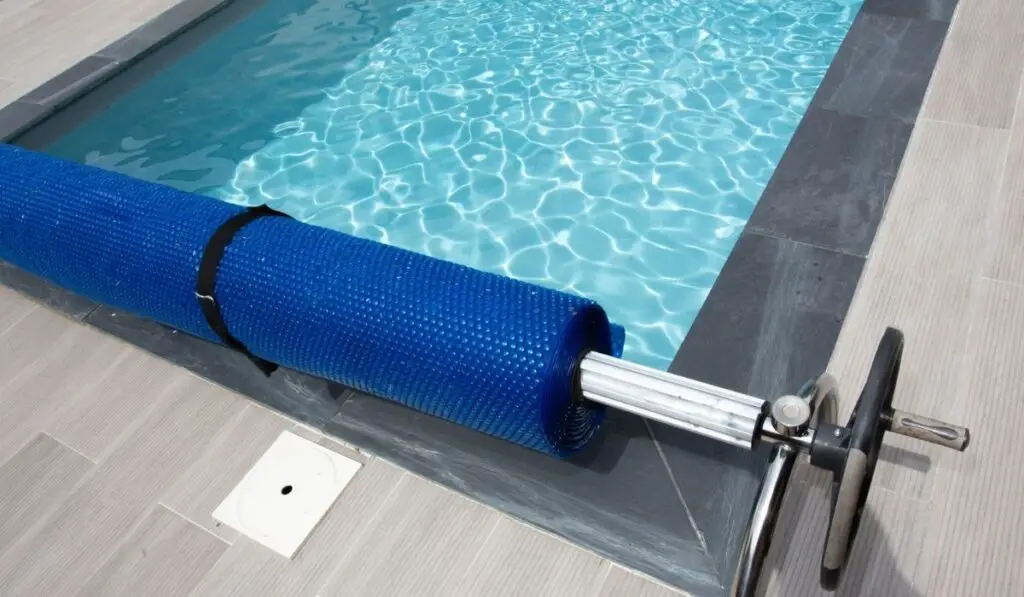 If you have a pool, you're well aware of how much work it takes to keep it clean and well-maintained. You might spend a whole afternoon caring for your pool, only to have a windy night bring in twigs, leaves, and other debris crashing down.
Thankfully, pool covers can easily solve this issue and others. Here are some of their many benefits:
Locks Out Debris
After a heavy storm or even just a windy night, you'll find your pool filled with debris. You'll see leaves, twigs, and other frustrating objects in the water. If you have a lot of trees and plants around, you might notice these issues even more.
Without a pool cover, you might have to clean your pool every other day. This could be as little as five minutes of work or 20 minutes of hard labor.
Cleaning a pool too often makes it more of a chore or annoyance rather than a fun addition to your home. With a pool cover, you can remove this frustration entirely.
Energy Efficiency (for Heated Pools) and Water Conservation
Swimming pools use and lose energy in a variety of ways. Evaporation is one of the greatest culprits when it comes to water loss. If you have a heated pool, saving energy and water should be one of your primary concerns.
With a pool cover, you might be able to save 50% to 70% on energy and heating costs by both reducing evaporation on hot days and preventing as much heat loss on cooler days.
An outdoor pool's evaporation rate can vary depending on the temperature, climate, humidity, and wind speed. Depending on the circumstances, pool covers might be able to reduce the amount of evaporation by 30%-50%. This means you'll spend less time filling up the pool, save water, and save money over time.
So, using the pool cover to manage evaporation and temperature can be a great way to structure your thinking during the seasons that your pool is in active use.
Reduces Maintenance
Without a pool cover, you might have to spend every other day vacuuming and sweeping the inside of your pool. This can be a tedious chore and cause you to resent your pool in the process.
A pool cover can drastically reduce the amount of maintenance a pool requires. You'll still have to clean it, but less frequently. Consider the first couple weeks of spring when trees are dropping mountains of pollen: this is a key period of time in which your pool may already be open and in routine use, but closing it for these high-pollen days can prevent collecting a lot of airborne debris.
Increases Safety
Various pool covers can add extra safety measures to your backyard. For instance, some fiberglass covers can withstand up to 400 pounds. This can help prevent anyone or anything from falling inside the pool.
You can consider investing in a pool cover if you have young children or pets that frequently use the backyard, because most of them can hold a small animal or child for at least a few minutes – long enough for them to get off – even if they don't support 400 lbs like the extreme option mentioned above.
Is It OK to Leave the Pool Cover on All the Time?
You might be tempted to leave a cover on top of your pool whenever it's not in use. After all, with the benefits listed above, why wouldn't you? Unfortunately, leaving a pool cover on all the time can cause more harm than good in the long run. Here are some reasons why:
Sinks Into the Pool
It's tempting to leave your cover on when you're not using your pool as much as in the winter months. However, you might run into issues if you leave the cover on for too long or if it isn't properly secured.
If the pool cover falls into the pool, you run the risk of damage to the cover, debris getting into the pool, and algae bloom. Each of these scenarios can be headache-inducing.
Water Accumulation
Excess water accumulation from rainfall or storms is another factor to be wary of. Excess water can cause your pool cover to fall into the pool or create a bacteria-ridden environment.
Your pool cover might suffer from unnecessary damage from the excess water. Be sure you're addressing water accumulation as soon as possible to avoid negative outcomes.
General Wear and Tear
Depending on the material, your pool cover might be more susceptible to damage the longer you leave it on. Your pool cover might develop tears, cracks, fading, or other damages. Natural elements can put unnecessary wear and tear on your cover. Animals, debris, and other pests are also risk factors to keep in mind.
Should You Cover Your Pool When It Rains?
Covering a pool during rain or a heavy storm seems like it would make sense, right? Wrong! You should leave your pool uncovered when preparing for a storm.
Placing a cover across your pool won't necessarily prevent dust, contaminants, and debris. This is because heavy wind and rain can lift up the cover. Furthermore, the cover will be threatened by sharp branches, debris, and excess water. These factors can cause rips and tears or cause the cover to fall into the pool, resulting in a difficult cleanup the following day.
Which Pool Cover Type Is Right for You?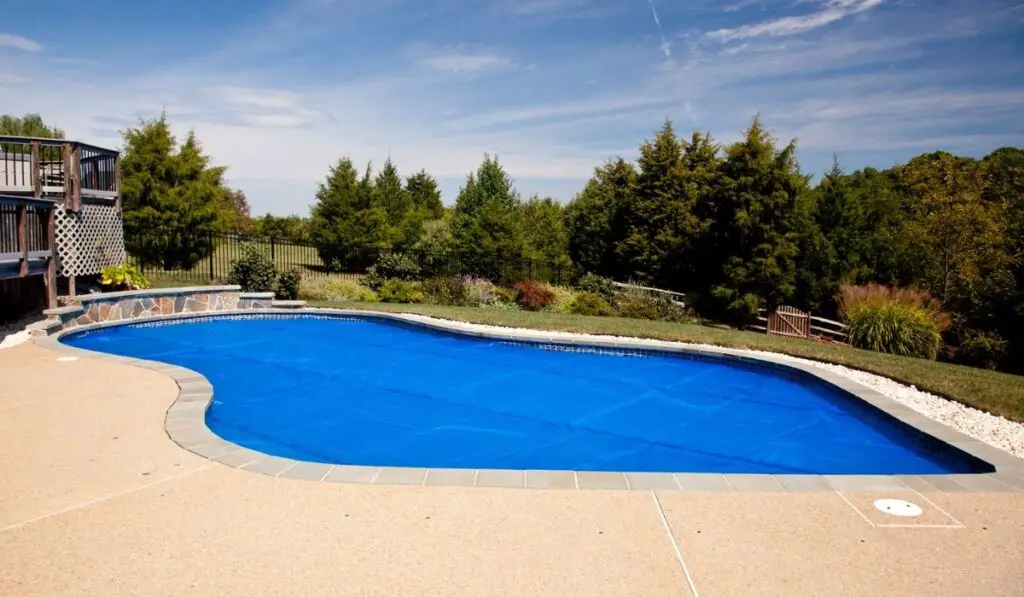 Technically, you only need a large sheet of plastic to cover a pool. But a sheet of plastic that isn't designed for pools will be more susceptible to damage, won't last as long, and can be hard to handle.
That's why it's important to use a cover that's durable, long-lasting, easy to store, specifically designed for pools, and fits your preferences. Let's check out some of the options.
Bubble (Solar) Cover
If you're looking for the most affordable option, consider bubble covers (on Amazon). This pool cover looks like bubble packaging material, but it has thicker grades of plastic and UV inhibitors.
Although they're relatively affordable, with many options under $200, bubble covers aren't long-lasting. They can suffer from tears, become brittle, and fall apart. Some bubble covers last upwards of four years, while other options break apart in as little as eight months.
Vinyl and Woven Mesh Covers
Vinyl and woven mesh pool covers are created using heavier and more durable materials than plastic covers. These types of covers are typically secured to a pool with straps or anchors around the perimeter.
Vinyl covers are long-lasting, don't require much maintenance, add safety measures, and can be custom-fit to your pool. However, they come with higher upfront costs and installation requirements. Also, custom-fitted options can take 3-4 weeks to create.
Manual, Semi-Automatic, or Automatic?
Now that you've chosen the type of material, you'll need to select how you're going to operate the cover. You can use pool covers manually, semi-automatically, or with fully automatic installations.
Manual Pool Covers
Manual pool covers are pretty self-explanatory. You'll need to pull the cover on or off whenever it's required. Manual covers need a safe place to be stored when not in use.
Depending on the material and pool size, you can also purchase a cover reel (on Amazon) to make the process easier. Cover reels use wheels and hand cranks to place or remove the pool cover.
Semi-Automatic Pool Covers
Semi-automatic pool covers are partially powered with motors or electricity but still require some manual work. These options might require you to manually push, unroll, or roll up the cover in some instances.
Semi-automatic pool covers are typically built into the pool deck or placed on reels and carts. These covers can be more convenient to use but come with a higher price tag than manual options.
Automatic Pool Covers
Automatic pool covers are the most convenient — and expensive — option available. Automatic covers are a permanent solution and are installed on the deck of the swimming pool. They're typically operated with the simple press of a button or remote. These covers don't require much effort and can save a lot of time or maintenance.
Depending on the manufacturer, you might have a range of options for colors, materials, and durability. However, automatic pool covers and installations can be pretty expensive, ranging from $8,000 to $20,000. These covers can also have higher replacement costs for parts and components.
Conclusion
You should consider purchasing a pool cover if you don't have one already. Pool covers can save you money, time, and effort. Pool covers reduce water evaporation, save energy, and prevent debris from entering the water.
However, you shouldn't use a pool cover every night or during rainstorms. Using a pool cover for extended periods can cause unnecessary damage or bacteria growth in the water. Heavy rain, storms, and natural elements can also cause damage.
For a short-term and affordable solution, look for bubble pool covers. These covers aren't as durable as other options but will get the job done. Otherwise, consider vinyl or woven mesh pool covers for a longer-lasting solution. Either way, purchasing a pool cover is an excellent decision in the long run.