Vinyl liner pools are a great low-cost option that's perfect fotrr those who wish to avoid the expense and drawn-out installation of a fiberglass or concrete pool. But what exactly is a vinyl liner pool, and how does it differ from the other options out there?
In a vinyl pool, patterned vinyl sheets are used to cover (or line) the walls of the pool. Vinyl liner pools are attractive, durable, relatively inexpensive, and easy to install (though you'll probably want to hire a pro for it). They're not quite as durable as fiberglass or gunite.
For a lot of homeowners, vinyl liner pools make the perfect choice — and some even choose to install the pool themselves as an excellent (if a bit involved) DIY project. Let's look at the major attributes of a vinyl liner pool so you can figure out if this is the best option for you!
What Is a Vinyl Liner Pool?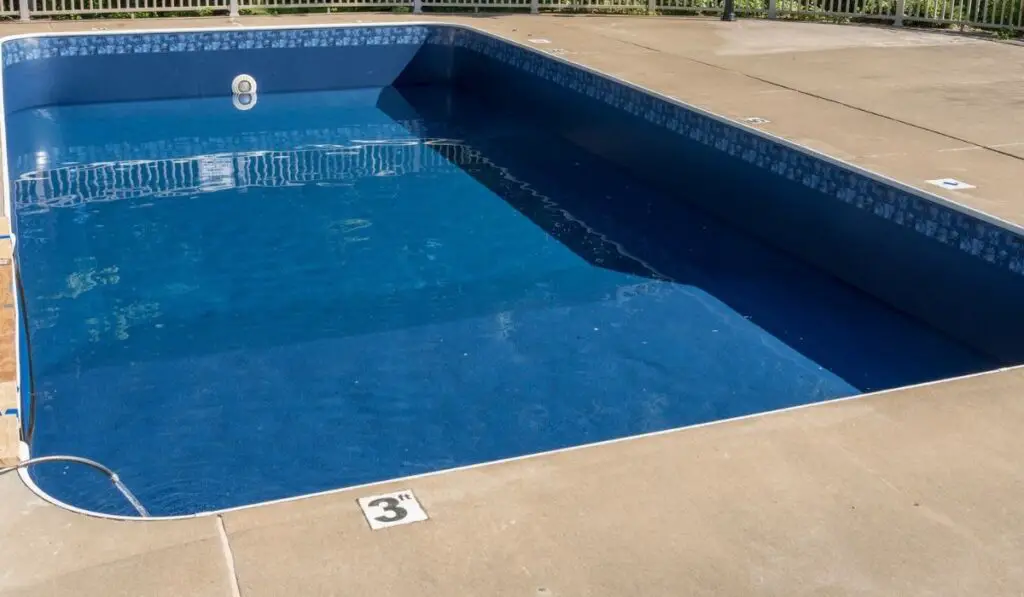 If you've heard of fiberglass pools but aren't quite sure if they're right for you, vinyl liners are not only a great substitute, but they're also very popular. They're usually custom-made to give you exactly what you want, and they're built and installed by an expert.
Vinyl pools are usually pretty cost-friendly (at least within the conversation of general pool costs) because they're pre-fabricated and require a relatively fast installation process. They don't normally cost too much to build or renovate, at least compared to in-ground gunite pools that have cement finishes.
With an experienced crew, a proper vinyl liner pool replacement will take only a couple of hours (excluding water fill time), instead of several days or weeks. And once you have one, if you end up with any leaks there are simple patch kits (on Amazon) you can typically use to fix them yourself.
Vinyl liner pools come with a vinyl sheet (custom-made) that goes between the pool floor and walls and the water. Gunite or shotcrete pools, on the other hand, make use of plaster as their waterproofing mechanism. Vinyl liners usually have their top edge locked into a track which is found on the bottom of the coping (the protective lip at the top of the pool wall).
You'll find that a floor made of sand or a cement-like substance has been put in place right underneath the liner. The walls and the floor sidewalls meet, and they typically consist of 42″ x 8′ panels that are made with thermoplastic or galvanized steel.
The essence of these walls getting supported from behind is so that they don't give in to the water pressure. The wall panels make up the pool's perimeter shape. There are, however, a couple of limitations when it comes to the possible vinyl liner pool shapes.
Pros And Cons Of a Vinyl Pool
Vinyl pools are a great option to consider, but they're not perfect. Let's look at the benefits of this option, as well as some drawbacks that you should keep in mind.
Pros
When compared to its fiberglass or concrete counterparts, a vinyl liner pool is usually less expensive, both to install and to maintain.
Vinyl liner pools have a certain flexibility that prevents them from cracking the way a concrete pool might, and while you would have to resurface a fiberglass pool, you don't need to do the same for a vinyl liner pool.
With a vinyl liner, you get a pretty smooth surface that is friendly to your body, and you won't have to worry about getting injured while you swim around.
When it comes to shape and size preference, there are a lot of design options available for you to choose from, courtesy of the modular walls that get swiftly rearranged to fit into your space without any stress.
So, if your target is a pool that suits a tight budget and requires minimal maintenance, a vinyl liner pool should top your list. It's also the option with the fastest installation process.
Vinyl liner pools used to have a dearth of color options but these days, a lot of colors and patterns have been introduced to give your pool area a very sophisticated appearance. You can also have your vinyl liner replaced later on to give your pool a fresh new look.
Cons
Under normal circumstances, a vinyl liner pool should be quick to install. However, in some cases, it may take a longer period to install than a fiberglass or concrete pool. The installation duration is determined by how skillful the installer is as well as the state of the excavation site.
If you're going to be installing the vinyl liner pool yourself, the process is a relatively straightforward one, but you'll need some specialized tools and equipment.
Over time, pool chemicals, despite their relatively small quantity, will find their way to the vinyl liner and can cause it to corrode.
The pool also loses heat faster than a fiberglass pool, which can take a toll on your utility bills later on if you need to install a heater to keep your pool at swimming temperature.
Furthermore, you will need to have the liner replaced every six to ten years. Having vinyl liners replaced can cost between $2,000 and $5,000, depending on the size and shape of your pool.
How Much Does a Vinyl Pool Cost
The cost for most vinyl liner pools is between $45,000 and $65,000 upfront. Here are some of the factors that affect the initial price:
The thickness of the vinyl liner
Shape and size
Coping material
Type of steps (including benches, if any)
Pool accessories
Patio size and material
Water features
Wall panel type
Landscaping
DIY or professional installation
Region
How Is a Vinyl Pool Built?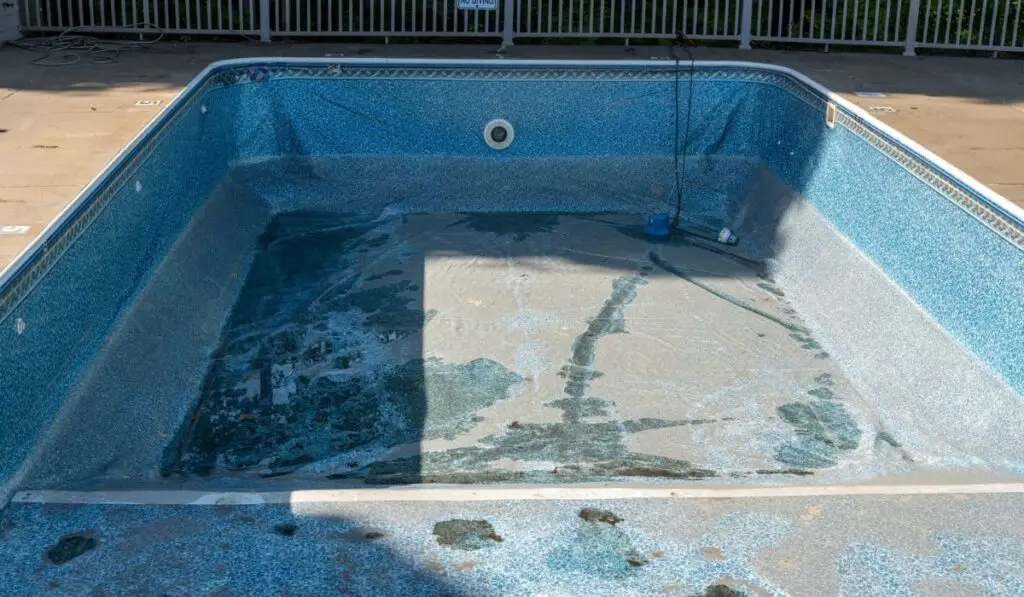 To build a vinyl liner pool, you first need a series of polymer or metal wall panels. They are responsible for giving the pool its shape.
The panels form a perimeter around a base material that covers the earth and then it eventually forms a floor.
Prefabricated pool steps are also important. Likewise, the stainless-steel pool coping that eventually borders the perimeter of the structure will be needed.
Lastly, because the wall panels don't have a waterproof feature, this is where the vinyl liner comes in. The liner will serve as a water retainer in the pool. Installers will drape a patterned, colorful vinyl sheet of your choice on the walls.
Just like fiberglass or gunite pools, you will need equipment and accessories to install and maintain vinyl liner pools. The basic requirements are a pump, filter, and lights, as well as a skimmer.
How to Maintain a Vinyl Pool
Usually, a vinyl liner should last around 15 to 20 years. However, its longevity also depends on how well you maintain the pool chemistry. You should carefully monitor the alkalinity, the pH level, the sanitizer amount, etc.
Several factors can limit the lifespan of a vinyl liner pool, including the use of too much chlorination or excess focus on sanitizers. Improper water balance can be responsible for the liner losing its elasticity, which can, in turn, take a toll on the vinyl liner's chemical composition.
You may also decide to change the liner as it ages. Many owners have the liner changed after about 7 to 10 years because it no longer looks new. There are several reasons for this. For instance, if your water is over-chlorinated, it affects the pool's look. The same thing happens when you allow too many pellets or powder to settle on the vinyl.
There's also a possibility of iron, copper, and calcium causing heavy metal buildup. This can lead to staining much more quickly.
While such stains won't affect how your liner functions, they do affect the overall appearance of your pool.