Are you thinking of finally adding a pool to your property? If you've been leaning towards a concrete pool, then you've probably heard the word 'gunite' thrown around a few times. Gunite is an increasingly popular material for pool construction, but how much does it cost to install a gunite pool? 
The installation of a gunite swimming pool generally costs between $70,000 and $150,000. The cost depends on the size and design of the pool, the size of the property, and the features included. A well-maintained pool can significantly increase your home's value.   
Adding a gunite swimming pool to your backyard involves a long-term commitment to completely transforming your property. Done properly, a pool can seamlessly connect your yard to your house and provide countless options for relaxation and entertainment. Let's look at what exactly gunite is, how much it costs, how it compare to other materials, and how it can affect your property value. 
What Is Gunite?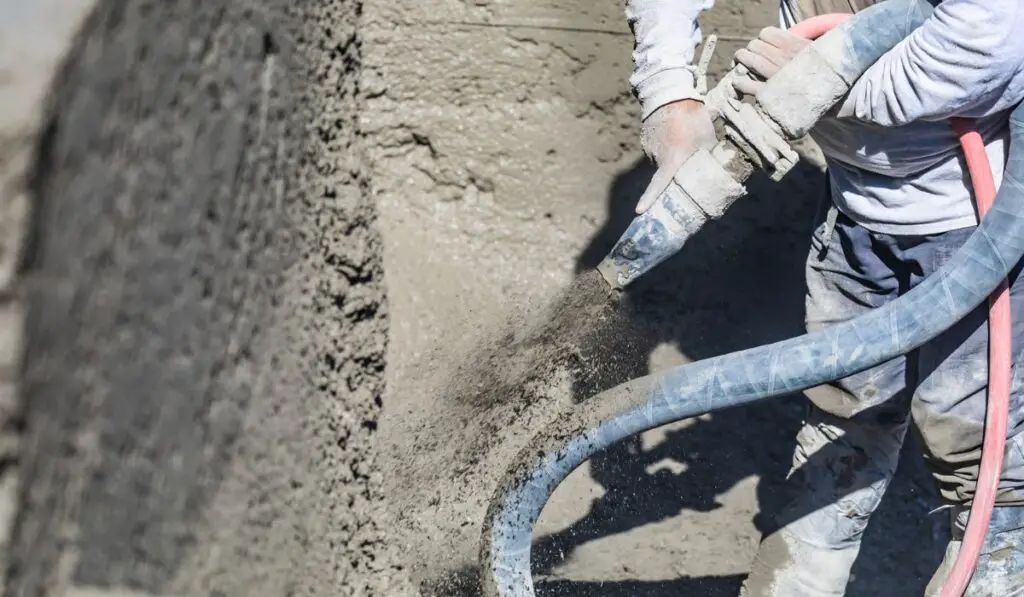 Simply put, gunite is a type of concrete. More specifically, gunite is the process through which concrete is changed from a glob of thick goo into a functional, beautiful swimming pool.
But what exactly is the process? Dry concrete is first pushed through a hose or tube with a pressurized air gun. This dry mixture is then combined with water at the end of the hose, transforming it into what's known as gunite. 
Since the material is basically a thin layer of wet concrete, it can easily be blasted at high pressure and applied onto any surface it will adhere to. This adaptability also allows builders to spray gunite on curves and other vertical surfaces, making it one of the best materials for inground pool construction. 
How Much Does Gunite Cost? 
The answer to this question varies from homeowner to homeowner. Several different factors affect the cost of a gunite pool, including the planned size of the pool, the state and size of the property, and the optional features involved. 
Generally, the cost of a gunite pool ranges from around $70,000 to $150,000. If a pool builder quotes you anything below $50,000, then it's better to look for a more qualified or credible company. 
It's important to understand that calculating the price of a gunite pool is a lot like calculating the price of a house. How many bedrooms would you like? In what area are you planning to settle down? What style do you like best? How new or old would you like your house to be built? 
All these questions help determine the average price range of your house. And a gunite swimming pool is no different.  
The best way to get a somewhat accurate ballpark on installation costs is to have a clear idea of what you want and then speak with a qualified pool designer.
A consultation meeting will also help bring out more innovative ideas and allow the designer to set clear expectations and understand exactly what you're looking for in your gunite pool. 
Maintenance Costs 
Along with installation costs, it's also important to consider the costs of maintaining a gunite swimming pool. On average, you'll have to spend over $2,700 a year on maintenance for around 10 years. 
Amounting to more than $27,000 over a decade, this maintenance cost includes more electricity usage and chemicals than you'd need for vinyl liner or fiberglass pools of the same size. 
It also includes costly but, sadly, unavoidable acid washing and replastering costs. Your pool surface may look great at first, but it won't last forever, and you'll have to replace it all every 10 to 15 years.  
How Does Gunite Compare to Other Materials?
There's practically an endless collection of pool styles and designs to choose from, but before you decide on the overall shape and look, it's important to consider the material of the pool. 
To help you understand the differences, here's a detailed comparison between gunite, fiberglass, and vinyl: 
Cost  
Gunite 
Since you can completely customize a gunite pool, its cost varies widely according to the design and size of the pool. 
Fiberglass
Fiberglass pools usually fall in the $55,000 to $70,000 price range, depending on the size and style. In terms of cost, fiberglass pools are generally less expensive than gunite pools. 
Vinyl
Vinyl liner pools are cheaper to install than gunite pools. Gunite pools with standard finishes cost around $10,000 to $15,000 more than vinyl liner pools of the same size. This is because vinyl is much easier to install. 
Durability 
Gunite
Gunite pools are extremely durable and can last for a long time with proper maintenance and care. While they do require more maintenance than other pools, they have a much longer life than both fiberglass and vinyl pools. 
Fiberglass 
The smooth surface of fiberglass pools prevents the growth of algae and other bacteria, making them much easier to clean and maintain than gunite pools. 
These pools are non-porous, so they're also less susceptible to cracks and other damages.  
Vinyl   
Vinyl liners usually measure 30, 28, 27, or 20 mils thick, so it's easy for a broken tree branch or dog claws to rip or puncture the liner. 
While there are thicker vinyl liners that provide extra protection available, they still don't last long overall. Even if your vinyl liner has no major holes or tears, you'll have to replace it after every 5 to 9 years.  
Customization 
Most pools can be customized to some degree, but the material's properties kind of tie your hands in some cases. Here's what you can expect for customization options based on the type of pool material you choose.
Gunite
A gunite pool gives you a lot of flexibility in terms of design, allowing you to fully customize the shape and size according to your preference. You can also choose from a wide range of finishes, including stone, plaster, and tile. 
With this customization, you can think out of the box and truly create a one-of-a-kind pool right in your backyard. 
Fiberglass 
Fiberglass pools are available in a wide variety of finishes and colors, but they're not as customizable in terms of shapes or sizes. In fact, their customization is only limited to finishes. 
Vinyl
Vinyl liner pools are mostly rectangular, but you can customize the depth, size, and shape of the pool. Custom shapes are a bit more expensive, but they still cost less than a gunite or fiberglass pool of the same size.  
How a Gunite Pool Will Affect Your Property Value
According to most experts, a well-kept pool can increase your property value. In fact, almost all homes with backyard pools are sold at a higher cost.  
Pools are especially coveted in areas where you can use them all year round. So, if you live in a warmer region, like Texas or Florida, you'll probably be able to boost your property value and make it much easier to sell by installing a swimming pool. 
Furthermore, if you rent out your vacation home in a coastal or resort community, you'll be able to charge higher rental rates if your property has a swimming pool. 
In fact, if almost all your neighbors have a swimming pool but you don't, your home may be devalued on the market. 
How Much Value Does a Gunite Swimming Pool Add to Your Home? 
While a pool does usually increase your home's value, the actual amount is still unclear. One HouseLogic study estimated an increase of 7% under ideal conditions, while HGTV reported that an average in-ground swimming pool can boost your property's value by 5% to 8%. 
It's important to note that some of these statistics were calculated before the pandemic. More recent figures tell a completely different (and more profitable) story. According to one 2021 HomeLight report, in-ground pools can now increase your home's value by an average of 69%.
Keep in mind that your property's location also plays a big role. If you live in a town with a below-average amount of swimming pools, then installing one could significantly increase your property's value. 
However, remember that only the presence of a pool is not enough to increase your home's resale value. A poorly maintained or cracked pool in need of repair could devalue your home and deter buyers instead of attracting them. 
What to Ask Before Installing a Gunite Pool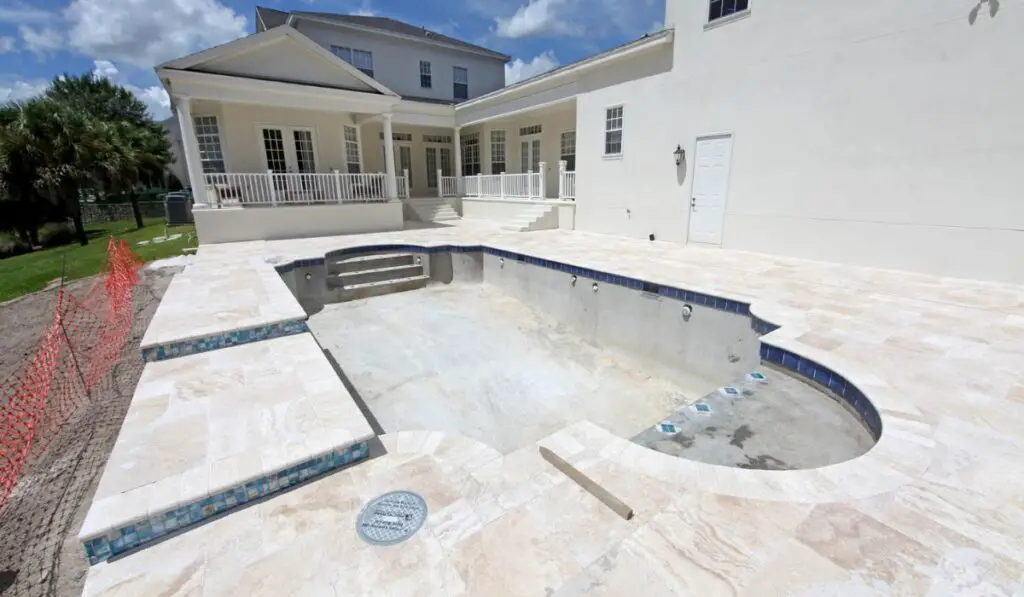 Before you hire a designer, it's important to ask yourself a few important questions: 
Do I want a spa or hot tub? 

Do I want automation, such as a fully automatic cover or a remote control operating system? 

Do I want a patio and where would it look best? 

How much landscaping would be required? 

Do I want a custom interior finish? 

What type of fence do I want? 
The answer to these questions can help give you a clear idea of what exactly you want out of your swimming pool. Once you understand the ultimate goal, you can easily work with your designer and determine a realistic budget based on your preferences.