If you're planning on buying a new swimming pool, you may have become familiar with gunite and fiberglass. Gunite and fiberglass are two of the most common choices for a backyard swimming pool. And it's important to understand both materials result in two significantly different pools, each with a distinct look and feel. But which one is better?
A gunite pool is more expensive than a fiberglass pool and takes much longer to install. It also needs more maintenance but is unparalleled in terms of design flexibility. Fiberglass pools are available in fixed shapes and sizes and cannot be installed on uneven ground or they'll develop cracks.
Once you know the contrast between the two, choosing the right material becomes easier. Let's look at the main differences between the pools and how they compare in terms of installation costs, timeline, maintenance costs, and design flexibility, so you can choose the material that best suits your needs. 
What is a Gunite Pool?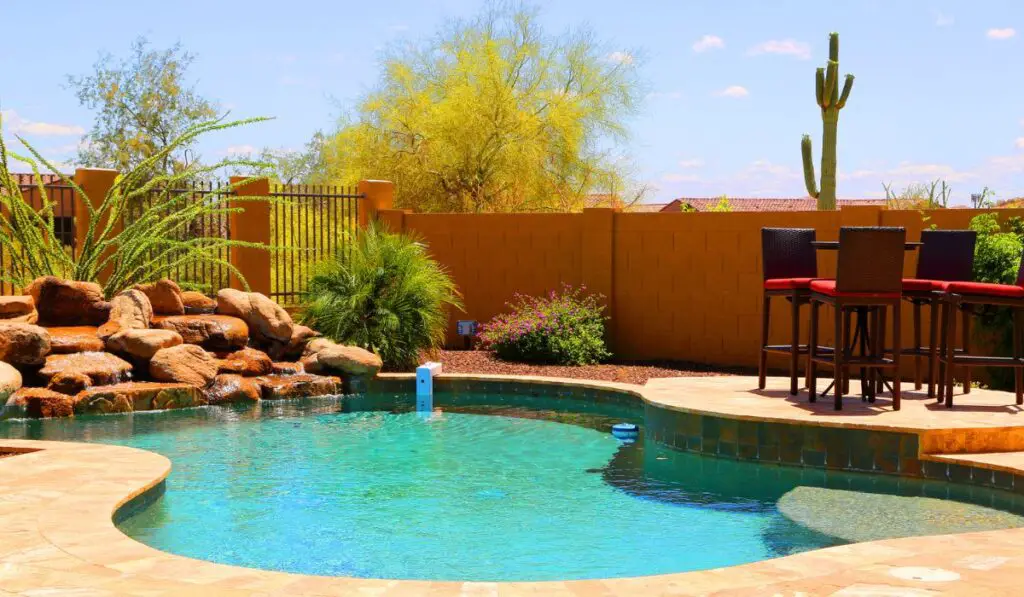 A gunite pool is essentially a concrete swimming pool constructed from a mixture of cement, water, and sand. Popular for its dependable and reliable structural strength, crew workers apply gunite using a high-pressure hose, enabling them to create a completely customized pool. 
Gunite swimming pools are long-lasting, durable, and custom-made to fit the size and shape that best suits your specific wants and needs. 
Factors to Consider with Gunite Pools
While a fully customized pool sounds like an excellent choice, there are several other factors you should consider before purchasing a gunite pool:  
Price 
Gunite pools usually cost around $50,000 to $100,000 upfront. In addition, they need a lot of care, so it's essential to consider the long-term maintenance costs, such as refinishing, energy usage, and acid washing. 
Over the life of your gunite pool, you'll also need to spend around $25,000 every ten years to pay for its extensive upkeep.
Timeline 
It takes around three to six months to construct a gunite pool, but the final timeline ultimately depends on the complexity of your planned pool. 
It's important to note that even after construction is complete, it might take as long as five days to make the water clean and safe enough for swimming. You also cannot fill the pool until the plaster is fully dry, or it will develop cracks as soon as it comes into contact with water. 
Once you fill your gunite pool, you'll need to turn on the pump and filtration system and run them throughout the day to make the pool usable. 
It's also advisable to wait up to three weeks after filling the pool to heat it and prevent anyone from swimming until the break-in period is properly complete. 
Maintenance
It's important to note that gunite swimming pools need more maintenance than fiberglass ones.
The alkalinity of gunite increases the pH level of the water, so you'll need to add hydrochloric acid or muriatic acid every day. You'll also need to use a steel brush at least once weekly to clean the pool and eliminate any surface algae. 
Because of the gunite's many cavities and pores, it's advisable to spend additional time and money on more potent chemicals to eliminate algae. You'll also need to resurface your gunite pool every seven to ten years to maintain its excellent condition and a brand-new look. 
Design Flexibility
If you want your pool to be designed in a specific shape or are planning an extra-deep or extra-large pool, gunite is the way to go. Customized gunite pools are built on-site, allowing workers to design your pool in a way that best suits your existing landscape decor and design. 
While a gunite pool has a longer installation time than a fiberglass one, the construction process allows for greater size, depth, and shape flexibility. 
With a gunite pool, you can add extra features as well. Gunite allows you to achieve the wackiest designs you can think of, even if you want a lagoon-style swimming pool with waterfalls, underwater bench seating, and built-in rock formations. 
Gunite plaster is also available in many colors, and you can even go for a tile or pebble finish. With a plethora of options, you'll definitely be able to choose a finish that best suits your house and landscape design. 
What is a Fiberglass Pool?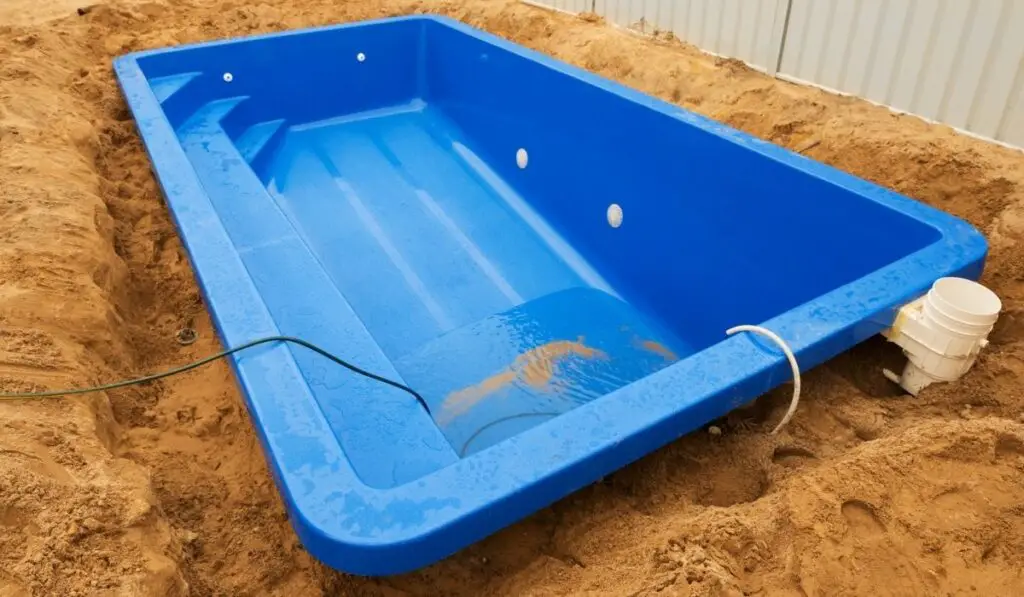 To put it simply, a fiberglass pool is a pre-built, manufactured fiberglass shell installed as an above-ground or in-ground pool in your backyard in just a few days. 
A gel coating is applied on the raw fiberglass, giving fiberglass pools the incredibly smooth finish they're famous for. 
Factors to Consider with Fiberglass Pools
Fiberglass pools are cheaper and smoother than gunite ones, but there are still several factors you should take into consideration before making your purchase:
Price
While it's not advisable to install a fiberglass pool yourself, some people do complete the job themselves, which costs somewhere around $12,000 to $30,000. However, the final cost depends on the pool's size and features. 
A professional fiberglass pool installation costs around $45,000 to $85,000, but the price can go much higher, depending on how fancy you get with the accessories, water features, and landscaping. 
However, it's important to note that fiberglass pools generally cost lower than custom gunite pools. Long-term maintenance expenses for these pools usually include electricity and chemicals, and you'll need to spend around $4,000 over ten years for proper upkeep.   
Timeline 
Fiberglass pool shells are manufactured off-site. Once the pool is transported to your background, it's installed in the ground, where it's made ready for swimming in around two to three days. 
If you've planned a deck and patio as well, the entire installation process will take a little longer. However, the installation process usually does not take more than three to five weeks. 
Maintenance 
The smooth and nonporous surface of fiberglass prevents algae from sticking to the pool walls. So while there'll still be algae contaminating the pool water, it won't be on the walls, reducing the time and money spent on cleaning the pool and purchasing chemicals.
Also, the gel coat doesn't affect the pH level of the water, so you don't have to add any acid to balance it. However, it's still advisable to test the water chemistry every week. 
Design Flexibility
Fiberglass pools usually measure up to 40 feet long, 16 feet wide, and 8.5 feet deep. Unfortunately, the shells are factory-built and transported directly to your home, so you don't have much in terms of exploration and design creativity. 
You essentially purchase fiberglass pools "off-the-shelf" in a fixed shape and fixed size. This means that, like every other readily-available product, you may need to deal with shortages. In addition, in some seasons, usually in the summers, fiberglass pools are in high demand, leading to delays and increased waiting time for installation and delivery.
Along with a lack of design flexibility, fiberglass pools are also susceptible to manufacturing flaws. For example, if the pool is not constructed correctly, it can develop crazing or bubbles. Luckily, these flaws are relatively easy to fix.   
How the Layout of Your Yard Could Impact Your Decision 
A fiberglass pool is transported to your backyard in one monolithic shell, usually on a flatbed truck. This pool shell also includes cutouts for the skimmer, drain, and returns. It's important to understand that since these pools are pre-made, you cannot place them on an insecure foundation. 
If your backyard is not entirely flat or not appropriately backfilled, the pool might not settle correctly or may end up with bulging walls.     
A fiberglass pool installed on bumpy ground is also more susceptible to cracks and damages and may not last as long as one installed on solid ground.
A gunite pool is more flexible in this regard, as pool builders first install a network of steel bars around the bottom and sides of the excavated hole to create the perfect mold for your pool. But, of course, this also means adding just about any feature you can imagine to your pool, including tanning ledges, islands, and grottos.
What Material is Right for You? 
The answer to this question depends on several factors, such as your budget, the amount of work you're willing to put in for maintenance, and the type of look you want from your pool.
Choosing the material best suits your wants and needs are advisable. Maybe you need your pool to fit a specific aesthetic regardless of cost. Or perhaps you'd give up customizing your pool in favor of a lower installation cost.  
You Should Opt for a Gunite Pool if You: 
Need a custom depth or shape, such as a 10-foot deep end or an L shape. 
Are willing to spend $50,000 or more. 
Want an entirely natural design, including grottos, natural stone, and a pond-like appearance. 
Can spend significant money and time on pool maintenance down the road. 
Don't mind the rough texture on your feet. 
You Should Opt for a Fiberglass Pool if You: 
Are willing to spend $45,000 or more. 
Don't have a lot of time or money for maintenance.
Can find a fiberglass pool design that best suits your needs. 
Want a swimming pool with very low long-term costs. 
Need a small or medium-sized pool. 
Want an easy, quick installation.