One of the most important and impactful choices you need to make when constructing a pool is its color. Don't leave the decision until the last minute; without the right color, you won't be able to achieve the stunning, multidimensional effect most picturesque pools seem to have. But how should you determine which color is best?
It's important to consider the color of your landscaping, the amount of sunlight that reaches your backyard, the size of your pool, and the overall look and texture you want before choosing your pool's color. It's usual advised to opt for lighter, subtler colors, so that they don't fade over time.
Choosing the right color palette for your gunite pool is an extremely important (and frustrating) decision. But don't worry! With a little help from your pool company and a few tips from us, you'll be more than ready to make stylish and smart choices. Let's look at the factors you should consider when selecting a color as well as the different pool materials and finishes you can choose from. 
How to Choose Colors for Your Gunite Pool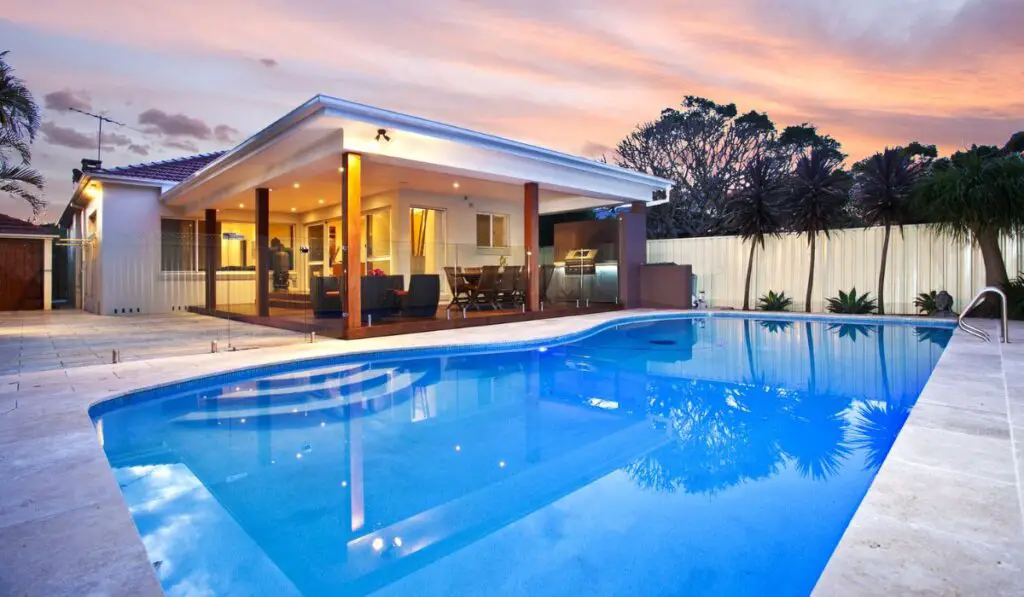 What kind of vibe, aesthetic, or look are you aiming for? Do you love dipping your toes into the deep turquoise waters of the Caribbean, or is your idea of paradise more towards relaxing on the glittering beaches of St. Ives? 
While the decision ultimately depends on your personal preferences, there are still a few factors you should consider before choosing a color for your gunite pool: 
Colors in Your Yard   
It's a good idea to choose a shade that complements the color of the decorative tile border running alongside your pool. The style and color of your landscaping will also play a big role in choosing the right color. 
While each element might look great alone, it's important to remember that the color of each one will impact the others when they finally come together in your backyard. It's better to place samples of every piece side by side and visualize how they'll look together before making a decision.
Lighting
It's important to note that each color appears differently in various shades of lighting. Your swimming pool will look darker in cloudy weather, while the colors will appear lighter and brighter on sunny days.
For this reason, it's essential to consider the amount of light that reaches your backyard and the aesthetic you want to achieve with your pool. While there'll always be varying shades of lighting, it's better to select a color that works best with the type of light that reaches your backyard most of the time.
Texture
Along with giving a different look, each finish gives a different feel to your pool as well. Some people prefer a smooth finish, while some go for a more extreme texture. You might be someone who wants something in the middle.
Before you choose a finish, it's better to feel the texture with your hands first. However, keep in mind that the finish will feel different once it's wet and under your feet. If possible, try to dip your toes in a pool with that specific finish, so you have an idea of exactly how it feels. 
Another reason to see and feel the finish when it's wet is that the color will significantly darken once the pool is completely filled with water.
Comparing Different Pool Materials
Whether you're renovating your pool or building a completely new one, it's important to choose a material that beautifully complements the design aesthetic of your pool. 
Here are a few different pool finishes you can choose from:
Plaster  
Plaster is a timeless option and still remains one of the most popular swimming pool surface finishes used today. The material is a simple blend of water, Portland cement, and silica sand or marble dust. 
Traditional white plaster provides your pool with a classic, smooth appearance and is still a very popular choice despite the wide variety of finishes that are available in the market today. It's the most inexpensive option as well, and it usually lasts for six to eight years before it starts chipping or etching. 
Darker plaster colors, such as deeper shades of black and gray, add depth to your pool and enhance the reflective quality of the water. If you want to make your pool appear like a natural pond or lake, it's better to opt for a darker finish. 
Darker colors also create a beautiful mirror effect, reflecting all the surrounding architecture or landscape. 
Polished Aggregates
A polished aggregate finish contains finely grounded colored stones, such as granite, marble, and quartz. Workers first use a trowel to apply the aggregate finish by hand to the pool shell and then polish it to bring out its shine. 
The small flecks of colored granite or quartz also give a decorative sheen to your pool and extend the plaster's life by 12 to 20 years. 
A polished aggregate finish boasts a timeless beauty that perfectly complements classic pool designs. 
Exposed aggregates 
An exposed aggregate finish contains small glass beads or river pebbles. Like a polished aggregate finish, an exposed one is also hand-applied by qualified craftsmen. 
The material adds traction to the surface of the pool and allows you to choose from a wide range of textures, designs, and color combinations.   
Pebble finishes give a simple, more rustic look and beautifully complement natural surroundings. If you have a lagoon-style or tropical pool, then a pebble finish is the way to go.  
Glass bead finishes capture the sunlight's sparkle and give the surface of your pool a stunning three-dimensional effect. While they add elegance and beauty to almost every pool design, they work best with contemporary pools.
Tile Finishes
Tile finishes are extremely durable and offer a wide range of design options. While tiles are usually applied to only the pool's steps, waterline, or floor to provide a vibrant and colorful accent, you can also use them to finish the interior of your pool. 
Their glossy appearance beautifully showcases the water's reflective properties, while their upscale glamor gives a truly unique, artistic look to your pool.  
Tile finishes come in porcelain, glass, stone, and ceramic. They're also available in a wide variety of styles, shapes, sizes, and colors, and offer virtually limitless designs and combinations. 
How Landscaping Can Impact Your Pool Design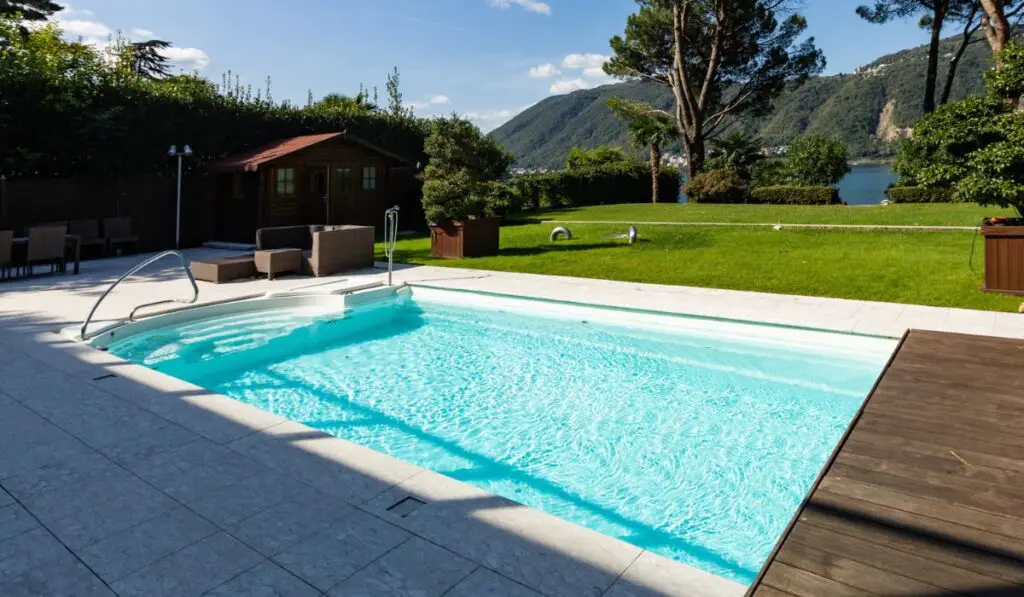 It's important to take the color palette of your backyard and landscaping into account before choosing the color for your pool.   
Also, keep in mind that some colors only work with certain aesthetics. Gray usually works with minimal, modern spaces, while blue looks best in a relaxing, tropical setting.
Why You Should Consider the Size of Your Pool
The size of your pool has a significant effect on the overall appearance of its color. It's better to go for brighter colors with larger pools, as they provide a bigger surface area and more water volume for the sunlight to play off. 
It's also wise to compare how each color looks on a small and large-sized pool, and then choose accordingly. 
The Finish You Choose Matters 
The right pool finish can elevate your swimming pool's entire design to a completely new level of grace and finish. As discussed above, there are several different types of finishes, and each type comes in a plethora of colors, textures, and materials. 
You can choose a classic white plaster, opt for glittering iridescent glass tiles, or go with a beautiful kaleidoscopic mixture of glass beads and river pebbles. 
However, since some materials fade over time, it's generally a good idea to choose a timeless finish rather than a trendy one. This will ensure that you're happy with the texture and color of your finish, even 20 years from now. 
If you opt for a bold color now, you'll probably get tired of it over time. For this reason, it's best to choose a more natural or subtle color that will age well. 
If you want a vibrant backyard, you can always go for more colorful pool accessories, such as patio furniture, towels, pillows, and umbrellas. These are less expensive and much easier to change in the future. When it comes to the finish of your pool, it's important to think long-term!