If you've been thinking about adding an in-ground pool to your property, you may be considering fiberglass as one of your options. That's a good call because fiberglass pools have established a reputation for being a great substitute for concrete and vinyl liner pools. But what exactly is a fiberglass pool and why are they so popular?
Fiberglass pools are ready-to-install pools that are relatively easy to install and maintain. Fiberglass is made from millions of interwoven glass threads enclosed in polyester resin. It's a very robust material that's perfect for building pools. It's a bit more expensive, but much more durable.
It only takes a quick glance at a high-quality fiberglass pool to see that it's a high-end option, thanks to its ultra-modern design, smooth aesthetic, and remarkable colors. Let's look at how a fiberglass pool differs from the other options and what you should know before you make a final decision on which pool is right for your home.
What Is a Fiberglass Pool?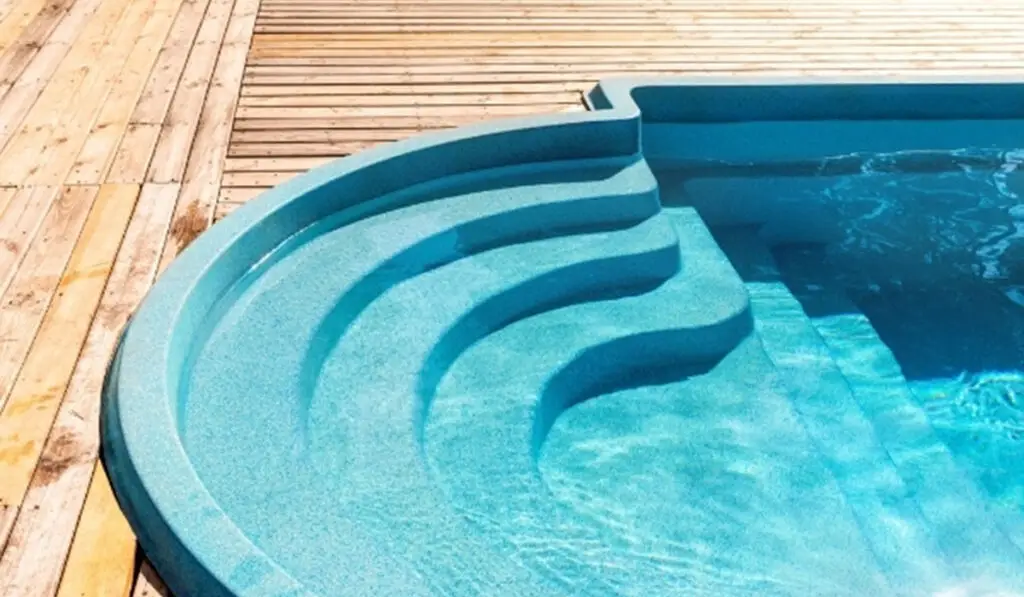 A fiberglass pool usually comes in one piece — ready to install. Fiberglass isn't the only thing that makes up a fiberglass pool. Other layers provide the pool with the support and strength it needs. These layers combine to create a solid and flexible fiberglass shell.
Fiberglass pools have continued to grow in popularity with each swim session. Indeed, since their inception in the late '60s, the market has been flooded with fiberglass pools and they have evolved into a suitable substitute for the traditional concrete pool.
Fiberglass pools come in different shapes. These shapes include circles, rectangles, and squares. The pool is usually given its shape with a mold in a factory and then transported to a destination.
Fiberglass pools are very convenient; they require a shorter time to install and last a long time. They also cost less to maintain.
Fiberglass material is itself a very desirable option, which is why it's used for sinks, bathtubs, hot tubs, yachts, helicopters, airplanes, automobiles, and many other products.
How Is a Fiberglass Pool Installed?
Most fiberglass pool shell producers won't provide installers for your pool. Because of this, you'll have to find installation experts to help you out; make sure you interview them first.
Doing this will ensure that you have an idea of whether they have sufficient experience for this tough job.
The installation process for fiberglass pools involves:
Excavating the soil.

Setting and leveling the pool.

Installing the pool's plumbing and filtering systems.

Backfilling the pool shell.

Installing the patio and coping.

Installing the pool fence and other optional decorations.

How Much Does a Fiberglass Pool Cost?
Two essential factors determine the price of a fiberglass pool. These factors include the pool shell and the installation.
The price for a fiberglass pool shell is between $10,000 and $40,000. The major determinants of the pool shell's price are the shape, size, and depth. Other determinants are the ledges, stairs, and seating.
On top of the shell costs, installation can range from $15,000 to $30,000. This covers several steps involved in the installation right from the ground excavation to the plumbing installation, including the process of securing the shell and filling the pool.
Therefore, the total estimated cost of installing a fiberglass pool is between $65,000 and $100,000, on average. With additional features or upgrades such as pool lighting, pool waterfalls, fencing, and so on, the price could go even higher.
After the installation process, you should still expect to pay several hundred dollars each year in maintenance costs. That's a few thousand dollars each decade — a reasonable amount when compared to the maintenance cost of many other types of in-ground pools.
For instance, you can spend over $1,000 yearly in maintenance costs for a vinyl liner pool, and even more for a concrete pool.
Pros and Cons of A Fiberglass Pool
Some of the pros and cons of fiberglass pools include:
Pros
Quick and easy installation: Installation of most fiberglass pools usually takes between three and six weeks, from the commencement of work to the first day you start swimming in your new pool.
You can choose to install fiberglass pools as above-ground or semi-inground: Fiberglass pools can be installed in a variety of ways, making them a very versatile option.
They're long-lasting: One of the top attributes of fiberglass is its strength, so you don't have to worry about cracking the structure while having a good time in your pool.
Lower maintenance costs: The gel coat of a fiberglass pool is usually very smooth. Because of this, pool owners usually don't have to spend a lot of time scouring the surface. Also, it's algae-resistant, meaning that you don't need to spend as much on chemicals to get rid of algae.
The lifetime cost is lower: Maintaining a fiberglass pool usually requires fewer maintenance chemicals and less electricity. This helps you save time and money in the long run.
Beautiful design options: Easly fiberglass pools were not the most pleasant to look at. However, these days, you can have your fiberglass pools customized to suit your taste, with LED lights, ceramic waterline tile, colored finishes, water features, and so on.
Saltwater systems compatibility: Fiberglass doesn't give any reaction to saltwater. And since you don't have to spend a lot on saltwater systems, that's a big plus. Also, if you use a saltwater system with your fiberglass pool, what you get in return is high-quality water with low maintenance.
Increase in home resale value: While the same can't be said about every pool, fiberglass pools do add more value to your home.
Built-in features: Adding pool accessories like a built-in spa or bench seating costs less with a fiberglass pool.
Cons
You have limited options: Generally, you won't find fiberglass pools that are longer than 40 feet, deeper than 8.5 feet, or wider than 16 feet. You need to truck a fiberglass pool shell from a factory or dealership to your property, so the dimensions are usually controlled by highway transport laws and regulations.
The initial installation can be costly: The cost for fiberglass pools is usually between $65,000 and $100,000. Included in this cost are manufacturing and installation expenses. However, the cost could increase for certain water features, extensive retaining walls, or other special features.
How Long Do Fiberglass Pools Last?
A fiberglass pool can normally last as long as 25-30 years. If it's well maintained, a fiberglass pool could even last 50 years!
Also, maintaining Fiberglass pools is very easy. You don't have to replace their liners every few years because they don't have any. Even if the upfront cost may be a little high, a lot of money and time will ultimately be saved.