Adding a swimming pool to your backyard is an excellent way to beat the heat and make the most out of summer. Gunite pools offer unparalleled levels of aesthetic quality and design flexibility. For this reason, they're the pool of choice for many resorts, hotels, and, increasingly, homes. But should you opt for a gunite swimming pool? 
Gunite pools are durable, flexible, customizable, and available in a wide range of shapes and sizes. There's not much difference between shotcrete and gunite pools, both are types of concrete. A gunite pool usually takes around 60 days to build after prep, but it depends on the project's size. 
Because of its versatility and durability, gunite has become the standard for both residential and commercial swimming pool construction. Whether you want to build a pool with sharp edges, smooth curves, or both, gunite will deliver. Let's look at what exactly the material is, how it differs from concrete and shotcrete, what benefits it offers, and what you should consider before installing one.
What Is a Gunite Pool?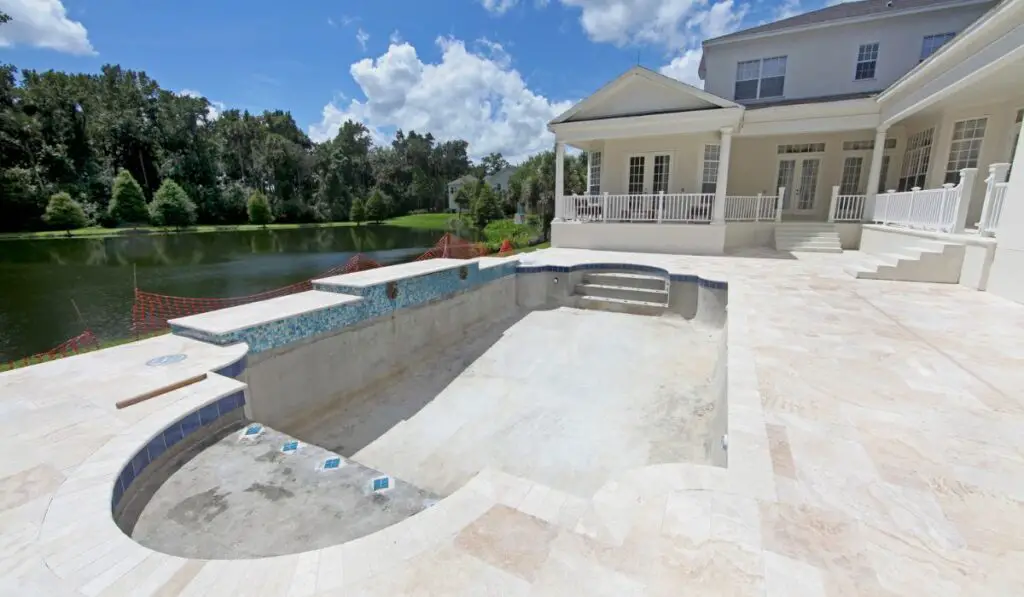 Popular for its durability and dependable structural strength, gunite is a concrete mixture of cement, water, and sand that's applied with a high-pressure hose. Once gunite dries, it becomes extremely hard, forming a solid, stable structure.   
The material has held a special place in pool construction for decades, where it's paired with steel and finished with an interior coat of plaster. Let's take a look at how a gunite pool is built, so you know what to expect. 
The Construction Process
First, crews excavate a hole for the new pool, and then they install a structure of steel bars, known as the rebar. These metal rods are placed at accurately-spaced intervals and form a cage-like skeleton that runs throughout the entire length of the planned pool (and the spa if you plan to build one).
Extra steel is added to areas that need greater reinforcement, such as a free-standing raised wall or a deep end. 
The steel framework is then firmly set on concrete blocks and suspended a few inches in the air to avoid contact with the soil present beneath it. 
Once the steel cage is set in place, the pool is filled with gunite. Crews use a high-pressure hose to spray the material across the entire length of the pool, forming the dense pool walls and floor. 
Gunite is incredibly adaptable to the shape of your pool and produces depths, shapes, flowing lines, and various contours, creating a cohesive, stable, and visually appealing structure.
After the gunite dries properly, crews add plaster to complete the construction of the pool. The smooth blend is composed of marble dust and cement, and might also have colored quartz aggregate for enhanced durability and aesthetics. 
Plaster actually waterproofs a gunite pool, and this final coating is what forms the pool's glossy interior surface.
Is Gunite the Same as Concrete?
Gunite is a mixture of water, cement, and concrete, and is essentially the same as concrete in terms of ingredients. However, the application process of the two materials is vastly different.
Traditional concrete is poured section by section into wooden frames, while gunite is applied in layers with a specialized spray gun. For this reason, gunite surfaces don't have the seams found in traditionally poured concrete, making gunite pools more durable than other types. 
The use of a compressed air gun further allows builders to spray gunite on curves and vertical surfaces. This adaptability makes the material perfect for inground pool construction and a popular choice for several other applications as well, such as roads and tunnels. 
Gunite vs. Shotcrete 
It's important to understand that both shotcrete and gunite are types of concrete, but the term gunite is mostly used with swimming pools. 
However, it's worth noting that gunite is basically a kind of shotcrete. The primary differences between the two are the ingredients and the preparation process. 
Gunite is originally a dry mixture, and water is added afterward — usually at the job site, with a hose. On the other hand, shotcrete is a wet mixture that's combined with water beforehand. Shotcrete also consists of gravel, while gunite does not. 
To give you a better idea about the differences, let's dive into how the pool construction process differs with the two materials:
Building a Gunite Pool 
First, a gunite rig or truck transports a dry load of cement and sand to the job site. There, the material is transferred to a container known as the hopper, after which it's fed into a mixing system called the auger.      
The auger then feeds the dry gunite blend into a high-pressure hose. This hose features a nozzle and is controlled by a nozzleman. 
The nozzleman then connects the gunite hose to a separate line and tip and adds water to the dry gunite mix as it leaves the hose. Once the blended mixture becomes sufficiently wet, the crew finally sprays it on the steel frame to build the swimming pool.
Building a Shotcrete Pool 
Shotcrete is a blend of cement, pea-sized gravel, and sand. This mixture is transported in a big truck with a large, rotating barrel to the job site — a sight you've probably seen many times on the road.  
The rotating barrel, which contains water, blends the dry shotcrete mix with the liquid to make a smooth mixture that becomes ready to use in the time it takes the truck to reach the job site. 
Like with gunite, professionals use a high-pressure hose to spray the shotcrete mixture into the excavated hole to build a solid, stable structure. 
Is Shotcrete or Gunite Better?
Don't get confused by the differences between the two materials. Just remember that both are concrete and both will produce tough, solid, and durable pool shells.
Reputable pool builders across the country construct inground pools with either material, so you'll find shotcrete pools, gunite pools, or both, depending on where you live.
However, due to several different local factors, pool builders often prefer one material over another. In some states, shotcrete is dominant, while in others gunite is more popular. 
Either way, it doesn't make much difference. The important thing is that both shotcrete and gunite are ideal for pool construction. Both create monolithic, solid structures with enhanced flexibility, durability, and adaptability for almost every backyard design. 
What Are the Benefits of a Gunite Pool? 
Gunite swimming pools are extremely durable and can be built in almost any shape imaginable. They don't need any wooden frameworks to secure and hold the shape of the pool. The popularity of these pools has increased significantly, and it's clear to see why.
Here are a few benefits of a gunite pool: 
Wide Range of Designs and Shapes 
With a gunite pool, you can choose a shape and design that complements your landscape. Custom pools can be constructed in any size or shape, so you can easily choose a pool that suits your backyard and home. 
Instead of redesigning your entire property, you'll be able to design your pool in a way that fits in with the existing landscaping. 
Finish Materials of Your Choice 
Gunite plaster finishes come in a wide range of colors, allowing you to fully coordinate your pool with your landscaping. 
You can even opt for finishes made from glass or pebbles to give your inground pool a higher-end and more sophisticated look. 
Highly Durable
Custom gunite pools are extremely durable and built to last. In fact, they have the best warranties and last the longest compared to other types of inground swimming pools available today. 
Easy to Construct 
Gunite swimming pools are much easier to build than concrete ones. Concrete pools take a very long time to build, and the overall quality of the pool depends on several factors out of your control, such as the outdoor temperature during construction. 
On the other hand, gunite pools have a rebar framework that's sprayed with a sand and concrete mixture, resulting in less variability and a much shorter construction time.
Flexible 
Since the construction of gunite pools is more amenable and adaptable to custom designs, you essentially have free reign over their customization. 
You can build a pool of any shape, depth, or size. And don't be scared of adding whatever amenity tickles your fancy, whether it's an irregular underwater bench, a tanning ledge, or a few built-in barstools. 
With gunite pools, you can also install various additions like spas, waterfalls, and streams to beautify and add to the natural appearance of your pool. 
How Long Is the Installation Process?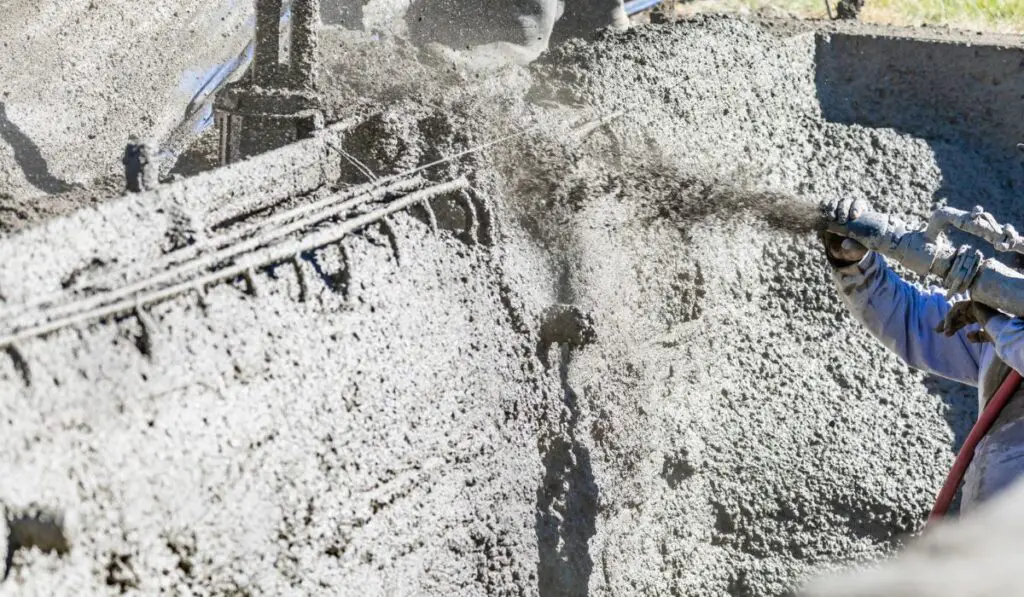 Gunite pools can take weeks or even months to build and install, depending on the scope and scale of the project. If you've commissioned a large, complex pool with numerous features (rock walls, waterfalls, lighting, etc.) and unique landscaping, its construction is going to take a lot longer than a small rectangular one with no extra features. 
A typical gunite swimming pool takes around two months to complete. Here are a couple other factors that can help determine how long the construction and installation process will be: 
Access 
Fitting the large machines required to build a pool into a small backyard can take a lot of time. The process will be even longer if you have fences or sheds in your yard, as they will need to be taken down or moved.
Weather   
Of course, weather conditions are out of everyone's control. Some conditions, like rain and snow, can delay the pool project. 
What Else Should You Consider Before Installing a Gunite Pool? 
Aside from the finish, design, and amenities, there are several other things you should consider before installing a gunite pool. Make sure you think about yard size, timeline, budget, access, maintenance, property value, and how much time you'll actually spend in the pool. 
There is also a wide range of pool add-ons and features you should consider. Features like fountains and waterfalls can add elegance and drama. Everyone has a different sense of style, so make sure you only choose the features that you like best.