Owning a pool offers many benefits, but that doesn't mean there aren't any associated risks. Injuries do happen, and many of them could have been avoided if proper safety measures were in place. As you consider how to make your above-ground pool as safe as possible, you're probably wondering if a fence is required.
A fence around an above-ground pool is often required by state or local laws, and some insurance companies won't insure your property without one. Different types of fences are available, including mesh, wood, and aluminum, but regardless of the material, it should be at least four feet high.
Pool safety isn't something to take lightly. So let's look at how you can protect yourself and others who are enjoying your pool, as well as whether you need pool insurance.
Are Above-Ground Pools Required to Have a Fence?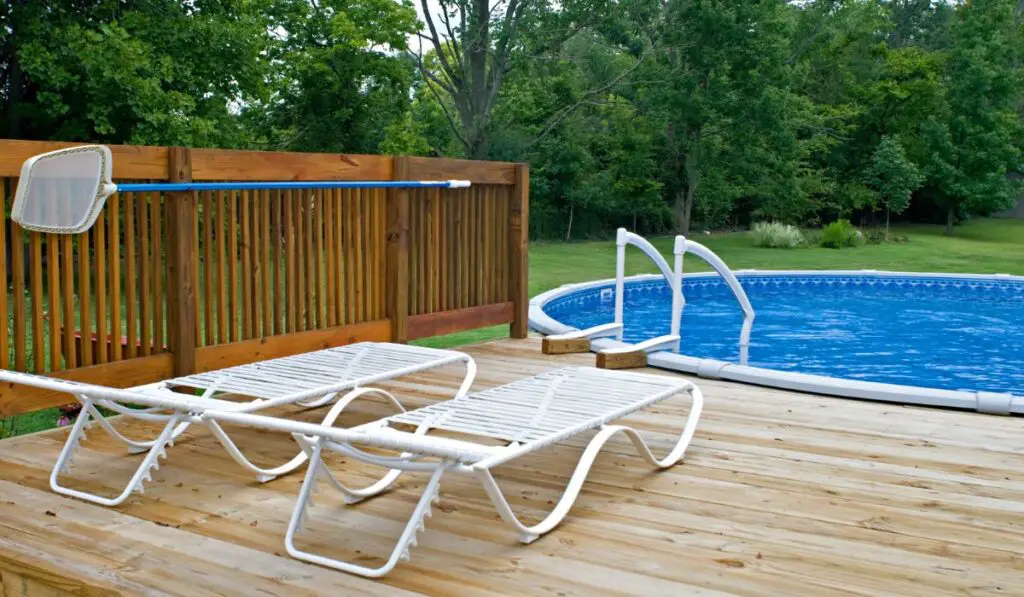 One major difference between an above-ground and inground pool is that the former has elevated edges, making it inaccessible to kids. However, before you think that that's enough to keep your toddler safe, remember that above-ground pools also come with stairs and ramps that children and pets can use to get into the pool.
The best time to let your kids enjoy the pool is when you're there to monitor them. When you aren't there, you have to ensure that they can't gain access to the area. The best way to do that is to install a fence around your above-ground pool.
In some states, it's even legally required to have a fence if you own a pool with water that's 18 inches deep or more.
While installing a fence around your pool is a general agreed to be essential, the exact requirements differ from jurisdiction to jurisdiction. That means you need to find out the requirements for owning a pool in your state or area.
That said, in most cases, your pool fence needs to be at least four feet high.
Different Types of Pool Fencing
There are different kinds of pool fencing, and they all can get the job done. You should check out the available options and pick the one you want based on personal preferences, budget, and other factors.
Aluminum Fencing
Aluminum pool fences are simple and straightforward, and you don't have to go overboard to get one of these installed around your pool. They're also cheap, durable, and contain anti-rusting properties.
Glass Fencing
Besides the fact that glass pool fencings are simple and durable, they are also aesthetically pleasing and can provide you with a clear view of your above-ground pool and its surroundings.
Glass fences don't require changes to your yard's landscape, and due to the nature of the material, children usually can't climb over them.
There are two types of glass fencing: frameless and semi-frameless. Frameless glass fences are costly, but also elegant and mostly invisible. If you're concerned about glass fences breaking, you should know that they come in different levels of thickness, making breaks unlikely.
Overall, glass fences are easy to maintain; you only need to wipe them down once in a while. However, you should note that they are permanent fixtures, so you can't dismantle them in the winter.
Mesh Fencing
Like glass fencing, mesh pool fences provide you with a great view around your pool. Mesh fences are woven with steel, and they're solid and rust-free. With this type of fencing, you also don't have to worry about your kids or pets climbing over.
Wood Fencing
Wood pool fencings are traditional, and they may be the best option if you need privacy. They also come in different colors, designs, shapes, and sizes, so you can make your choice based on personal preferences.
While wood fences are typically quite durable and long-lasting, you have to paint and treat the wood once or twice a year to maintain it.
Do You Need Insurance for Your Pool?
No matter the safety precautions you've taken, accidents can still happen in and around the pool. For this reason, you should certainly consider getting insured as a pool owner.
Although most residential pool owners assume they should get a different insurance policy for their above-ground pool, pool insurance is usually covered by a personal liability insurance policy.
That's why most insurance companies advise their clients to increase their personal liability threshold to make sure it'll cover any pool-related incidents.
Other Ways to Keep Your Pool and Swimmers Safe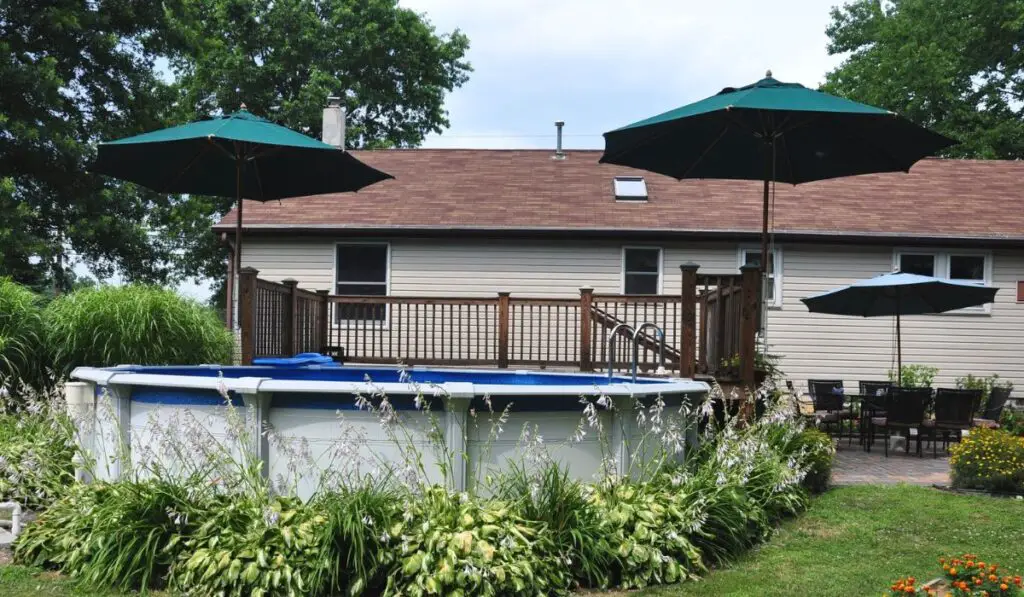 Installing a fence is just one way to increase the safety of your pool. Below are some other safety practices you should employ to provide as much protection as possible for swimmers at your pool:
When the pool isn't in use, always cover the pool with a durable pool cover (on Amazon). This will help stop kids and uninvited guests from getting in it without your permission.
After every swimming session, clear away any pool toys or other items that might attract children to the area.
Ensure that there is adult supervision whenever your children are in or around the pool.
Have a phone close by in case of an emergency.
Get trained in CPR so that you can render help in times of emergencies.
Teach your kids how to swim.