So you're ready to take the plunge and finally purchase the luxurious in-ground hot tub you've been dreaming of. But what's it going to cost to install a hot tub?
Installing an in-ground hot tub can cost anywhere from $7,000 to $25,000, depending on the tub size and amenities you require. This estimate includes the cost of inspection and permits, hiring a contractor, electrical and plumbing work, and the cost of the hot tub itself.
Installing an in-ground hot tub requires strategic planning, experienced professionals, and premium materials. But with proper budgeting and research, you can get the hot tub of your dreams at a price that works for you. Let's break down all the pricing factors you need to consider for installing an in-ground hot tub so that you can make the right choice.
Which Factors Go Into the Cost of an In-Ground Hot Tub?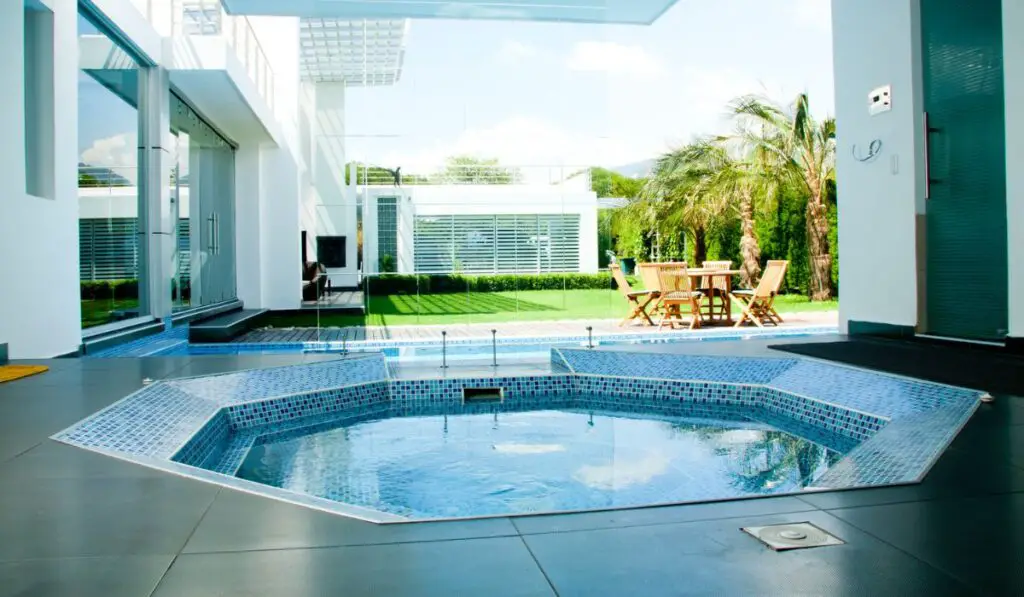 There are countless ways to build an in-ground hot tub: You can sink a pre-fabricated tub into the ground and pour a concrete border around it; create a lavish mosaic-covered oasis with luxury acrylic spas; or build a custom spa with built-in waterfalls and LED lighting that merges into your garden landscape.
The possibilities are practically endless, and so are the potential factors that go into the cost. Here, we'll discuss some of the major points that remain consistent across all hot tub installations.
1. Hiring a Contractor
When you do something as technically and physically demanding as installing an in-ground hot tub, don't cut corners. Hire a professional and make sure they're insured and bonded.
A reputable contractor will provide you with a detailed plan for the project, list every material you need, and give you an accurate quote for the job. Plus, they'll take care of getting the necessary permits and inspections done.
Average cost: $3,000 to $7,000
2. Permits
Some cities require permits for recreational water installations, including hot tubs. Check with your local authority for their specific requirements. Permits should be obtained before any work begins and may vary in cost depending on the size and location of your hot tub.
Plus, depending on your city's regulations, you may have to meet certain requirements for safety and noise. For example, there may be restrictions on the maximum size of the tub, where the pump sits, or the wiring depth.
Average cost: $500 to $2,000
3. Electrical Installation
Unless you already have a GFCI-protected outdoor outlet installed in the area where you want to build the hot tub, wiring a new outlet is going to be necessary. You'll also need a new subpanel, a circuit breaker and extra wiring for features such as lighting, pumps, and jets.
Any electrical work must be done by a certified electrician and inspected by the local authority.
Average cost: $1,000 to $2,500
4. Plumbing Installation
Just like electrical installation, plumbing installation also requires a licensed and insured professional contractor. This includes laying out the piping, fitting the jets, and draining and filling valves.
Average cost: $1,000 to $2,500
5. Concrete Base
Hot tubs are heavy and need a solid foundation for support. Any contractor you hire will likely recommend pouring a concrete base for the tub instead of using decking or masonry.
The concrete base can be as simple or detailed as you wish, but in any case, you'll need metal framing, concrete mixtures, and reinforcing materials.
Average cost: $1,000 to $5,000
6. The Hot Tub
Of course, the cost of the hot tub itself makes up a big chunk of the total cost. The price will vary greatly depending on the type, size, and design of the hot tub you choose. 
You can find basic pre-fabricated tubs for as little as $3,000, or you can go all out and get a luxury acrylic spa with custom features for upwards of $20,000.
Average cost: $3,000 to $20,000
7. Cover
A hot tub cover is essential for keeping the water clean and your energy costs low. There's a wide range of covers to choose from, but removable fabric covers — like this polyester one (on Amazon) — are the most common and affordable choice. Thermal foam core covers (on Amazon) are a bit more expensive but also more energy efficient.
Then there are automatic covers that can be motorized to open and close with a touch of a button, or custom seamless covers that are more expensive but look more luxurious.
Average cost: $50 to $3,000
8. Landscape Designer
Your contractor may provide a landscape designer as part of their team, but if not, you may want to get one onboard if you really want a special in-ground hot tub. 
A professional landscape designer can help create a stunning outdoor oasis with plants, stones, and other design elements that seamlessly blend the hot tub into your existing landscape.
Average cost: $1,000 to $3,000
9. Other Costs
In addition to the above factors, other costs associated with building an in-ground hot tub include cleaning and prepping the space, extra labor, tools, etc.
And if you want to jazz things up with extras like a built-in stereo system, LED lighting, swim-up seats, or fountains, be prepared to pay more for those special features.
Average cost: Varies greatly based on the project.
What's the Average Total Cost of Installing a Hot Tub?
On average, expect to pay anywhere from $12,000 to $30,000 for a full in-ground hot tub installation. That price includes permits, electrical and plumbing installation, the concrete base, the hot tub itself, and the charges for a professional landscape designer if you choose to have one.
Let's assume you want a basic 8-foot pre-fabricated tub and minimal landscaping. With minimal excavation and the contractor doing the electrical and plumbing work, the total cost of installation should be somewhere around $14,000.
If you decide to get a custom-built tub, there will be additional payments for framing, jets installation, and stone and tile work for the surrounding landscape. In this case, you could be looking at a total of upwards of $20,000.
Of course, these quotes are just ballpark figures, as hot tub installation costs will often depend on individual circumstances. But one thing's for sure: If you want an in-ground hot tub, it's not a cheap endeavor.
Don't let that stop you from enjoying the ultimate relaxation experience! Make sure you consult with a few licensed contractors around, ask for detailed quotes for your particular project, and consider all the factors mentioned above before making your final decision.
What Else to Keep in Mind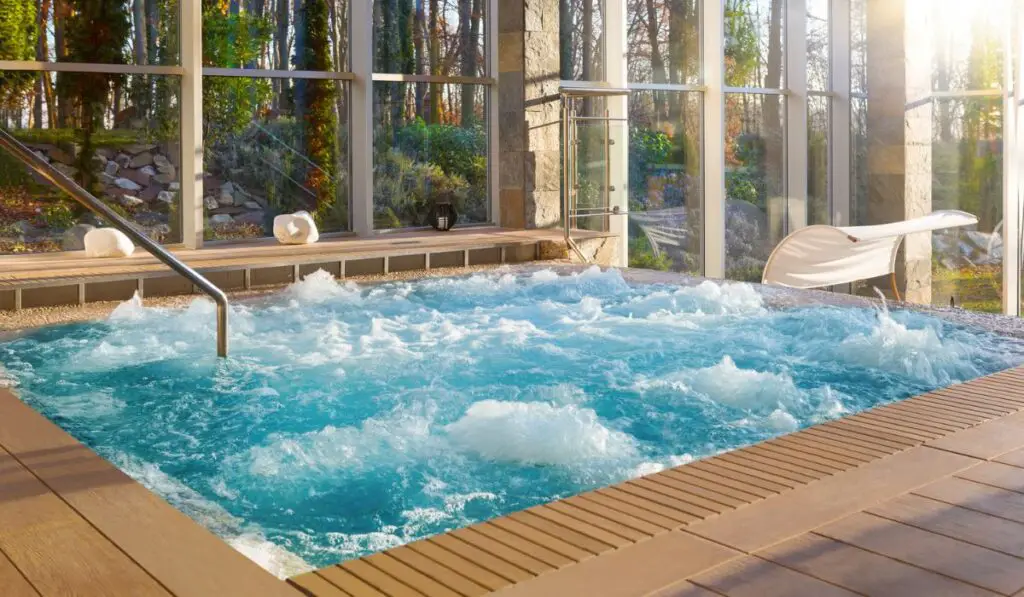 Installing an in-ground hot tub involves a lot of hard work, money, materials, and specialist expertise. As you get started on this project, there are some important things to keep in mind:
Get a Recommendation
You might think your friend's 9-foot jacuzzi is the dream hot tub. But it might not be as perfect as you think.
Before you buy a hot tub, find out what you need, talk to friends, do research online, and get recommendations from contractors and hot tub suppliers, as they have the experience to know what works best for your individual needs.
Research the Contractor
A bad contractor can run your costs sky-high and leave you with an unsatisfactory result. Once you have a list of potential contractors, read their online reviews and ask for references to assess their work.
Don't be afraid to ask questions about the services they provide and get all the details in writing.
Most importantly, make sure your chosen contractor is licensed, insured, and bonded.
Get an Estimated Timeframe
Contractors often work on multiple projects at once and delays aren't uncommon. Make sure you're on the same page with a clear timeframe of when they'll start and end the job.
Maintenance
In-ground hot tubs need regular maintenance and servicing to keep them running smoothly. Keep ease of access in mind when selecting the type and placement of your tub.
You may also want to consider the cost of supplies that you'll need to maintain your hot tub.
Running Costs
Generally, a hot tub adds around $30 to $100 per month in energy costs and $75 to $100 per year in water costs. But the more you use your hot tub, the more it will cost to run. 
Make sure you factor in these costs when selecting the type of tub you want, and speak with a hot tub specialist about the most efficient model for your needs.
The Final Word
So, as you can see, many factors can affect the cost of installing an in-ground hot tub, making it difficult to give an exact estimate. But now you have a better idea of the costs involved and what you need to keep in mind when making your decision.
Take your time, consider the options carefully, and enjoy your new tub!