Figuring out how to achieve the perfect scenery around your hot tub can be a bit difficult. But if you get the landscaping just right, a relaxing soak after a particularly stressful day can feel a hundred times better. So, what are some of the factors and features to consider as you landscape around your tub?
Instead of simply dropping your hot tub as-is in the middle of your yard, try adding soothing lighting, comfortable outdoor furniture, and low-maintenance plants for a more comfortable, aesthetic look. If your hot tub is on a raised deck or patio, add a wet bar, outdoor kitchen, or a decorative rug. 
No matter which style you choose, make sure nothing you've added affects your hot tub's water drainage or wiring. Let's take a closer look at a few landscaping ideas for hot tubs, including which plants work well around hot tubs and how you can landscape on a budget, so you can turn your backyard or patio into the ultimate staycation. 
Landscaping Ideas for Hot Tubs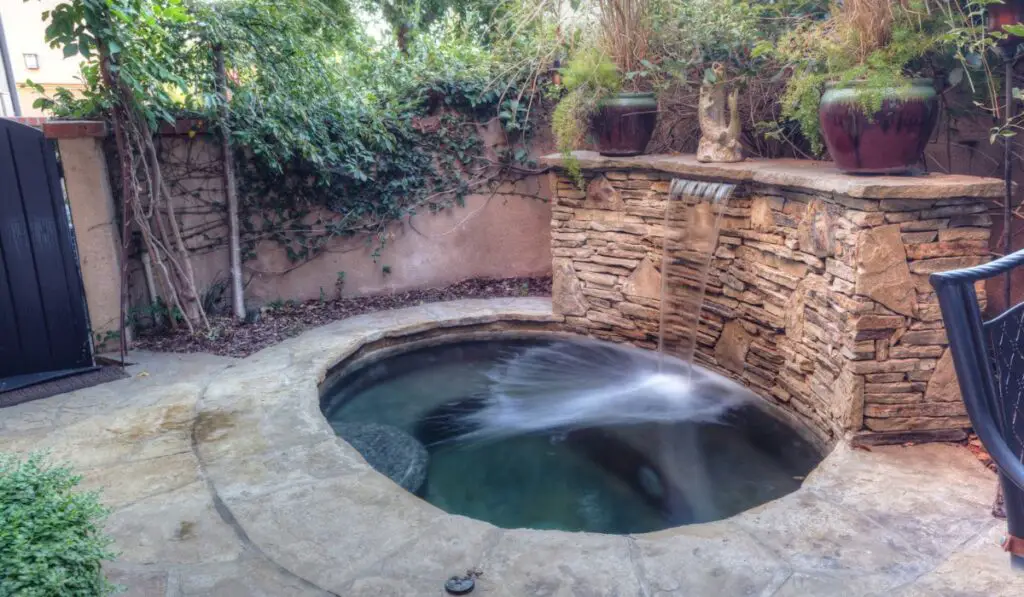 A hot tub can be a bit of an eyesore if it's just placed in the middle of your backyard without much thought, but incorporating a few design elements can turn your backyard or patio into a personal oasis. 
Here are a couple of creative landscaping ideas that can help you create a truly stunning view around your swim spa or hot tub:
Soothing Lighting
The right type of lighting can transform your entire backyard. Whether it's floating lights or string lights, like these ones from Brightown (on Amazon), opt for mood lighting that decorates the landscape, enhances your surroundings, puts you at ease, and doesn't get in your hot tub's way. 
Make sure you consider the craftsmanship and color of the lighting equipment before making your purchase. If you're planning a specific color scheme, choose shades that complement and accentuate that look. 
Outdoor Furniture
Along with offering you a comfortable place to sit, the right outdoor furniture can completely change your hot tub's surroundings. 
Stainless steel, plastic, wood, and rattan pieces, like this set from FDW (on Amazon), all give vastly different vibes and looks, so make sure you choose the material that best suits your existing backyard decor. 
If you don't have a lot of space in your backyard, then it's best to opt for modular or smaller furniture that doesn't congest the area. Thin furniture perfectly balances space, beauty, and utility, ensuring there's enough breathing space for everyone in the hot tub. 
Plants 
Plants are a great decor option for your hot tub, but make sure you don't overdo it unless you're trying to achieve a wild, undone vibe. Placing too many plants around your hot tub can feel a bit claustrophobic, and hanging plants that droop down into your hot tub can be a bit of a nuisance. 
It's best to choose low-maintenance plants and place them strategically around your hot tub for privacy.
Landscaping Ideas for Raised Deck and Patio Hot Tubs
If you have your hot tub on a raised deck or patio, there are still a lot of creative ways you can make the space more relaxing and inviting:
Throw in a Wet Bar
Use a sleek black pillared stone bar to add a wet bar around the hot tub. You can also light a few candles to set the right mood for either a fun night of hosting friends or a romantic night with your partner.
Add an Outdoor Kitchen
If you love cooking, you can make the perfect kitchen space right on your deck or patio and entertain both your family and friends. 
Along with being a perfect addition to your hot tub space, an outdoor kitchen will also allow you to relax and ensure you don't have to keep running back into your house for one thing or another.  
Incorporate an Outdoor Rug
A beautiful decorative carpet, like this one from Sand Mine (on Amazon), can enhance the design of your raised deck or patio and incorporate a bit of your personality into the space. Make sure you choose an outdoor carpet that complements the existing style and adds some warmth to the area. 
Which Plants Work Well Around a Hot Tub?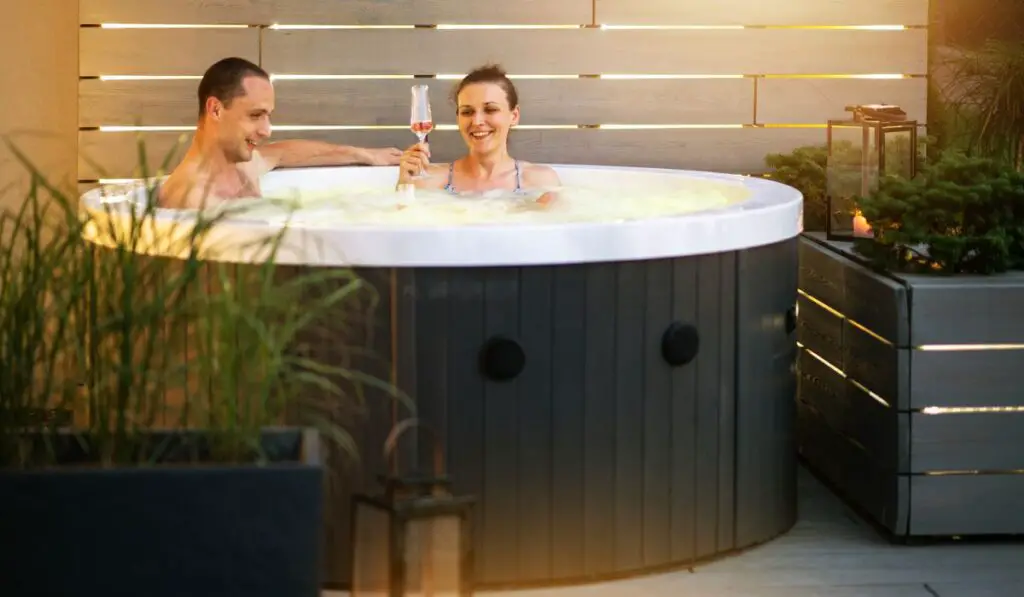 Mature trees, bushes, and tall plants with thick foliage are an excellent way to incorporate privacy and natural beauty into your hot tub experience. 
Arborvitae, pieris japonica, bamboo trees, and rhododendrons all work well around a hot tub and create a natural fence between you and the outside world. Along with enhancing the look and feel of your backyard, these plants create a more intimate place, allowing you to soak in peace and privacy.
If you want to add a bit of relaxing aroma or some extra aesthetic appeal to your hot tub area, try arranging potted plants, hanging baskets, or flowers like roses, geraniums, sweet box, portulacas, lavender, petunias, and more. 
Not only will these flowers add a splash of color to your backyard, but they'll also release therapeutic scents, making your hot tub even more relaxing and tranquil than before. 
Ideas for Covering Your Hot Tub 
There are two great ways to cover your hot tub:
Multi-Layered Gazebos 
Gazebos are an excellent way to add a roof over your head, allowing you and your guests to stretch out and relax in the shade. Along with offering privacy, an intricate gazebo will also provide a beautiful focal point for your landscaped backyard. 
Pergola 
Installing a pergola with curtains will allow you to subtly incorporate privacy around your hot tub. However, make sure you construct the structure in a way that easily blends into the surroundings and adds to the ambiance of your backyard. 
Ideas for Landscaping on a Budget
Even simple landscaping can completely transform your hot tub or swim spa experience into a five-star luxurious retreat. Adding certain design elements can help create a modern, colorful, and tranquil space in your backyard.
If you don't want to spend a lot of money, here are a few ideas for landscaping on a budget:
Colors
Adding too many vibrant colors can be a bit tacky and lead to a chaotic vibe. For this reason, it's best to choose a color scheme that only blends a few shades. 
Don't use bright colors if you're planning a soothing feel. Instead, opt for mellow tones that incorporate whites and tans to create a relaxing spa vibe. 
Add Some Stones 
Spreading stones around your backyard will give a rustic feel, add a natural vibe, and create a truly gorgeous design. From gabion walls to stone beds and stone pathways, scattering stones can result in a soothing spa atmosphere.