There's nothing more relaxing than soaking in a hot tub. It has the unique ability to soothe an overworked body, correct a bad day, or provide a place to unwind with friends or family. But the one thing you need to enjoy your hot tub is a privacy screen to shield your tub from the eyes of your curious neighbors. 
To add privacy to your hot tub area, you can use privacy screens, gazebos, garden trellises with climbing ivy. Some people make a fence from loose pallets. Before choosing a hot tub privacy screen, keep your color and material preference, budget, and location of your hot tub in mind. 
The vast number of options available for hot tub privacy screens can make it quite challenging to choose one just right for you. Let's look at the features to keep in mind when selecting a unit and which one will suit you according to your requirements. We'll also look at some budget-friendly and temporary options.    
Factors to Consider When Choosing a Hot Tub Screen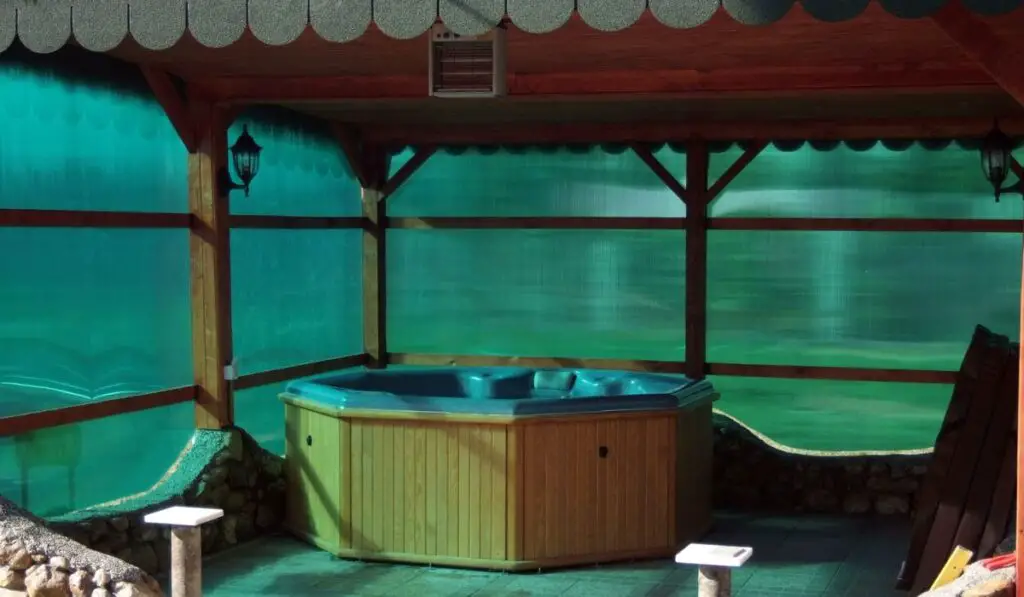 From permanent outbuildings to beautiful privacy trellis, the options for hot tub privacy screens are unlimited.
However, before choosing a particular design to make your hot tub more private, it's essential to consider a few things:  
Budget
The first thing to keep in mind is your budget. A gazebo or an enclosed structure tends to be more costly, mainly if they are custom-designed or have integrated features like lighting.
Instead, installing a garden wall around your tub is much more economical. You can also tackle this as a DIY project. 
Subsequently, an add-on screen or a fence can be a more effortless and quicker solution requiring very little maintenance, particularly if made from timber.    
Permanent or Temporary
Are you looking for a permanent screen for your hot tub or a temporary one? A fence makes for a solid and durable screen. You can use pre-built panels or make a fence from scratch according to your taste and preference. 
On the other hand, a folding screen is a great temporary privacy screen solution. You can move this screen depending on what you want to hide and the sun's angle without any trouble.  
Material
Hot tub privacy screens are available in a variety of materials. A trellis is a great option to block the view but allow some light through. Growing a climbing plant like clematis or honeysuckle can give the trellis a softer look. 
Or, if you have a large garden, you can do clever planting to create a natural privacy screen. Shrubs, trees, and hedges are an eco-friendly way to shield your hot tub from view.
For a more modern look, frosted glass is an excellent material as it offers complete privacy without blocking the light.
Ideas for Hot Tub Screens on a Patio 
Since a patio is at ground level, you can position your hot tub on the side, leaving ample space for dining, entertaining, and relaxing.
If you've decided to place your hot tub on your patio, then the following privacy screens will be best for you:
Gazebo
Garden gazebos, like this one from domi outdoor living store (on Amazon), are a fantastic addition to your outdoor area as they keep your hot tub properly sheltered no matter the weather. 
They are particularly suitable if the neighboring windows overlook your garden as gazebos shield your tub from eyes up above. Of course, you can also add fencing panels to ensure privacy from the sides. 
Pergola
A sleek shelter like a pergola (on Amazon) is a great option to make your tub more private. The surrounding slats are adjustable, which means you can't just control the view but the amount of natural light and airflow.
In addition, by adding sliding doors, you can make the place ideal for a relaxing winter dip.
Pavilion
This freestanding structure can be portable or permanent with a roof and open sides. A pavilion can be pretty spacious or practical in size. It's ideal for people who want a place to entertain near their hot tub.    
Hot Tub Dome
Hot tub domes have been gaining popularity during the last few years as they provide privacy without obstructing the view. 
Available in both portable and permanent varieties, hot tub domes (on Amazon) come with many valuable features like sliding doors, tinted glass, and retractable blinds.    
Screens
Screens offer a more viable option for creating privacy compared to other types of fences. Typically smaller than fences, screens are available in various materials and designs. 
Privacy screens (on Amazon) can be folded, fixed in place, or portable. In addition, you can choose materials that complement your home, backyard, and hot tub style, especially if the hot tub is near or against an exterior wall.
Some fabric screens come with adjustable panels, whereas bamboo is preferred by many due to its tropical appearance. Similarly, privacy screens made from wicker and rattan are excellent for creating visual interest. 
Retractable privacy screens (on Amazon) are more advantageous than fixed or folding screens as they offer privacy while providing you with a brilliant view. 
Living Screen
Like a fence, a living screen is made of trees that shield your hot tub from unwanted attention. In addition, you can strategically place hedges, trees, or shrubbery and create hot tub privacy at your property line or directly around the hot tub. 
The best thing about a living screen is that it integrates easily into your landscape design and makes your backyard appear larger while providing you with a beautiful view.     
Ideas for Hot Tub Screens on a Deck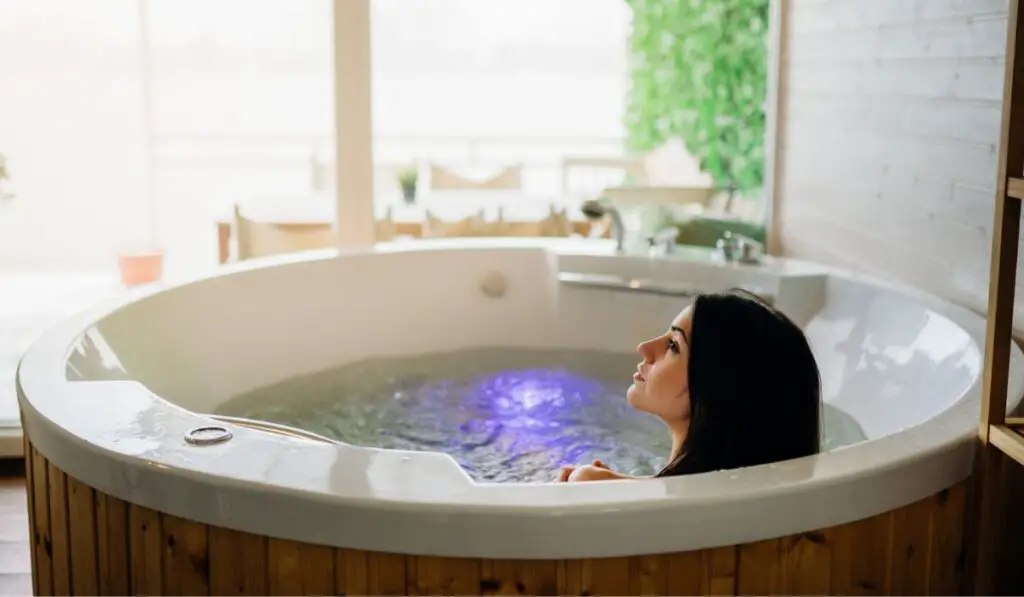 When adding privacy screens to your hot tub on a deck, consider the view you want to keep, the view you want to hide, and the sightline.
Following are some enclosures that can be established on a deck:
Frosted Glass
A hot tub on a roof terrace or a deck needs to be screened from the people below to make it more private. Opting for a frosted glass design instead of a fence provides your hot tub with a subtle yet stylish barrier. 
Fences
With a DIY fence, get as creative as possible and experiment with different colors, heights, and textures. You can also include a bench or a place where you can hang your robe to enhance your hot tub experience further.   
However, if you want to give your hot tub area a unique look, go for custom fencing. For example, a stone wall embedded with planters or a mixed materials fence made of woven wood and brick slats can elevate your hot tub area to create a space that uniquely reflects your style.
Trellis
Different varieties and styles of trellis can be used to ensure privacy for your hot tub.
For example, a classic wood trellis covered with flowering plants or climbing vines and placed near the hot tub offers a decorative and functional way to provide privacy while enhancing the design of your hot tub area.
Ideas for Temporary Privacy Screens 
Temporary hot tub privacy screens are an excellent option for people who don't want a permanent structure in their yard all year round.
They are a budget-friendly way to ensure privacy without incurring the high cost of a permanent structure. Examples of such units include: 
Inflatable Canopy Tent
Setting up an inflatable canopy hot tub tent is similar to a camping tent. Ensure you have anchors, ropes, and a pump to avoid trouble. 
Retractable Privacy Walls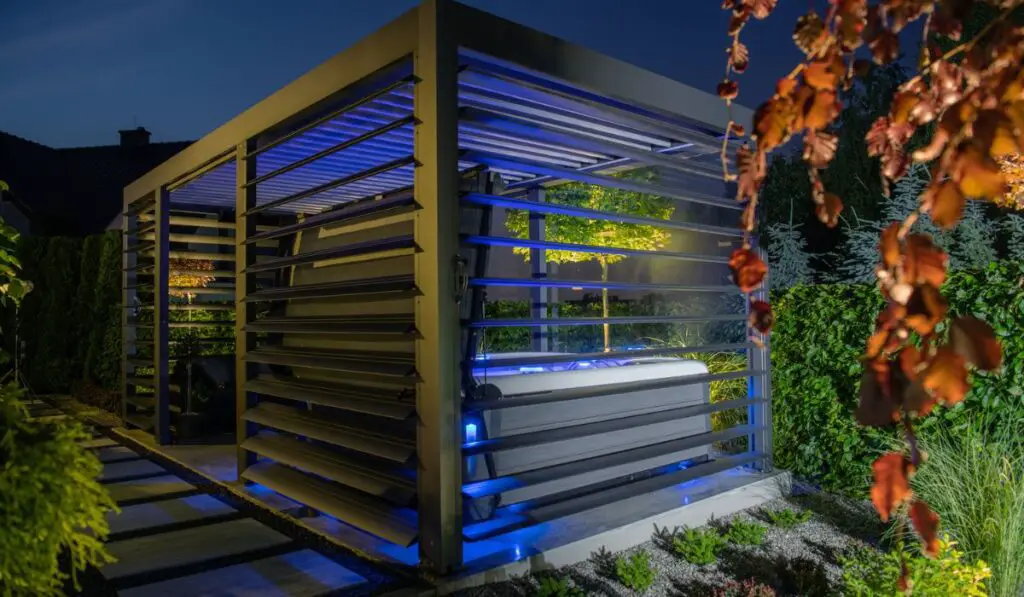 Like screens, retractable privacy walls are easy to set up and can be bolted to the deck, patio, or concrete slab. These manually-operated walls help to enhance your privacy while you soak in your hot tub.
They are typically made of water-resistant fabrics like canvas, polyester, and metal frames.
There are different types of retractable privacy walls available. Retractable high-end luxury glass walls help to enhance the view while protecting from harmful UV rays. In addition, high-end retractable walls provide more flexible protection from wind, sun, rain, and nosy neighbors.    
Hot Tub Umbrellas
Shade sails and hot tub umbrellas block the view from above to offer privacy while providing the added benefit of enjoying some shade. Although the level of privacy provided by these umbrellas isn't very high, they can be helpful if they are adjustable. 
Ideas for Privacy Screens on a Budget 
The following budget-friendly options ensure complete privacy without putting a burden on your pocket:
Curtains and Blinds
One of the most straightforward and inexpensive ways to block unwanted attention is installing PVC privacy curtains (on Amazon), using outdoor sheers, or hanging drop-cloth outdoor curtains (on Amazon). 
You can also hang curtains with tie-backs in privacy enclosures like pergolas, gazebos, and pavilions to create a dramatic and luxurious effect.  
DIY Screens and Walls
A DIY screen is also a great option if you're on a budget. You can take old doors and make a quirky yet functional screen. Attach a couple of old doors using hinges and paint them to match your hot tub area. The same can be done with old shutters and screens.  
Similarly, a DIY wall created from pellets also helps to ensure privacy on a budget. Finally, a freestanding corner wall or a DIY rock wall with a waterfall gives the hot tub area a magical and stylish ambiance.
Use Plants for Subtle Screening
Plants provide your hot tub area with a natural and subtle screening solution. They boost the level of greenery while giving a great view to enjoy while relaxing in your hot tub.
Choose a mix of evergreens with carefully placed deciduous trees for a more balanced privacy solution that will also provide you with dappled light. 
Fast-growing trees like arborvitae can grow tall within a few years to provide a natural barrier between your neighbor's and your backyard.    
Planting tall bamboo plants in large containers also provides an economical but effective privacy screen for the hot tub. Bamboo proliferates and remains green all year round. It gives your hot tub area a more tropical feel and acts as an effective windbreak.