You already have a nice pool in the backyard that you enjoy splashing around in during the summer — great! But why not level up your pool time with an attached hot tub? A hot tub can turn your backyard oasis into an even more luxurious spot to soak and relax. So, how can you add a hot tub to your existing pool?
You can add an in-ground or raised hot tub to an existing pool by connecting the plumbing from the pool's pump to the hot tub's heating and filtration system. There are many choices regarding the type of hot tub and how you'd like to connect it to the pool…all of which are expensive.
Let's dive in and take a closer look at the process of adding a hot tub to an existing pool, including how much it costs, the benefits, and how it'll affect the value of your home.
Can You Add a Hot Tub to an Existing Pool?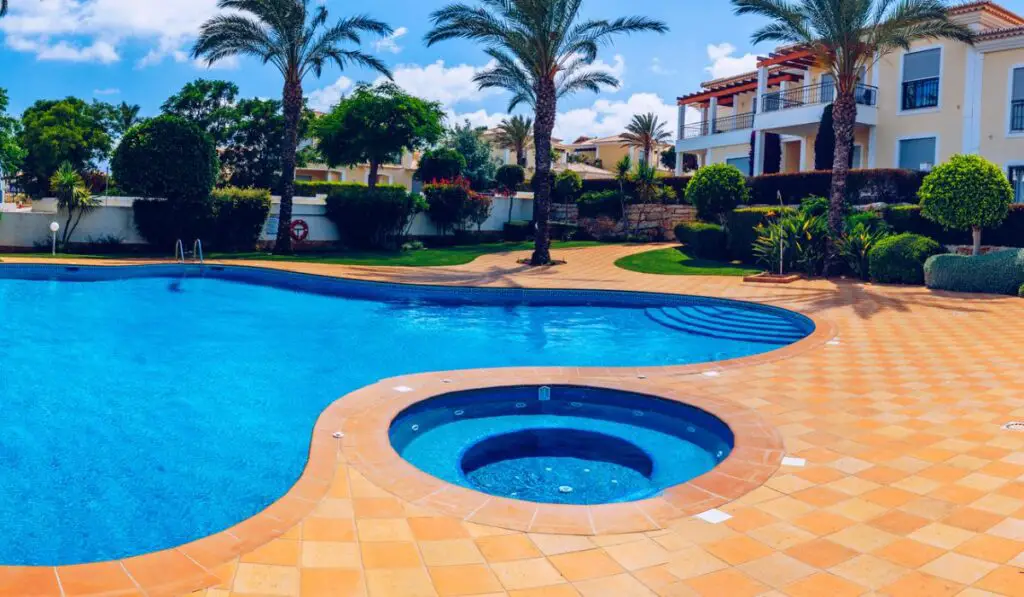 Yes, with the proper planning and resources, you can certainly add a hot tub to your existing pool. You may even get away with using the same filter and pump you currently use for your pool.
Some things you need to consider include the size of your pool and hot tub, the amount of space you have for the hot tub, and whether you want to share the water between the pool and hot tub.
In-ground hot tubs provide a more seamless look and can be easily integrated into your existing landscaping, while above-ground hot tubs are a great option if you want to keep the installation process relatively simple. Other options like swim spas or overflowing spas add a unique twist to your backyard and offer lots of fun.
Whatever you're planning, make sure to speak with a professional pool contractor, and they'll help you figure out the best option for your setup.
How Much Does It Cost to Add a Hot Tub to a Pool?
The cost of installing an in-ground hot tub highly depends on the size and type of hot tub you want. Prices typically range from around $5,000 to $15,000, depending on the features and options you choose. 
You also need to factor in the cost of professional installation, which can run anywhere from $1,000 to 3,000, depending on the job's difficulty. Additionally, you may be subject to additional charges for necessary permits or inspections applicable to your area.
As a general estimate:
A 6-foot in-ground spa with basic features typically cost around $6,000 to install.

A 7-foot spa with raised seating and more features may cost up to $10,000 to install.

A larger 10-foot hot tub with all the bells and whistles can easily reach $15,000 or more.

Of course, if you're looking to add additional features — like a waterfall or multi-jet system — the cost can increase significantly. Plus, the area you live in and local labor rates also need to be taken into account.
What Are the Benefits of Having an Attached Spa?
Attached spas aren't just for luxury living — they can actually provide a range of health benefits and serve as an investment in your home. Here are some of the benefits of having an attached spa:
Relaxation & Stress Relief: A hot spa soak can help you relax your muscles, relieve stress and tension, and improve circulation. The warmth also helps relieve migraine headaches, allowing you the rest you need.

Pain Relief: Hot baths can provide therapeutic relief from sore muscles, arthritis, joint stiffness, and inflammation. The jets on the spa can further massage and soothe painful areas.

Improved Blood Circulation: The warm water of an attached spa raises your core body temperature and can help improve circulation. This is especially beneficial for those who suffer from poor circulation or circulation-related issues.

Party Central: When it's warm enough, an attached spa can turn your backyard into the site of a fun pool party. Get together with friends and family for a night of drinks and conversation, and soak together in the comfort of your own backyard.

Elevated Look: An attached spa with lights, waterfall features, and a nicely designed deck or patio can elevate the look of the entire backyard. It's a great way to add character and charm to your outdoor space. Read our guide here for hot tub landscaping tips.

Home Investment: Fun perks aside, an attached spa is a great investment for your home. If you have intentions of selling in the future, not only will it capture potential buyers' attention, but you'll be sure to get every penny out of it once they witness the luxury.
And these are just a few of the benefits! So, if you're considering adding a hot tub to your existing pool, it's certainly possible and can be a great way to upgrade your space.
How Much Will an Attached Spa Raise Electric Cost?
The cost of running an attached spa varies depending on the size and features, but it typically costs as much as a regular hot tub, which includes the cost of running a water heater, a circulation pump, water jets, light, and other accessories.
On average, you should expect to add an additional $50-$100 on your monthly electric bill. But again, this will vary depending on how much you're running the spa and how you use it.
Proper insulation and energy-efficient features can help reduce your electric costs by as much as 50%.
And, of course, make sure your spa is properly maintained and serviced regularly to ensure that all systems work efficiently and that you're getting the peak performance out of it. 
Can a Hot Tub Increase Property Value?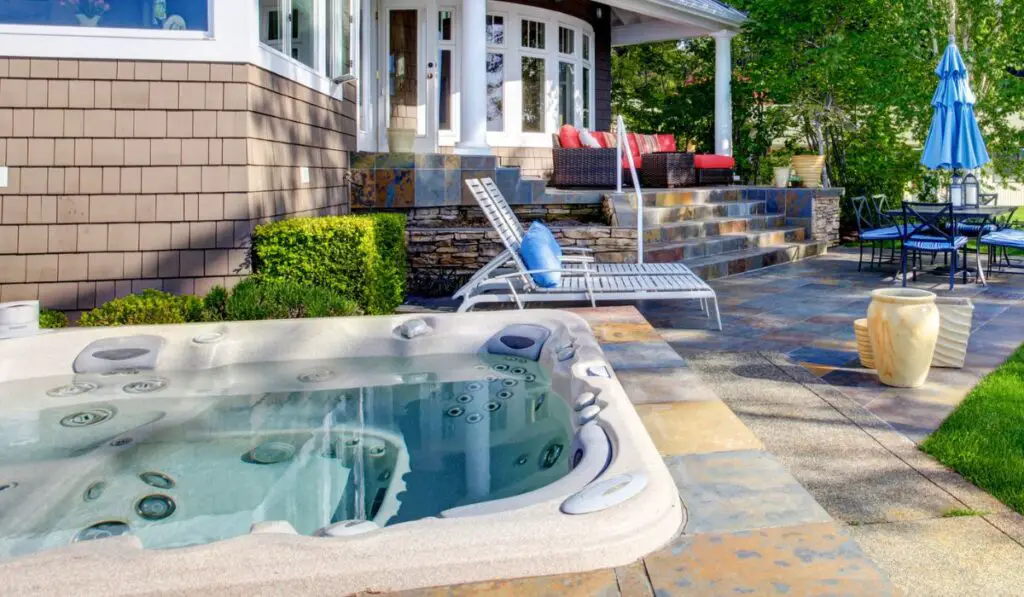 Absolutely! Having a spa is one of the best ways to add value and appeal to your property, and they're definitely on the list of things potential buyers are looking for. Here're a few reasons why investing in a hot tub can increase the value of your home:
Aesthetics:Nothing says luxury like having a nice spa on your property. It can definitely add a sense of exclusivity and sophistication to your backyard that buyers are sure to love.

Functionality: Hot tubs are used for exercise, relaxation, and even relief from aches and pains. And athletic people know how good it feels to just hop into a hot tub after a long workout.

Entertainment: Social butterflies look for homes with a great outdoor entertaining space, and a hot tub is a perfect addition. You can host intimate parties and dinners in your spa area or just have a place to hang out with friends.

All-Season Use: With an attached hot spa, the pool area becomes a usable space all year round. You can extend your swimming session by months if you have the right attachments, and many buyers are looking for that extra "wow" factor.
So, if you're looking to increase the value of your home and create a luxurious outdoor area for entertaining, then investing in a hot tub is definitely something to consider. With the right features, you can create your own little paradise and turn your home into the envy of all your neighbors.