Mod pools are innovative pools made from shipping containers that offer customization, versatility, accessibility, and more. But if you're consider a Mod pool for yourself, you're probably wondering how much they cost.
Small and mid-sized Mod Pool models have a starting price of $26,000 before add-ons. The largest models have a starting price of $36,500 and $48,900. The average cost of a standard in-ground pool is between $28,000 and $55,000, making Mod Pools a competitively priced option.
Although Mod Pools can be more affordable than standard installations, there's still a lot to factor in before you purchase one. Let's take a look at everything you need to know before you make a final decision.
What is a Mod Pool?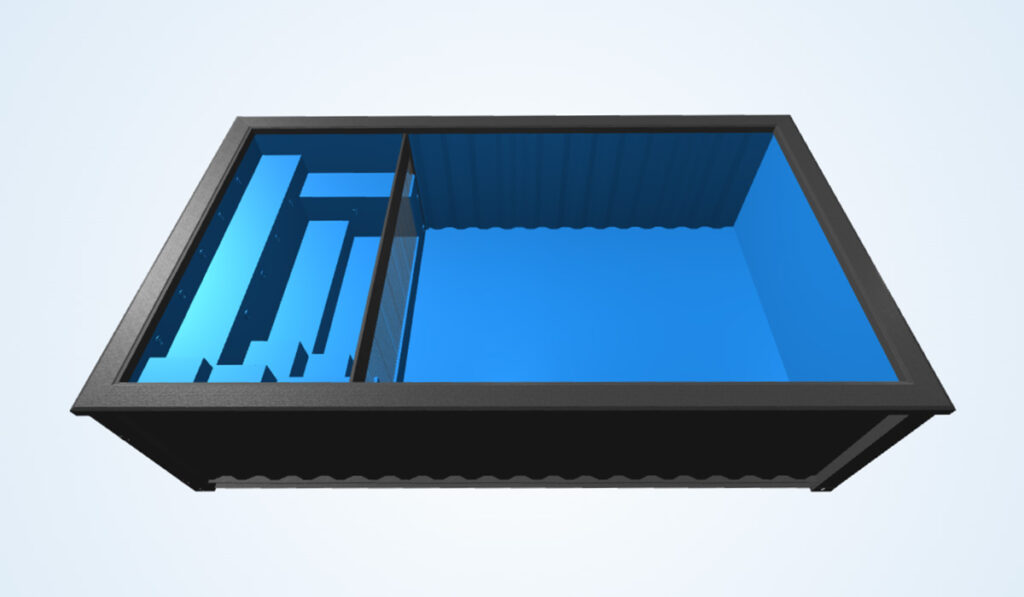 Mod Pools are made out of steel shipping containers repurposed into pools. The containers come in lengths of 12, 16, 20, and 40 feet. The width can vary from 8 to slightly over 11 feet, depending on the model. Installation can vary from in-ground, partially in-ground, sloping, and above-ground.
Mod Pools have a lining consisting of several different layers. The first layer coats the entirety of the pool and is a marine epoxy primer. The container is then sprayed with two layers of pure polyurea liner.
Finally, the pool is finished with an HP urethane clear coat-colored finish. The liner ensures a marine-grade seal and has an expected lifetime of 8 to 12 years.
The shipping containers can also contain a window, depending on the model. Mod Pool windows are made with top quality, 1 inch-thick acrylic. Acrylic can withstand the weight of the water, with higher impacts and scratches than a typical window.
The Cost of a Mod Pool Compared to Other Pools
One of the main appeals of Mod Pools and shipping container solutions is that they're typically cheaper than traditional pools. You'll find shipping container pools online varying in price, but they usually start well below standard pools.
As you can see, small and mid-sized Mod Pool models cost below the starting price for the average in-ground pool. However, these costs don't factor in additional features, land preparation, maintenance, and other factors.
What Are the Benefits of a Mod Pool?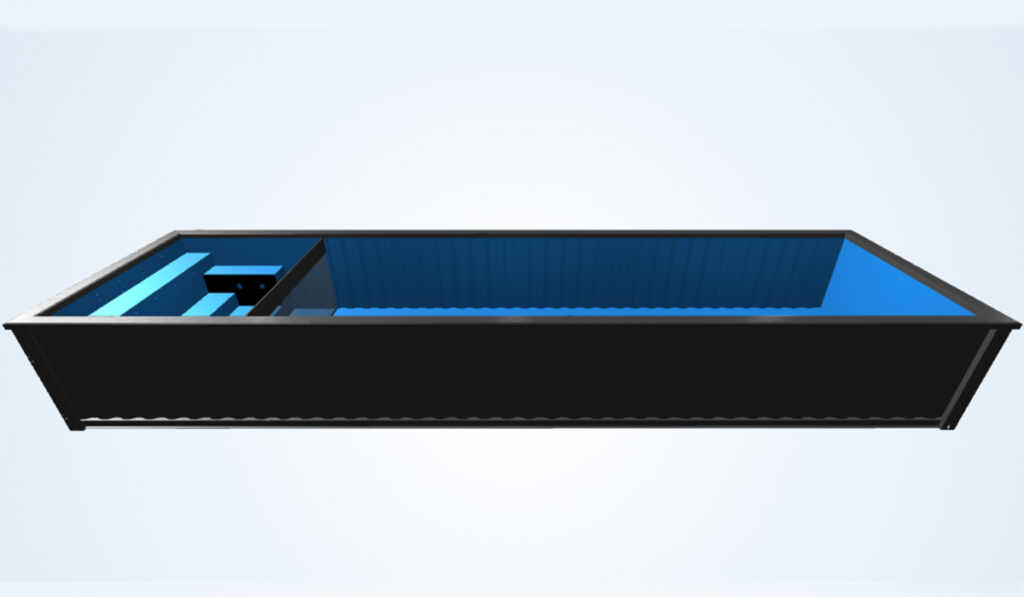 Mod Pools come with a variety of benefits, depending on the model. The pools can come featuring a pump, filtration system, heater, WiFi control, and color-changing LED lights. Let's take a deeper look into the advantages of a Mod Pool.
Cheaper Solution
Mod Pools and shipping container installations are usually much more affordable than standard in-ground pools. Average in-ground pools can cost between $28,000 and $55,000. Homeowners are likely to pay around $35,000 for an in-ground pool.
Mod Pools have a starting price of $26,000 for the smallest and mid-sized models. The larger 20-foot model starts at $36,500, making it comparable to a traditional pool. When you combine the low costs and other advantages, Mod Pools and shipping container solutions seem like a worthy consideration.
Compact and Portable
Mod Pools have two distinct benefits that you won't find in an in-ground pool: They're compact and portable. The smallest shipping container model is around 12′ x 8′. In-ground pools vary in size, but smaller installations are usually around 10′ x 20′, making them a much larger option.
As you already know, in-ground pools aren't portable. You can't take your pool anywhere once it's installed. Although it adds value to your home or property, it can be a bit of a bummer when you move. Mod Pools and shipping container solutions can be easily transported to other locations with a crane and moving truck.
Doubles as a Hot Tub
One benefit Mod Pools have is that they double as a hot tub. Mod Pools can be equipped with spa settings that feature eight jacuzzi jets and heaters. You can also purchase models with retractable divider walls to separate spaces and increase versatility.
It's not common to see in-ground pools with these features. Installing a separate hot tub for an in-ground pool usually costs an additional $10,000 to $15,000. You'll also need adequate space and land preparation before the installation, which can increase the total expenses.
Sleek Design
Mod Pools have a unique and sleek design that you might not find with standard in-ground pools. There are a variety of ways you can install shipping containers. You can install them in the ground to create a more traditional look. On the other hand, you can have them slightly above ground with a deck for a more modern approach.
One of the unique ways to install a shipping container pool is above ground with an added window. The added acrylic window pane creates a flashy aesthetic and a special swimming experience.
How to Know if a Mod Pool Is Right for You
Mod Pools are extremely versatile, but you might be wondering if they're right for you and your circumstances. You'll need to consider the layout of your space, preferences, budget, and more when thinking about shipping container solutions.
Mod Pools don't require separate pool-house spaces on your property, as they're completely self-contained units. These units might be an excellent option if you're lacking yard space for separate pool housing.
Mod Pools might also fit your needs if you live in a condo or townhouse and have limited outdoor space. You can install these pools slightly above-ground and attach them to a deck if an in-ground installation doesn't suit your space. They're also much smaller and more compact than traditional pools, so they work well in tight spaces.
You'll need to consider your preferences as well. Mod Pools might not be for you if you want a pool with a deep end and a diving board. Shipping container solutions might suit you if you're more relaxed and don't plan on doing laps every morning.
You should also consider the different add-ons, such as hot tub/pool hybrids, retractable dividers, automated chemical systems, etc.
Finally, Mod Pools can be cheaper than standard in-ground pool installations. Prices start at $26,000 for the smallest model and $48,900 for the largest size before additional features. Shipping container pools might be right for you if you have limited space, a tighter budget, and available ground.
Controlling the Temperature of a Mod Pool With Your Smartphone
One of the unique advantages of a Mod Pool is WiFi control. Every model includes EasyTouch®PSL4 Pool and Spa Control Systems, enabling remote control from your smartphone, tablet, and other devices. Some of the added benefits include:
You can control filters, pumps, and three additional pieces of equipment and set up four operating schedules.

Clear instructions, displays, and push-button operations.

Fully programmable controls are centralized in a power center installed with the equipment pad.

It can include wireless remotes, indoor control panels, spa remotes, and more.

Compatible with different lights, heaters, spa controls, and more.
The EasyTouch PSL4 system allows you to control filtration, pumps, lighting, chemical management, and more. The system is designed for controlling pool and spa combinations using the ScreenLogic Interface via a computer or smartphone.
Although these systems are high-tech, they're designed for easy learning and access. You can easily find quick start guides, manuals, and tutorials online if you're starting out. The accessibility of controlling your pool's heat while you're relaxing is hard to beat and something to think about when considering Mod Pools.
Wrapping Up
Mod Pools and shipping container solutions can be versatile installations. However, they come with advantages and disadvantages, just like traditional pools.
These installations require regular maintenance, pool servicing, chemical adjustment, and land preparation. Mod Pools and shipping container solutions might be best suited for those with limited budgets, smaller spaces, and a preference for modular designs.