Human ingenuity is never-ending. Shipping containers have been used as office spaces, houses, garden beds, and even pools. So, what exactly are Mod Pools?
Mod Pools are made out of steel shipping containers repurposed into pools. These installations have several different lining layers to prevent rust. They include features like hot tub jets, WiFi control, windows, LED lights, and more, and they can be cheaper than in-ground pools.
There's a lot to think about if you're considering a Mod Pool or shipping container solution. So here's everything you need to know.
What are Mod Pools Made Out Of?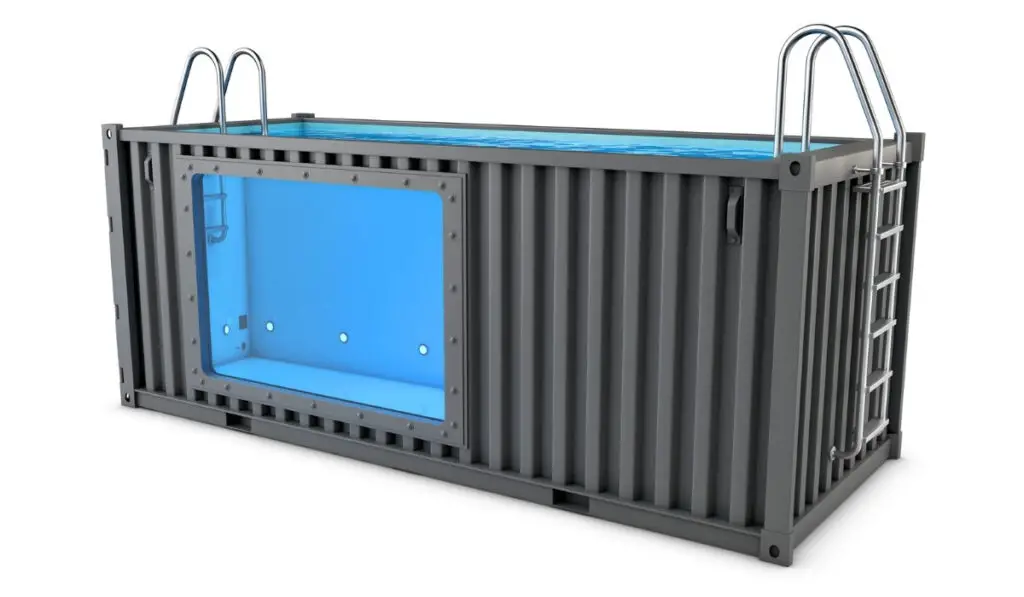 Mod Pools are made out of steel shipping containers repurposed into pools. The containers come in lengths of 12, 16, 20, and 40 feet. The width can vary from 8 to slightly over 11 feet, depending on the model. Installation can vary from in-ground, partially in-ground, sloping, and above-ground.
Mod Pools have a lining consisting of several different layers. The first layer coats the entirety of the pool and is a marine epoxy primer. The container is then sprayed with two layers of pure polyurea liner. Finally, the pool is finished with an HP urethane clear coat-colored finish. The liner ensures a marine-grade seal and has an expected lifetime of 8 to 12 years.
The shipping containers can also contain a window, depending on the model. Mod Pool windows are made with top quality, 1" thick acrylic. Acrylic can withstand the weight of the water, with higher impacts and scratches than a typical window.
Who is a Mod Pool Right For?
Mod Pools can be highly versatile and fit a variety of situations. These pools don't require separate pool-house spaces on your property, as they're self-contained units. The shipping containers are also incredibly portable. You only need a crane and a flat deck truck to move them to your new location.
Mod Pools can also be installed above ground, in-ground, and everywhere in between. Above-ground and sloped installations allow for windows, making a unique swimming experience and visual aesthetic. In addition, the variety of add-ons, such as hot tub/pool hybrid features, make them even more versatile.
Finally, Mod Pools can be cheaper than standard in-ground pool installations. Prices start at $26,000 for the smallest model and $48,900 for the largest size before additional features. So shipping container pools might suit you if you have limited space, a tighter budget, and available ground.
What are the Benefits of a Mod Pool?
Mod Pools come with a variety of benefits, depending on the model. For example, the pools can come featuring a pump, filtration system, heater, WiFi control, and color-changing LED lights.
8 Jacuzzi Jets: Mod Pools can come featuring The Spa Seating with 8 Body Jets, commonly referred to as the Modspa Seating. This feature creates a balance between a hot tub and a standard pool. You can also have a retractable divider wall installed to increase versatility.
WiFi Control: Every model includes EasyTouch®PSL4 Pool and Spa Control Systems, enabling WiFi control from your smartphone, tablet, and other devices. These systems provide up to four operating schedules and temperature customization.
Affordable: Mod Pools have a starting price of $26,000 before any additional features. Depending on the circumstance, in-ground pools can be much more expensive, ranging from $35,000 to $55,000.
Smaller: The smallest size model is 12 feet in length and 8 feet in width, making Mod Pools much smaller than standard installations. Standard in-ground pools can be much larger, with sizes around 20 to 40 feet.
How to Maintain a Mod Pool
Although Mod Pools and shipping container solutions have several advantages, they still need to be maintained adequately like a standard installation.
Balancing the Chemicals
Firstly, these installations need chemical maintenance and adjustment like standard pools. Thankfully, these pools use standard chlorine like other installations. Mod Pools also come equipped with a standard cartridge filter that must be replaced annually.
However, some models can have add-ons, such as the Automatic Chemistry Management System and UV Sanitation System. For example, the AutoChem system can help monitor your water chemistry and balance the necessary chemicals, reducing the effort required.
The UV Sanitation System can reduce chemical costs by neutralizing harmful microorganisms in the water. However, neither of these systems eliminates the need for pool cleaners and maintenance.
Pool Servicing
Shipping container installations and Mod Pools require regular pool servicing as well. Pool servicing can include cleaning, skimming the water, inspecting components, and adjusting chemicals.
However, Mod Pools use Pentair products in their models. Pentair products are standard, higher-end pool accessories that most professional pool servicing companies are familiar with.
Potential Rust Buildup
Unfortunately, Mod Pools and shipping container solutions are susceptible to rust. Mod Pool states its liner is designed to prevent rust buildup. However, shipping containers are made of steel alloys and can develop rust in isolated spots. Mod Pool says they will provide any repair materials upon delivery as a preventative measure.
Land Preparation
Like traditional pools, shipping container solutions require land preparation before installation. You'll need to prepare the landscape, utilize a crane, run electrical connections, and connect gas lines before you can install a Mod Pool or shipping container option.
You'll also need to factor in the following if you're considering an in-ground or partial in-ground option:
To avoid groundwater seeping into the mechanical area, you must install a perimeter drain and a sump pump beforehand.
The pools will require a minimum of three feet for mechanical room entries. However, a four-foot area is preferred in most cases.
These pools will require above-ground gas venting.
If it fits your circumstance, you might need a vapor barrier between the pool and the back-fill.
You will also need to extend your "dig out" area by an additional four feet to retain access to the mechanical area. This space accommodates drop-down accesses.
Many customers also utilize a decking concept or a hinge in the ground.
Wrapping Up
Mod Pools and shipping container solutions can be versatile installations. However, they come with advantages and disadvantages like traditional pools.
These installations require regular maintenance, pool servicing, chemical adjustment, and land preparation. Mod Pools and shipping container solutions might best suit limited budgets, smaller spaces, and modular designs.