Nowhere in the world will you find more water parks in one city than in Wisconsin Dells. In fact, this city in south-central Wisconsin boasts more than 20 indoor and outdoor water parks. Whether you're looking for thrills or just want to float down a lazy river with your kids, you'll find it all here.
Wisconsin Dells boasts huge water parks like Noah's Ark, which offers more than 50 slides and attractions. You'll also find go-karts and roller coasters at Mt. Olympus Water & Theme Park. The city is also home to Kalahari Resort and Great Wolf Lodge, some of the world's best indoor water parks.
Above all, Wisconsin Dells is a great family destination. In addition to the water parks, you'll find kid-friendly attractions like the Tommy Bartlett Exploratory, Ripley's Believe It or Not!, and the Dells Lumberjack Show. So, pack your bathing suit and water wings and prepare to make a splash. Let's find out everything you need to know about Wisconsin Dells, the water park capital of the world.
How Many Water Parks are in Wisconsin Dells?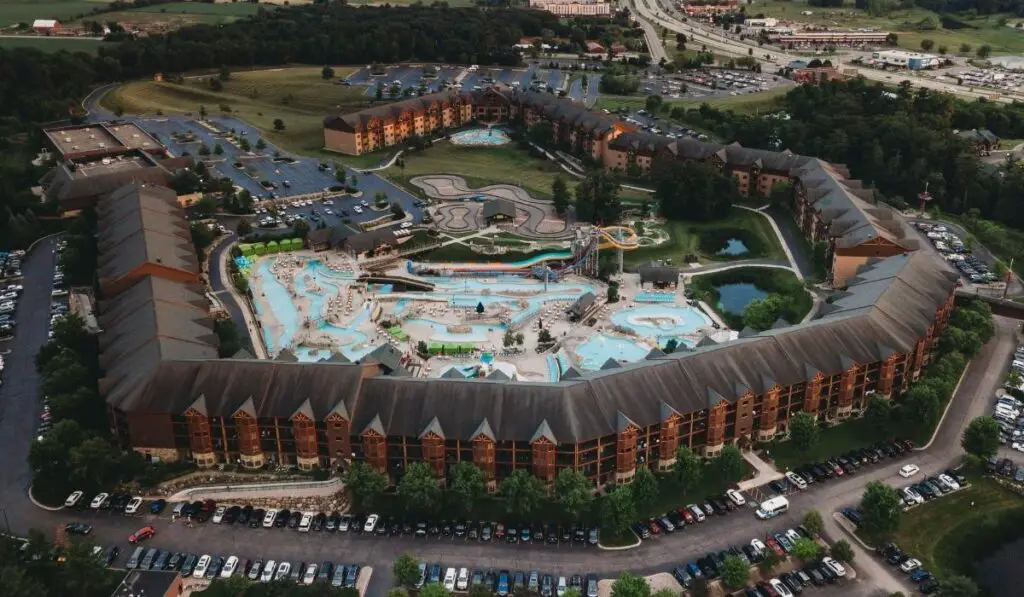 Wisconsin Dells has 20 water parks, including five giant indoor water parks. With over 200 waterslides, 16 million gallons of water, and enough lifeguards to staff a small army, the city has earned its nickname as the "Water Park Capital of the World."
The water parks here range from small, independently-owned parks to large resort complexes with dozens of slides and attractions. There are also water parks geared towards kids, like the Great Wolf Lodge, while others, like Noah's Ark, have something for everyone.
What Made Wisconsin Dells the Water Park Capital of the World?
Wisconsin Dells began as a humble timber and logging community in the mid-1800s. It was founded by railroad mogul Byron Kilbourn and named after him, Kilbourn City. It was later changed to Wisconsin Dells to capitalize on the city's stunning scenery when it was officially incorporated in 1931.
Water has always been the biggest draw of Wisconsin Dells. The Wisconsin River runs right through the center of town and is lined with sandstone cliffs, picturesque bluffs, and lush forests. No wonder people are attracted to this spot in search of an escape from the summer heat.
In the 1940s and '50s, rowboat tours down the Wisconsin River became a popular tourist activity. This was when several hospitality businesses popped up to cater to visitors. 
In 1970, Wisconsin Dells established its first water slide in the Polynesian Resort. The resort's complete indoor water park followed a few years later. Then the largest waterpark in the United States, the famous Noah's Ark, opened in 1979. Today, you don't have to go far in Wisconsin Dells to find a water park. They're on just about every corner. 
As the popularity has grown, so has the competition. Water parks are constantly upping their game to offer the latest and greatest in thrills, chills, and spills, giving Wisconsin Dells the well-deserved title of water park capital of the world.
What are the Best Water Parks in Wisconsin Dells?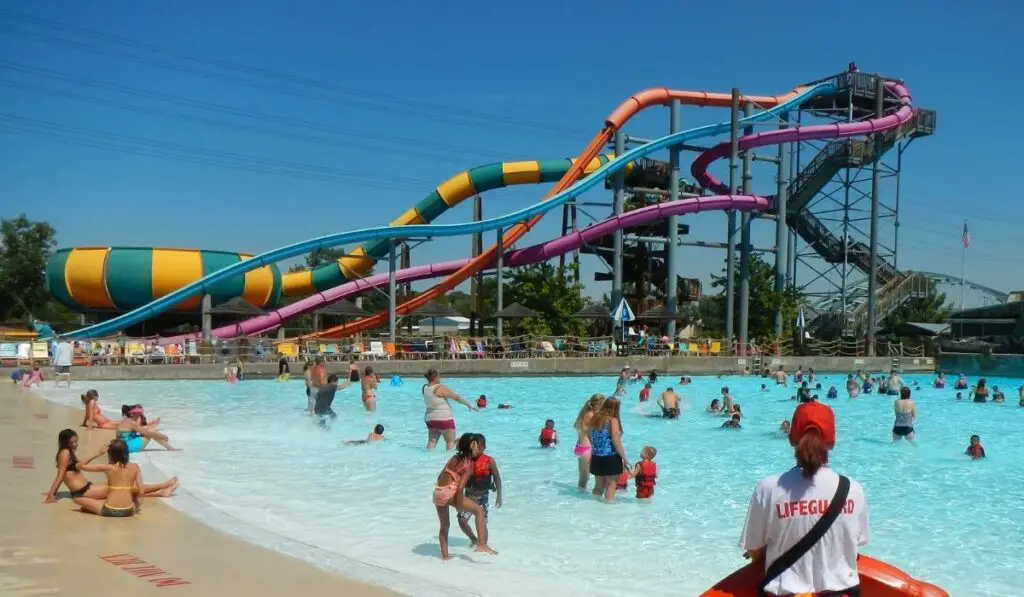 It depends on what you're looking for. Are you on the hunt for slides? Are you after the best wave pool? The parks with the most amenities? We have compiled a list of what we think are the best water parks in Wisconsin Dells to help you decide.
Noah's Ark Water Park
In terms of sheer size, Noah's Ark is the standout location. It's spread across 70 acres and home to 51 water slides, two giant wave pools, slow-moving rivers, and more. There is no shortage of fun to be had.
You can enjoy thrilling vertical plunges, body slides, and tube slides. You also can't forget the Black Anaconda, one of the world's best water coaters. They also have interactive kiddie play areas to keep the little ones busy.
Chula Vista Resort
A bit more than just a water park, Chula Vista is actually an indoor/outdoor water park resort. The indoor portion of the water park is 100% climate controlled, so you can enjoy it no matter what the weather is like outside. The outdoor pools and slides are the perfect way to cool off on a hot summer day. It's the best place for families because there is so much to do.
Mt. Olympus Water Park
This massive resort is home to both a water park and an amazing lodging complex. If you're looking for a place to both stay and play, this is it. The water park has raft slides, racing, and crazy roller coasters. They also offer go-karts, laser tag, and zip lining. Whether you want to stay dry or get wet, Mt. Olympus has something for everyone.
Kalahari Resort
An indoor waterpark spanning over 12 acres, Kalahari Resort is one of America's biggest indoor water parks. And it's not just big; it's also packed with things to do. They have an adventure park, bowling alleys, an arcade, a spa, and of course, water slides. Plus, the theming is top-notch. You'll feel like you're in the African savannah in no time.
Finding the Best Water Park For Your Family
The options are never ending when it comes to water parks in Wisconsin Dells. It's on you to choose if you want an indoor or outdoor park, a theme park, a park with a hotel attached, or just a regular old water park.
Then, you can decide what rides, attractions, and amenities are the most important to you and your family. Let's make it easy and help you find the best water park for your clan.
For Families with Small Children:
When you're visiting with small children, you'll want to focus on water parks with kiddie pools and slides. Indoor parks can also be a good option as they offer year-round fun and are great for days when the weather outside isn't cooperating.
Chula Vista Resort, Great Wolf Lodge, and Noah's Ark have plenty of options to keep little ones thrilled and other activities like arcades and spas to keep the whole family busy.
For Families with Older Kids:
If your kids are a bit older and are looking for more thrill, you'll want to find a water park with bigger slides and more adventurous rides.

Mt. Olympus, Noah's Ark, and Kalahari Resort will be perfect for your family. And if you plan to stay and want off the water park grounds, all three of these resorts offer other activities like go-karts, laser tag, and zip lining.
For Everyone:
Almost every park we mentioned before also offers other activities like spas, golf, shopping, and dining for the times you're not busy with watery fun.

That said, Wilderness Resort and Great Wolf Lodge are two water parks that really stand out. Wilderness Resort has an on-site water park, adventure park, bowling alley, and more, while Great Wolf Lodge offers an indoor water park, arcade, and several restaurants.
For Adrenaline Junkies:
If you're looking for a water park that will give you an adrenaline rush, you'll want to find one with big slides and roller coasters.
Mt. Olympus Water Park, Noah's Ark, and Kalahari Resort have wild water slides that will get your heart racing and your adrenaline pumping.
For Laid-Back Fun:
Not everybody wants an adventures vacation. There's no shame in just wanting to relax in a pool and float around. If that's what you're after you'll want to find a water park with tamer options.

New Frontier water park, Lake Wilderness, and Chula Vista Resort will be perfect for you. Lazy rivers, VIP cabanas, pool bars, and wave pools are all great options for a more low-key vacation.
Which Water Parks Are Best for Small Children?
Noah's Ark has multiple play areas designed for different. If you've toddlers, they will have a blast splashing around in the kiddie pools and playing on pint-size slides and interactive water toys.
There are plenty of body slides, tube slides, and rafting adventures for bigger kids.
The second option is the Great Wolf Lodge indoor waterpark. It has a zero-depth entry pool with spraying fountains, tipping buckets, and slides. And when your kids are tired of the water, they can explore the lodge's massive indoor playground, build stuffed toys, or play arcade games.
Kalahari also keeps the little ones entertained with indoor beach wave pools, lazy rivers, and slides.
Which Water Parks Are Best for Adults? 
Let's be honest: the biggest, baddest water parks are usually the most fun for adults. Wisconsin Dells doesn't disappoint the daredevils at all. Here's where you can get the most out of your visit:
Noah's Ark:
Here you can ride the Black Anaconda, America's longest water coaster. It'll take you through dark tunnels and sharp turns. If you're looking for a truly wild ride, you can also try Scorpion's Tail, the ten-story ride that sends you flipping end over end before dumping you into a deep pool.

For those who like more of a gentle ride, try the Kowabunga, a four-person raft that takes you through some wild drops. Or maybe you're in the mood to lounge around. In that case, you should check out Noah's Ark's giant Kahuna Wave Pool.
Kalahari:
Here you can take on the Screaming Hyena, a ride made for thrill seekers. It's a 60-feet free fall that'll leave your stomach in your throat. If you're looking for a solo thrill, try the Tanzanian Twister, a giant swirly bowl that'll send you flying at 40 mph, and don't forget the Wild Wildebeest, a two-person tube slide that'll take you on a wild ride down the tubes.

And when you're ready to relax, relax in indoor whirlpool spas and have a refreshing drink at Kalahari Swim-Up bars.
Mt. Olympus Water & Theme Park:
Mt. Olympus's Medusa Side wheel is one of its kind in America. It's a 360-degree looping water slide that'll have you screaming for more. And if you're looking for a wet and wild ride, take on Poseidon's Rage, a rafting adventure that'll send you tumbling through dark tunnels and churning waters. Along the thrilling rides, there are plenty of options to relax in the sun or dip in one of Mt. Olympus's pools.
Which Hotels and Resorts Should I Stay At?
If you want to be close to the action, staying at the water park resorts is the way. And the perk is lots of deals and package offers that'll save you money. Some of the best resorts in the area are:
Wilderness on The Lake 
Hands down the best place to stay in the Dells. It's an all-suite resort that sits on a beautiful lake and has all the amenities you need for a comfortable stay. It's huge, and by that, we mean it has 600 acres of land filled with activities like golfing, hiking, biking, and even an arcade.
And when you're ready to hit the water parks, the resort has not one, not two, but four outdoor and five indoor theme parks. Lodging options are also diverse, from suites that fit a family of five to villas with full kitchens and living rooms.
Mt. Olympus Water & Theme Park Resort
This is the perfect place to stay with kids. The hotel offers bunk beds in the rooms and cute animal-themed decor to make your little ones feel right at home. And when they're ready to explore, there are indoor and outdoor theme parks, water parks, go-cart tracks, and a mini-golf course.
All that fun can make anyone hungry, and the resort has plenty of dining options, whether you want a casual bite or an elegant meal.
Great Wolf Lodge
This family-friendly resort is the perfect place to stay if you're looking for value. The suites are spacious and can accommodate up to 6 people, and there's a water park right in the resort, so you don't have to go far for some fun. And when you're ready to explore, the resort is conveniently located near some of the best attractions in the area.