Hot tubs are a fantastic way to relax or soothe sore muscles. An inflatable hot tub can be a great solution if your budget doesn't allow you to purchase a traditional one. Inflatable hot tubs are inexpensive and easy to store when you're not using them. But the question remains, are they easy to pop?
Most higher-end inflatable hot tubs are made from resilient materials highly resistant to punctures, tears, or scrapes and have ground covers to provide additional protection for the underside. But low-priced inflatable hot tubs will be lower quality and more susceptible to punctures.
In this guide, you'll learn more about inflatable hot tubs, their materials, and how easy they are to pop. You'll also learn about the most durable hot tubs on the market today so you can make a wise, long-term investment.
What are Inflatable Hot Tubs Made Out of?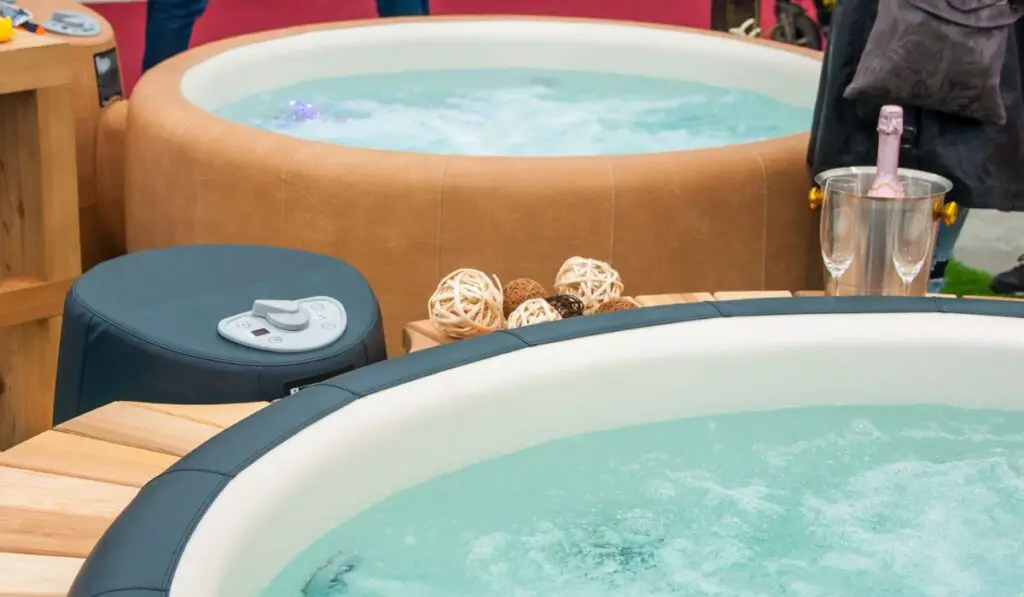 Inflatable hot tubs are made from UV-resistant materials like vinyl and latex or layered sheets of PVC and an aluminum liner.
You'll also see inflatable hot tubs made from FiberTech and TriTech. These materials use high-quality PVC with a polyester fiber core and contain at least three layers of reinforced PVC. 
The materials have thousands of fibers woven together to create a much more robust and sturdier structure than an ordinary inflatable pool. Due to this, they're also made to resist punctures and ensure your hot tub is more durable long-term.
Cheaper inflatable hot tubs are typically made from plastic, vinyl, or PVC but don't have the additional layering or other high-quality material like TriTech.
Are Inflatable Hot Tubs Easy to Pop?
The good news is that inflatable hot tubs are not easy to pop. This is due to the sturdy and durable materials they're typically made from. A good quality inflatable hot tub can last an average of 5 to 7 years when properly cared for.
However, sometimes an inflatable hot tub can pop as a result of not following instructions or not being mindful of various hazards around the hot tub.
Inflatable hot tubs typically pop due to reasons such as:
Dog nails clawing at the outer walls.
Rocks or branches underneath.
Broken glass on the ground.
Not using floor protection covers.
Not keeping the inflatable hot tub on level ground.
Having more people inside than recommended.
Not draining and storing away inflatable hot tubs in cold temperatures.
Using accessories such as seating that aren't suitable for an inflatable hot tub.
Not using the recommended cleaning chemicals.
Can a Punctured Hot Tub Be Repaired?
Luckily, if your inflatable hot tub pops, it's relatively easy to repair. First, you'll need to find a repair kit like the TEAR-AID Vinyl Repair Kit (on Amazon). These kits have patches made of a durable matte finish that will resist tears and punctures.
Next, you'll need to take the following steps, which include:
Drain the inflatable hot tub completely.
Ensure the area with the tear is sitting perfectly flat.
Measure a patch from the Tear-Aid that's half an inch wider and taller than the tear.
Cut the patch out and ensure it's the correct size.
Using rubbing alcohol or an alcohol prep pad to clean the areas around the tear.
Peel the paper backing off the corner of the patch.
Press the exposed corner to one of the corners of the tear.
Peel the rest of the backing away while pressing the patch firmly around the tear.
Apply steady, even pressure for a few minutes so the patch adheres securely.
What if You Don't Want to Drain Your Hot Tub?
Although it's best to drain the hot tub completely, many people prefer to skip this step entirely. In this case, you can try using a waterproof repair kit, such as this Heavy Duty repair kit (on Amazon).
This kit contains precut round patches with adhesive. All you need to do is clean the area around the tear with alcohol and press the patch onto the tear until it's flat. It would be best if you allowed at least 24 hours for the patch to harden. Using the hot tub immediately after the repair can put too much pressure on the patch, causing it to fall off or leak.
What are the Most Durable Inflatable Hot Tubs on the Market? 
Your next step is to learn about the most durable hot tubs available today to get more bang for your buck. You can find durable hot tubs in many different price ranges and inflatable hot tubs with extras like air jets, hydro jets, and removable seating.
Your best options for durable inflatable hot tubs include the following:
Bestway SaluSpa
If you want a durable inflatable hot tub for less than $500, then the Bestway SaluSpa (on Amazon) might be the best option. 
This hot tub fits four people and is made from the puncture-resistant material TriTech, so it's incredibly durable. It also has an I-beam construction, ensuring this hot tub won't lose its shape even if you frequently sit against the walls.
The Bestway SaluSpa also has 120 bubble jets and can heat up to 104 degrees Fahrenheit. However, this inflatable hot tub isn't for cold temperatures and can't be used in temperatures below 39 degrees Farrenheit.
Finally, it's easy to set up and comes with its own pump and a digital control panel.
Coleman SaluSpa
If you're looking for a simple and relatively inexpensive option, you'll need to look at the Coleman SaluSpa. This hot tub can fit up to four people, has 114 air jets, and has a rapid heating system that goes up to 104 degrees.
It comes with a pump, liner, filter, pump, and filter cartridges. You can also use the Coleman SaluSpa in cold temperatures, less than 40 degrees Fahrenheit. You can find the Coleman SaluSpa (on Amazon) for approximately $531.
Coleman Sicily
The Coleman Sicily (on Amazon) is worth considering if you're searching for an oversized inflatable hot tub with more jet power. This hot tub fits up to seven people and has 180 bubble jets.
You'll also be able to use it in colder temperatures since it has a freeze shield feature that acts as an inner heater which keeps the components inside from freezing.
You'll find it gives you a relaxing massage experience, and it's quick to set up. In addition, it has a reinforced cover that will lock in the heat when you're not using it.
This hot tub shuts down every three days, so you'll need to restart it frequently. You can find it for approximately $1,299, so it's one of the more expensive options.
Intex PureSpa Plus
The Intex PureSpa (on Amazon) is an excellent middle-of-the-road choice with sturdy construction and fantastic extras like a built-in hard water treatment system and 170 jets. The water treatment system makes monitoring water quality easy and keeps your bathing suit in good shape.
The other great thing about Intex PureSpa is that you can purchase additional accessories like seats, headrests, and drink trays. It also has multi-colored LED lights, two headrests, an insulated cover, and a water heating system. This hot tub fits six people, and you can find it for $869.
Aleko Hot Tub Spa
The Aleko hot tub spa (on Amazon) is an excellent option if you need a small inflatable hot tub for two people. The Aleko has a 145-gallon capacity and 130 jets, perfect if you have joint or muscle pain or need stress and anxiety relief.
It also has a newly upgraded 1200-watt heater and is made from a thick PVC material. It also comes with a polyurethane cover. 
It's easy to operate and has a digital temperature control panel, but you'll need to switch it off every 48 hours to allow the temperature to cool down. You'll get a drink tray, inflation hose, ground cloth, and repair kit with this hot tub spa and pay approximately $519.
Conclusion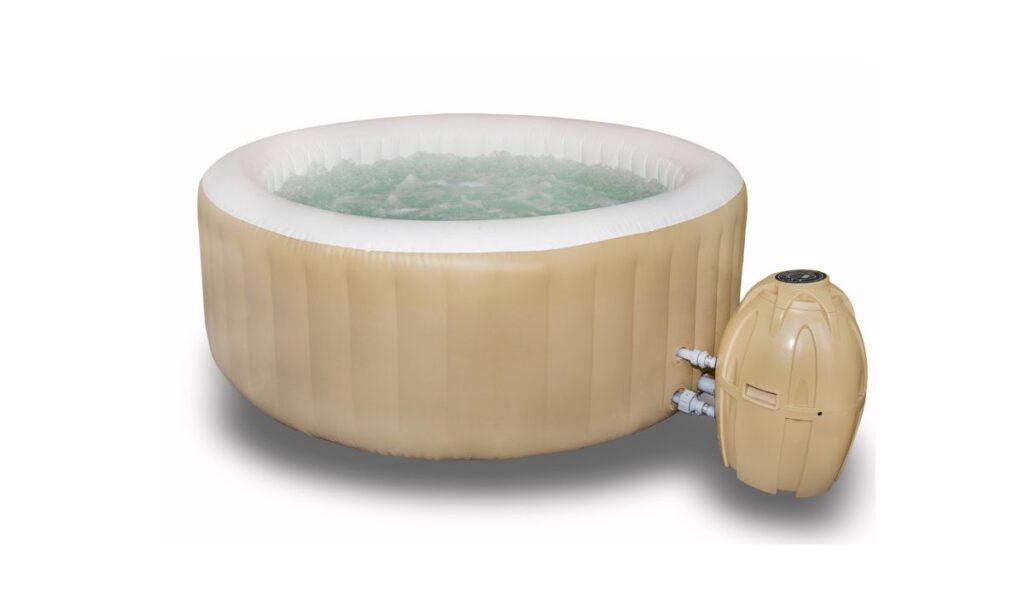 Now that you know more about inflatable hot tubs, you'll be more prepared to purchase one for your own use. Although they're made of durable materials that don't puncture easily, you still need to follow the instructions to take proper care of your inflatable hot tub to ensure it lasts long-term.
Finally, consider your needs and do thorough research to see all the different inflatable hot tubs available. Before you know it, you'll have the perfect hot tub for you and your family or friends to enjoy for years to come.