Are you in the market for a new pool? Fiberglass and gunite are the standout options on the market today. They are both excellent materials for pool construction, but they have some important differences that you should keep in mind.
Gunite pools are very customizable and can withstand significant depths, but they require a lot of maintenance and long installation times. Fiberglass pools, meanwhile, are easy to install, cheaper in the long run, and don't need as much attention on a regular basis.
Let's examine what exactly gunite and fiberglass pools are made of, explore the key differences that set them apart, and consider each of their pros and cons. With all of this information, deciding which one is best for your property should be a piece of cake.
What Is a Gunite Pool?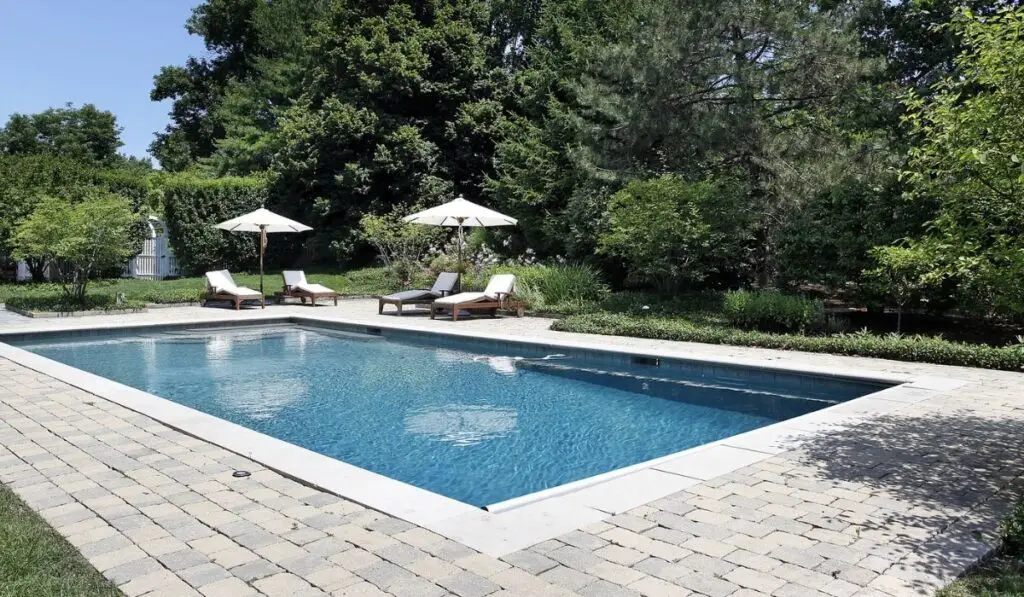 A gunite pool is a pool made from a particular type of concrete known as gunite. Gunite is a concrete blend of cement, sand, and water that is used not only in constructing swimming pools but also for ornamental concrete structures such as sculptures.
Gunite is known for its dependable structural strength, and it has held an important place in pool construction for decades.
Gunite is highly adaptable to custom shapes and designs. It cures to form a cohesive, visually appealing structure that is durable and long lasting.
How Long Do Gunite Pools Last?
The durability of a gunite pool is an important factor to consider, and many builders will claim a lifetime of up to 100yrs for a gunite pool! Using gunite produces a stable, steel-reinforced structure that can hold water to great depths and stand the test of time.
High tensile fortitude and flexibility allows gunite pools to withstand external forces caused by the shifting ground. This means they can hold up even in areas that experience earthquakes, water intrusion, and soil compaction.
Gunite pools need resurfacing occasionally since the cement gets broken down over time by several factors including sunlight and pool water. Most gunite pools can last for upwards of seven years before they require resurfacing.
Adding tile or pebble surface to a gunite pool will increase its durability as well as enhance its natural look.
Advantages and Disadvantages of Gunite Pools
Gunite pools have several advantages and disadvantages. These include:
Advantages
Customizable design: Gunite pools are custom built on-site, and the material is adaptable enough to accommodate different shapes, sizes, and depths. If you want an extra-deep, extra-large, or a specifically shaped pool, gunite is the perfect material to use.
Customizable finishes: You can opt for a tile or pebble finish for your gunite pool. Gunite plaster also offers a wide range of color options to suit your home or landscape design.
Extra features: Gunite allows for extra features to be incorporated into your pool design including waterfalls, built-in rock formations or underwater bench seating.
Disadvantages
High maintenance: The surface of gunite pools requires scrubbing at least weekly to remove surface algae. Pool resurfacing is also required every 7 to 10 years due to breakdown.
Chemical usage: You need to add muriatic acid (hydrochloric acid) every day to lower the pH of the pool water. The pH is boosted by the alkalinity of concrete.
Long installing time: Construction has to be done on-site and depending on the complexity of your pool design, it may take weeks to months to finalize.
What Is a Fiberglass Pool?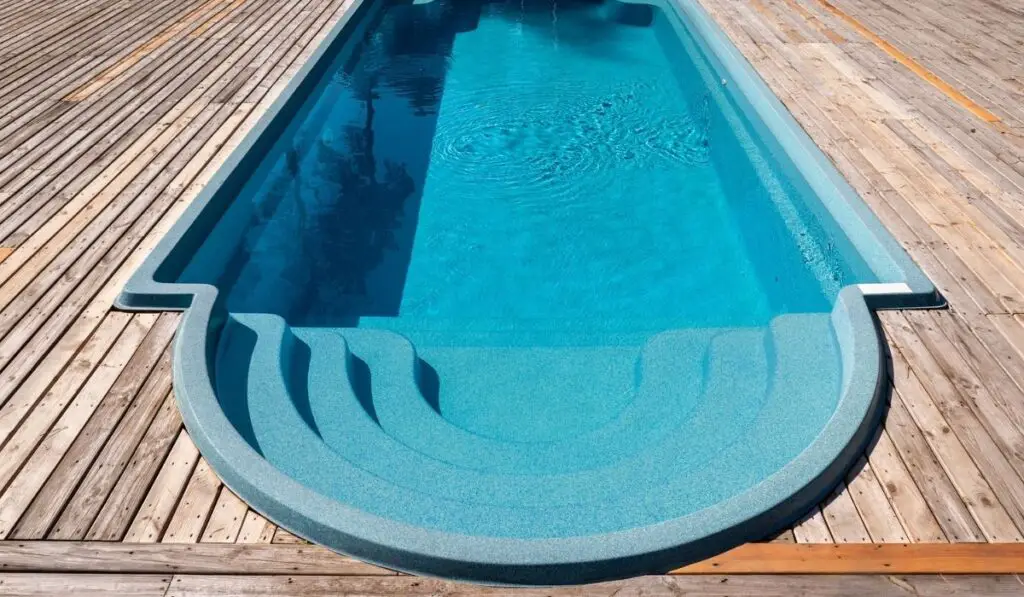 A fiberglass pool features a pre-built, fiberglass shell made from millions of interwoven glass threads with a polyester resin cover. Fiberglass pools are manufactured at the factory and arrive at your home ready for installation in your yard.
A gel coating applied on the raw fiberglass gives the pool a smooth finish and its sturdiness allows for both above-ground and in-ground installation.
Fiberglass pools are composed of several layers to produce a tough and flexible shell. These layers include:
Gel coat surface layer: Gives the pool a smooth, algae-resistant surface finish that protects the layers underneath.

Vinyl ester resin layer: Provides waterproofing and corrosion resistance.

Chopped fiberglass layer: Adds strength to the shell.

Roving layer: Reduces total stress on the shell.

Structural comb layer: Provides additional support for tension points.

What Is the Life Expectancy of a Fiberglass Pool?
Fiberglass pools don't have seams that encourage algae growth or a liner that requires replacement every few years. They are also incredibly resistant to wear and tear caused by chemicals and elements such as sunlight.
They only require gel coating replacement every 15 years. This makes fiberglass pools incredibly durable. Most have been known to last 25 to 30 years.
Advantages and Disadvantages of Fiberglass Pools
Fiberglass pools have several advantages and disadvantages. These include:
Advantages
Fast installation time: Fiberglass swimming pools are also known as one piece swimming pools since they are pre-built at the factory and shipped as one piece that's ready for installation. Installation can take as little as a few days.
Durability: Resilience to wear and tear caused by chemicals and the elements makes fiberglass pools the most durable pools on the market.
Low maintenance: The smooth, non-porous surface of fiberglass pools makes it impossible for algae to grow on the walls. This means less pool maintenance is required. Gel coating replacement is done after 15 years.
Lower lifetime cost of ownership: The cost of a fiberglass pool depends on how fancy you want it to be, but it's typically lower than a custom gunite pool. In the long run, fiberglass pools are cheaper since they incur lower maintenance costs.
Range of sizes: Factory manufacturing allows fiberglass pools to be built in a wide range of sizes.
Disadvantages
Less customizable: Fiberglass pools are typically made from pre-designed molds with established shapes and sizes. This doesn't leave much room for creativity and exploration.
Manufacturing flaws: If manufactured poorly, fiberglass pools can develop crazing or bubbles.
No diving: Fiberglass pools do not allow for the depths ideal for diving.
Low availability: High demand during some seasons can result in increased waiting time for delivery and installation.
They can pop out: They are very lightweight and surrounding groundwater can force them to pop out of the ground in certain weather conditions.
Is Gunite More Expensive Than Fiberglass?
The true cost of a swimming pool is the sum of its installation costs and maintenance costs.
Several factors affect the overall pool installation costs. These include geographic location, personal preferences, and requirements from local authorities.
Maintenance costs depend on the type of maintenance required and how frequently it's needed.
Unless you are DIY-ing, the manufacturing and installation costs of a fiberglass pool range between $45,000 and $85,000. This cost can rise depending on customization to certain landscaping and water features.
Gunite pool construction, on the other hand, typically costs between $50,000 and $100,000. This can also go up depending on your customization requirements.
Over a 10-year period, the only significant maintenance expenses for fiberglass pools are for electricity and chemicals, amounting to around $4,000.
Gunite pools, however, require weekly scrubbing, acid washing and resurfacing. Such extensive upkeep can cost over $25,000 in the course of 10 years. Gunite pools are therefore much more expensive in the long run compared to fiberglass pools.
The Verdict: Fiberglass vs. Gunite
Fiberglass and gunite pools have a handful of important differences from the material they're made of to how much they cost.
If you're a swimmer, want to custom design your pool, have a large yard, and don't care as much about the cost, then a gunite pool is likely the right choice for you.
However, if you don't mind a shallow pool with limited customization options and you want quick installation, limited maintenance, and lower lifetime costs of ownership, then a fiberglass pool is the way to go.