Finding the correct wire size for your 220v hot tub is vitally important to avoid unnecessary damage and injury. With the wrong size, not only could you hurt yourself or guests using the hot tub, but the hot tub itself, your home, and the electrical system could all be damaged in the process. 
A 220v hot tub is usually hardwired into a GFCI circuit that utilizes 50 amps, although some hot tubs may use 60 amps. The wire needed for this set up is a 6 AWG, but the exact cord can be different based on the length needed. It is always best to check with the manufacturer and never assume.
Although it might seem easy to install your 220v hot tub yourself after reading articles online, it is always best to consult a professional, as hardwired hot tubs are not meant to be set up by DIYers. Let's look at some of the information you should know before selecting a wire for your hot tub.
What is a 220V Hot Tub?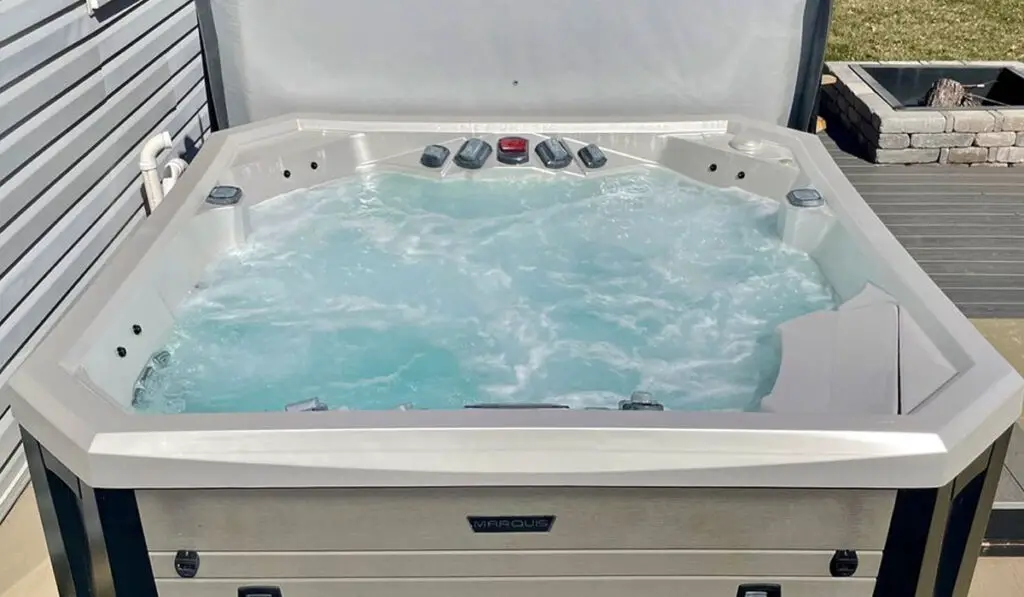 A 220V hot tub is hardwired into a GFCI-protected circuit. Generally speaking, they are more efficient and perform better compared to their 110V counterparts. This is because all of the equipment can run at the same time without any limitations and because the 220V hot tubs typically have a larger heater, which in turn, can then heat the hot tub faster and more efficiently. 
It is always the responsibility of the owner to make sure a 220V hot tub is installed by a certified electrician to avoid unnecessary property damage and safety hazards. Incorrectly installing a 220V hot tub can lead to electrical fires and electrocution and is not intended to be done by someone trying to DIY their hot tub setup. 
If you do not want to hard wire your hot tub into your electrical system, then it is best to try and look at 110V hot tubs that are traditionally the plug-and-play variety. However, they do still require a dedicated outlet to avoid nuisance tripping of the breaker. 
Though they are easier to set up, they tend not to be as large or as efficient as a 220V hot tub might be. Keep in mind that if you change your mind later on about wanting a 220V hot tub instead of a 110V, most hot tubs are easily converted to the hard-wired type with the assistance of a certified electrician. 
What Size Wire Do You Need for a 220V Hot Tub?
A 220V hot tub must have an electrical connection with a single phase 220 to 240 volt 4 wire (on Amazon). The four wires have two hots, one ground and one neutral, and are required to be hard-wired to the terminals inside the hot tub control box. 
The recommended wire size for this kind of project is typically a 6 AWG copper wire, yet it all depends on the distance and length needed, as further distances need a longer cord.
Below find a quick reference guide on the wire size required for each breaker amperage. Keep in mind that these may change based on the length of the wire needed.
20 amps should have a 12 gauge wire.



30 amps should have a 10 gauge wire.



40 amps should have an 8 gauge wire.



50 amps should have a 6 gauge wire.



60 amps should also have a 6 gauge wire.


It's important to note that using the wrong wire gauge or the improper electrical connections could cause nuisance tripping, damage to the fuses, damage to the hot tub components, damage to the electrical box, and also create safety hazards for the installer or user of the hot tub.
 It also typically voids any hot tub warranties, so be sure to consult the manual and an electrical professional before connecting your hot tub to an outlet with a cord.
How Many Amps Does a 220V Hot Tub Draw?
A GFCI, or Ground Fault Circuit Interrupter, is required for the installation of a 220V hot tub, which typically uses 50 amps on a 2-pole main circuit breaker since it is the most common and popular among customers. However, some hot tubs do require a 60 amp breaker, so it is always best to check with the hot tub manufacturer before installing your hot tub. 
The GFCI comes with a safety mechanism designed to automatically shut off the power to the hot tub should there be a fault or leak from one of the supply conductors to the ground. 
The GFCI also requires a minimum of 5 feet from the hot tub to avoid water damage from splashing but still must maintain a line of sight to the hot tub itself, making the breaker placement important when installing your hot tub.