Inflatable hot tubs are becoming increasingly popular among a wide variety of consumers. And it's no surprise why. A few differences exist between a standard spa and an inflatable hot tub, such as seating. It's common for consumers to sit on the edge of their standard spa. But can you do the same with an inflatable tub?
While sitting on the edge of an inflatable hot tub isn't recommended, whether you can do it depends on the type of hot tub you've purchased. For instance, newer models are made with all-year-around, more durable materials that are sturdy enough to sit on the edge. 
Inflatable hot tubs are great for relieving stress and relaxing at the control of the consumer's desires. They're cheaper than a standard spa, and the consumer can take them anywhere they please, whether on vacation or to a friend's house.
Will You Damage an Inflatable Hot Tub by Sitting on the Edge?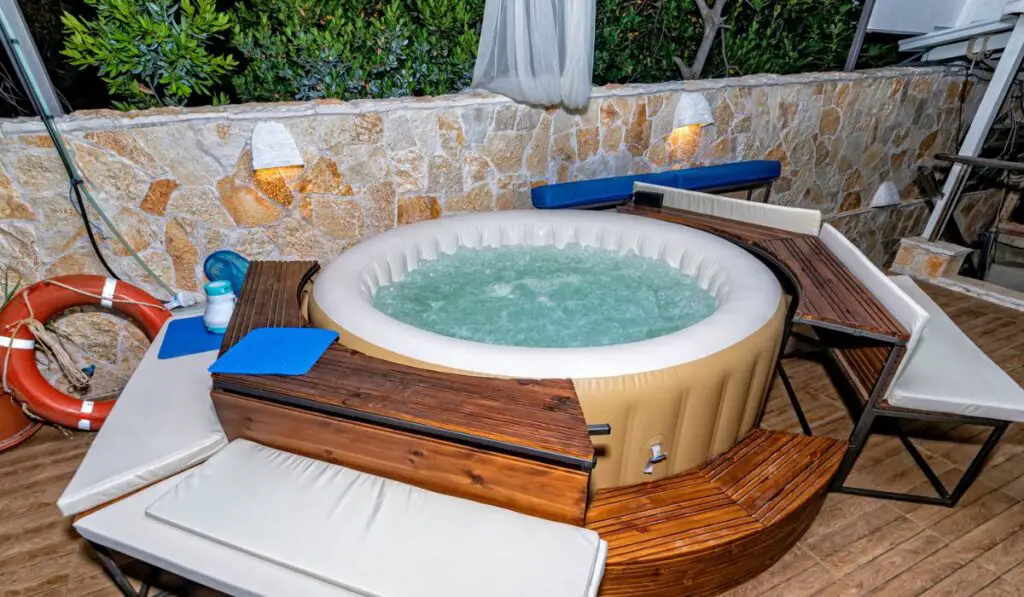 Considering inflatable hot tubs are full of air, similar to an inflatable pool, it would be assumed that sitting on the edge of one would damage it. Models like this one (example on Amazon) sure don't look like you're meant to kick back and put weight on the edges. However, that's not the case with all inflatable hot tubs.
More specifically, the walls of the newer models of inflatable hot tubs are made with materials that make the sides more durable.
Contrary to what most may think, the newer inflatable hot tubs can hold up the weight of about one or two fully-grown adults. Although, if the number of people exceeds that limit, the sides may pop or give out, in which case damage would be caused to the hot tub.
That said, while it is not highly recommended that people use the sides as seats, the hot tub will not be damaged.
Do Inflatable Hot Tubs Usually Come with Seats?
In short, no, inflatable hot tubs do not usually come pre-equipped with seats. While some inflatable hot tubs come with seats, most do not. That said, seatless tubs still have various ways for consumers to sit.
For instance, consumers can sit on the tub floor or even on the sides. The flooring of these tubs is made with comfortable padding to ensure that those sitting will not be uncomfortable. 
If consumers would like an additional seating option, there are portable seats that can be purchased and placed in the tub. Consumers can even purchase inflatable headrests for extra comfort as well.
These portable seats are the perfect option for consumers who want to remove or move the seats to other spots in the tub.
Are Inflatable Hot Tubs with Seats More Expensive?
The price of the inflatable hot tubs with seats versus the ones without seats depends upon what is being purchased. For instance, the number of seats, the hot tub size, etc., should be considered first, as those features may increase or decrease the price.
That said, depending on where it's being purchased, a standard inflatable hot tub with no seats could cost less than $100. Now, for a hot tub that is pre-equipped with seats, this price will indeed be over $100. 
What are the Best Inflatable Hot Tubs with Seats?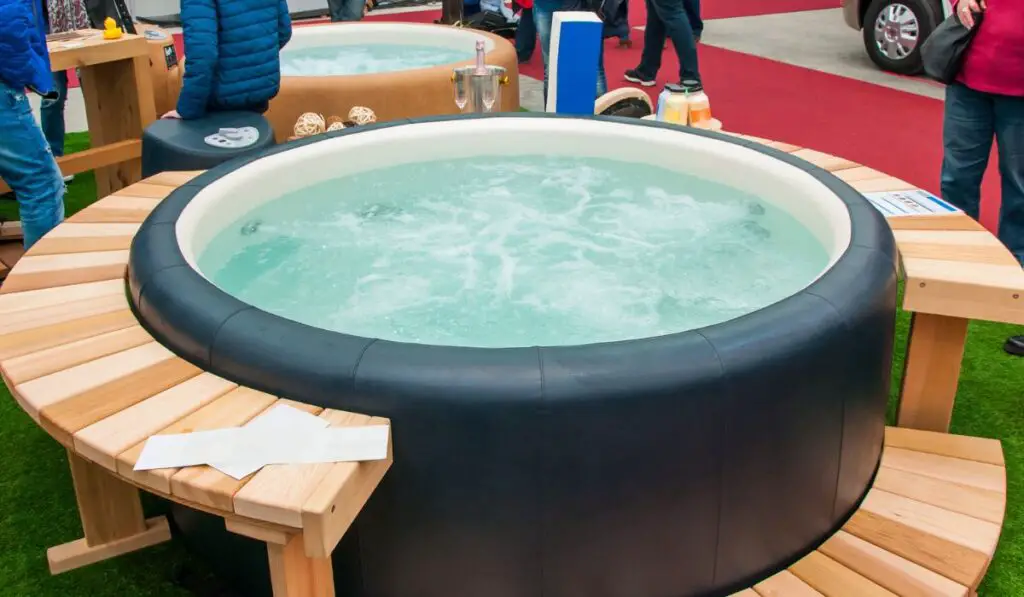 When it comes to purchasing an inflatable hot tub, there are certain things a consumer looks for in the product depending on what they want.
For example, one big consideration people may think about is whether they would like a hot tub with seats or without seats.
Inflatable hot tubs without seats are highly common and easy to find; however, decent hot tubs without seats are a bit more tricky. Due to that, here's a breakdown of the top three best inflatable hot tubs with seats.
MSpa Luxury Exotic
The MSpa Luxury Exotic inflatable hot tub comes pre-equipped with six seats, although this tub is suitable for seating four adults. With a built-in heater and luxurious PVC leather material, this hot tub is the perfect means of comfort.
Additionally, it has an external control pad that can control the tub in various ways, including controlling the eight adjustable massage jets.
Canadian Spa Swift
The Canadian Spa Swift also has six seats; however, it is more likely to fit four or five adults comfortably. While this hot tub may not have any fancy leather material, it has 125 air jets that help relieve stress and provide comfort.
In addition, this hot tub stands at a depth of 29 inches to ensure full body coverage.
MSpa Super Camaro
The MSpa Super Camaro inflatable hot tub comes with a 6-layer PVC within the tub's walls. This is great for extra durability. In addition, this tub seats four adults comfortably, although there are six seats.
Between the 3-level adjustable massage speed blower and the LCD touchscreen control panel, the MSpa Super Camaro is perfect for setting up to the consumer's liking.