As is the case with your home's driveway or roof, time can take its toll on your in-ground gunite swimming pool. To make sure your gunite pool lasts for as long as possible, it's important to resurface it as soon as it starts showing signs of wear and tear. But what exactly is resurfacing, and how do you go about it?
If you notice stains, flaking plaster, or that the pool surface has become very rough, then it's probably time to resurface your gunite pool. It's best to hire a professional pool company for the process. Resurfacing a 1,000-square feet pool can cost you anywhere between $1,000 and $6,500.
It usually takes around five to seven days for professionals to resurface your gunite pool. However, the process can be delayed by weather, and it might even take up to two weeks in certain cases. Let's look at what exactly pool resurfacing is, when you should start the process, how often you should resurface your pool, and how much it costs. 
What Is Pool Resurfacing?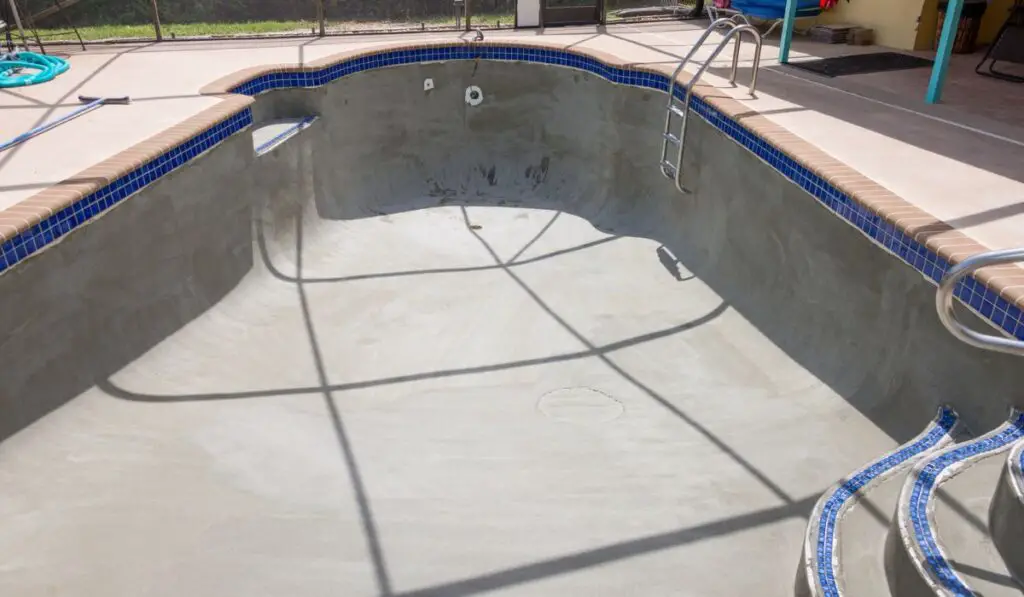 It's practically impossible to completely protect your gunite pool from the effects of wear and tear, especially when it's been exposed to pressurized water, disinfecting chemicals, and freeze and thaw cycles year after year.   
However, resurfacing can quickly bring your aging pool back to life. Since you can't just apply a new surface over the existing one, the process includes chipping out the old plaster, hydro blasting it, or sand-blasting and bond coating the existing pool surface.
Signs It May Be Time to Resurface Your Gunite Pool
If you're unsure about whether your pool needs resurfacing, take a moment to check your pool for any of the following signs:
Stains 
Stains come in every size, shape, and color. Stains on the surface of your pool are mostly superficial damage and usually more irritating than serious. But just like a stain on your favorite pair of pants, a pool stain can become quite annoying if it's always the first thing you see when you enter your pool.   
Most stains on the pool surface are caused by:
Mineral and chemical inputs 

Algae 

Leaves and other debris

If you notice the stains in your pool growing in quantity or size, or you've been mostly unsuccessful in cleaning up and removing them, then it may be time to resurface your pool. 
Texture 
If your pool surface feels rougher than normal or if the gunite starts to show through, then it's definitely time to resurface your pool. If you put it off, then your pool surface will deteriorate and the situation will only continue to get worse. 
Leaks 
It's a good idea to check whether your pool is holding water properly, as damaged and worn-out pools are usually riddled with leaks. If left unaddressed, pool leaks will get worse, steadily increasing your water bill until you completely resurface your gunite pool.
What's the Process of Resurfacing a Gunite Pool?
While it's better to hire a professional pool company for resurfacing, it's still important to know how the entire process works. Here's a detailed, step-by-step guide:
1. Drain 
First, workers drain your entire swimming pool. They do this by turning off all the equipment and dropping a submersible pump into the pool to start the draining process. 
2. Prep
The second step involves sandblasting, multi-coating, and stripping the surface of your pool. Workers remove the old, cracked surface material and prepare your pool for the new material of your choice. 
Preparing your pool is the dustiest and loudest stage of the entire process. If possible, it's advisable to remove the patio furniture, plants, and pots surrounding your pool to another location before workers get started on this step. 
3. Tile and Masonry
Highly qualified tile and masonry craftspeople install the selected coping, pool tile, and any other decorative features, like ledger stone. This step usually takes around 1-3 working days. 
It's a good idea to complete and record all details about your pool and outdoor living space before the start of this step. Make sure you select the tile and grout color and finalize all special design requests or ideas if you have any. 
4. Plumbing and Seal
In this step, workers seal the plumbing and ensure that the pool is completely water-tight before installing the new pool surface finish. Your pool shell will also be given a thorough washing at this point. 
5. Finish Material Installation
Workers install the new finish material you've selected, and this is when your remodeled pool really begins to take shape. This step usually takes around one or two working days, depending on your selected material.
6. Acid Wash (Optional)
If you've selected a Hydrazzo, Beadcrete, pebble, or darker quartz as your finish material, then workers will need to acid-wash the surface of your pool. 
7. Cleanup and Swimming Pool Fill 
Once the workers have installed and acid-washed the new pool surface, they'll perform a general clean-up and then fill your swimming pool with water. 
Always keep a close eye on the water level and turn off the water as soon as it reaches the middle of the waterline tile.
8. Surface Curing  
Also known as the initial water treatment step, this final procedure helps extend the life and look of your new swimming pool surface material.
Once workers have filled your pool with water, they'll try to cure the surface as evenly as possible. However, keep in mind that workers will need to regularly monitor and service the pool for the first week of the curing process.
How Often Should Your Pool Be Resurfaced?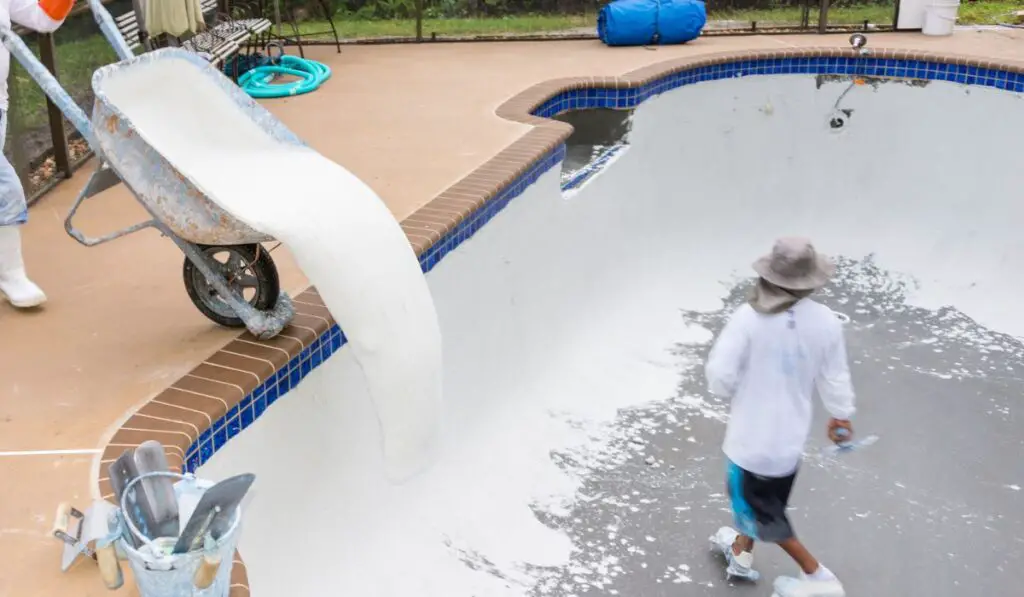 The answer to this question varies with each pool and homeowner. If you've properly maintained and cared for your swimming pool, you may not need to resurface it that often. 
There are several signs that indicate when it's time to resurface your pool, as we discussed earlier. If you notice stains, peeling or flaking plaster, or if your gunite pool discolors, becomes rough, and develops structural cracks, then it's definitely time for a resurfacing.     
If you've hired a professional contractor who used proper installation methods, balanced chemical levels, and quality materials, then your can expect your pool's surface lifespan to be within these estimates:
White quartz finish: More than 10 years

White plaster finish: 5 to 15 years

Polished pool finishes: 5 to 15 years

Exposed pebble finish: More than 15 years

Average Cost of Resurfacing Your Pool 
The average cost of resurfacing a 1,000-square feet pool ranges between $1,000 and $6,500. The ultimate cost depends on the type and size of your pool, your location, and the kind of finish you want.
Cost Breakdown 
It's important to note that pool resurfacing costs add up quickly, no matter the type of pool or finish you're using. To avoid going over budget, it's a good idea to have some idea of exactly where your money is going. 
Along with saving you money, a cost breakdown can also help you identify the areas where you can spend a bit more to achieve a better and more durable end result.
Clean, Drain, and Refill 
Hiring someone to completely drain your gunite swimming pool usually costs around $175 to $225. Once the pool is refinished, you'll also need to get someone to refill it, which will cost you approximately $55 per 5,000 gallons.
Labor Costs
The average labor costs for refinishing a pool are around $45 to $65 per hour. However, this ultimately depends on your locality and the overall complexity of the task. 
Material Costs
If applied properly, plaster has an average life of 10 years and costs around $4 per square foot. Meanwhile, pebbles last for more than 20 years and cost approximately $10 per square foot.
Tiles are one of the most expensive finish materials, with glass tiles having an approximate price of $25 per square foot. However, the high cost is usually worth it since they last for an extremely long time. 
One square foot of pool paint usually costs around one dollar, but it has its disadvantages. It doesn't give a high-end look to your pool and only lasts for around two to five years
Even if your pool has perfectly balanced water chemistry, high-quality epoxy paint (the most durable pool paint), pool paint will last for only about seven years before you're going to have to reapply it. 
Overall, the material costs for resurfacing a gunite pool vary significantly with the lifespan, rarity, quality, and durability of the material used.