Nobody wants to plan a relaxing Saturday morning swim only to come outside to find murky and cloudy pool water. Luckily, cloudy swimming pools are very simple to fix and only require a few checks and a magical potion called the pool clarifier.
A pool clarifier is a coagulant that condenses tiny particles in the water into bigger clumps, which can then be removed by the filter. While a clarifier is very easy to use, it only clears mild to moderate cloudiness. So, if your pool is extremely cloudy, you may need to opt for a flocculant. 
Clarifiers clear moderate to mild cloudiness in swimming pools, allowing you to swim in clear and sparkling clean water in no time. Let's look at why your pool might be cloudy, what exactly is a pool clarifier, and how you can use it to keep your swimming pool clear at all times.
Why Your Pool Is Cloudy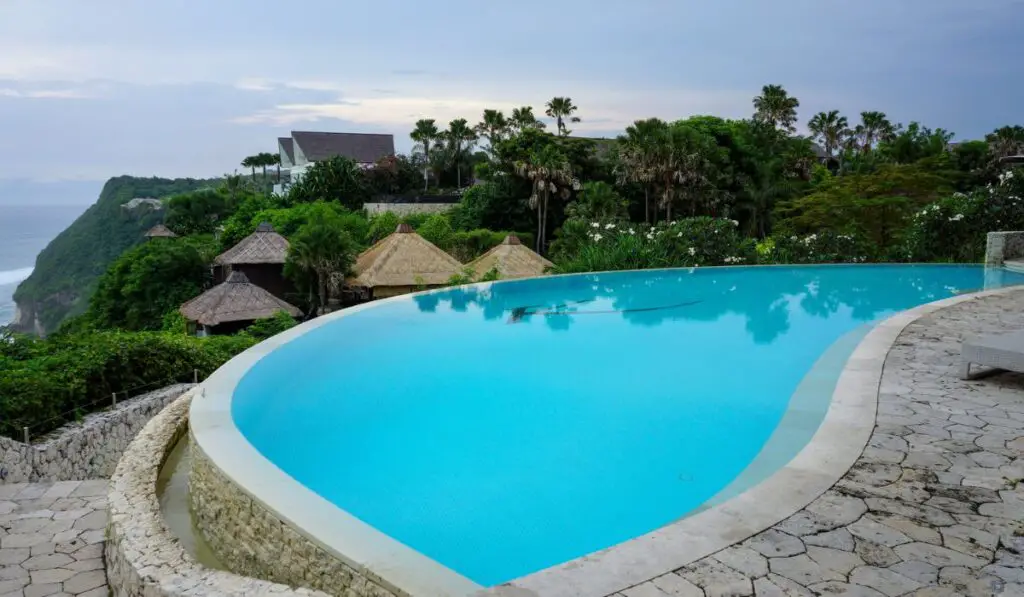 Cloudiness in swimming pools is usually because of a lack of water sanitizers, such as chlorine. However, if you've tested the water and ruled out a chlorine problem, then there could be several other reasons behind your cloudy pool, such as:
Algae growth 
Dander from pets swimming in the pool
Body lotion or sunscreen from swimmers 
Mud, dust, or dirt particles in the air
Water runoff or recent rains 
Organic material, like grass, flowers, or leaves
Chemical imbalance due to lack or excess of certain chemicals 
Clogged, malfunctioning, or broken pool filter 
What Is Pool Clarifier? 
A pool clarifier (on Amazon) is basically a coagulant, or substance that makes liquids solid or semi-solid. The concentrated chemical substance works by condensing the bacteria and other tiny particles in your swimming pool into bigger clumps that can then be easily picked and filtered out by your pool's filtration system.  
This product is full of polymers that function as coagulants on the particles that are too small for your skimmer to pick up or for your filter to catch. 
If we look at it from a more scientific point of view, then adding a pool clarifier basically means adding positively charged ions into the pool water.
These positive ions are then attracted to the negatively charged ions in the suspended particles in your pool, forming them into clumps and making it easier for your pool's filtration system to filter them out. 
Pros And Cons 
If your swimming pool is mildly or moderately cloudy and you're not in a particular hurry to clear up the water, then a pool clarifier is an excellent choice for various reasons:
Less Work 
You don't need to remove or vacuum out the clarifier from your pool after using it. You simply need to add it to the water and then wait for it to clear your pool. 
Ideal for Mild Cloudiness 
If your pool is a bit cloudy, but you're still able to see the pool floor, then a clarifier will do wonders. It's also ideal for use after big pool parties. 
Saves Water
Since a pool clarifier works with the natural function of a pool filter, there's no need to remove any of the water from your pool once the clarifier has done its job. 
Can Be Added Anytime 
Even if your pool's not really cloudy, you can still add a bit of clarifier to give the water a small boost and make it look extra clean and sparkly. 
However, a pool clarifier might not always be the best treatment for a cloudy pool. Some of the disadvantages of this chemical substance include:
Works Slowly 
It may take a pool clarifier two to three days to completely clear your pool, depending on the overall severity of the cloudiness. 
Requires Filter Cleaning
Once the clarifier has done its job, all the clumped particles will be clogging your pool's filtration system. So, you'll have to thoroughly clean and backwash your D.E. filter, backwash your sand filter, or clean out your filter's cartridge. 
Less Powerful
A pool clarifier is less effective at cleaning and clearing up cloudy swimming pools than a flocculant, making it only suitable for mildly cloudy pools.  
How Long Does It Take To See Results?
Depending on the severity of cloudiness, it can take around two to three days for a pool clarifier to clear up the water. You'll also need to run the filter 24/7 and balance the water's chemistry while the clarifier is doing its job. And if your pool has an algae problem, make sure you fix that before adding any clarifier. 
How To Use Pool Clarifier 
While a pool clarifier is extremely easy to use, it's important to follow all the right steps in the correct order to ensure it works effectively. Remember that if your pool is contaminated with algae, fix that problem first, as a clarifier isn't going to help get rid of algae. 
Here's what you need to do:
Step 1: Brush, Skim, and Vacuum Your Pool
Before adding a pool clarifier, use a skimmer net to remove any large debris floating in the water. Then, use a stiff pool brush to scrub the walls and vacuum the pool manually.
Step 2: Test and Balance the Pool Water
Use a liquid test kit (on Amazon) or test strips (also on Amazon) to check your pool water's chemistry. Then, adjust the alkalinity and pH as needed. It's best to keep pH levels somewhere between 7.4 and 7.6 and alkalinity levels between 100 and 150 ppm. 
Step 3: Shock the Pool Water
If you have algae or a high level of chloramines in your pool, then make sure you shock the water first. Adding high doses of chlorine or shocking the pool will help kill all the contaminants in the water.   

If the cloudiness in your pool is caused by an algae bloom, then you might have to double or even triple shock the water, depending on the severity and type of algae. 

Run the filter overnight or for at least eight hours to ensure proper shock distribution in the pool. Then, retest the water. 
Step 4: Run the Filter 24/7
After shocking the pool, continuously run the filter for the next few days to completely clear up the cloudiness. You can continue your filter's regular schedule once the water is properly cleared up.

Keep in mind that the time it takes for the cloudiness to completely disappear depends on the type of pool filter you have. D.E. filters boast the strongest filter capacity, which allows them to clear up cloudy pools extremely quickly. Cartridge filters take a little longer, while sand filters take the longest time to clear up cloudiness. 
Step 5: Increase Your Pool's Circulation
In order to ensure that all pool water passes through the skimmer and filtration system, it's important to have good water circulation. Along with having a powerful pool pump, you can help move cloudy water from the bottom to the top of your pool by pointing all the return jets down at a 45-degree angle.

If you have an inground pool, make sure the main drain pulls water from the pool's bottom and pushes it into the filtration system.

If your pool isn't built with a main drain, you can simply turn a manual vacuum cleaner upside down and place it at the bottom of your pool to function as the main drain.
Step 6: Add Clarifier
Once the pool shock has completely dissolved and dissipated, add a pool clarifier (on Amazon). Make sure you follow the manufacturer's instructions and add only the amount suitable for the size of your pool. 

If you don't know the volume of your pool, you can easily figure it out with a pool calculator. Also, remember to run your filter 24/7 while the clarifier is doing its job. 
Step 7: Clean the Filter and Retest the Water
Your pool water should be clear after two to three days. Backwash or clean your filters and check your pool water's chemistry again. Some pool clarifiers increase pH levels, so make sure you use a pH decreaser as required. 
What Is The Difference Between Pool Clarifier And Pool Flocculant?
As explained above, pool clarifiers work by condensing small particles into bigger clumps, which then allows your filtration system to catch and remove them from the water. 
Pool flocculants (on Amazon) also work in a similar manner, but with one tiny difference. They join small particles together, but instead of them staying suspended and floating in the pool water, the particles sink to the pool floor, where they can then be vacuumed up. 
Is Pool Clarifier Better Than Flocculant?
Clarifiers are ideal for moderate to mild cloudiness but are a bit ineffective when the pool water is very cloudy or distinctly swamp-like. They're also an excellent option for regular maintenance and help keep the water looking clean and sparkly.
However, they take a lot longer to work than flocculants. Along with waiting several days for the clarifier to work, you'll also have to continuously run your filter for one to two days after adding the clarifier. 
Then, you'll need to filter the water for an additional eight to 10 hours per day for the next couple of days — but that's the only work you'll have to do.
If your pool is extremely cloudy or you're in a rush, then it's better to opt for flocculant. With this chemical, you'll have a crystal clear pool in just a couple of hours. 
Because flocculant works by sinking particles to the bottom of the pool, you'll need to use a vacuum to clean up the mess. You'll also need to turn the filter valve to "waste" so all the muck on the pool floor doesn't pass through the filter.
That means that along with manually vacuuming your entire pool, you'll also lose quite a bit of water when using flocculant. However, sending all the vacuumed water to waste will ensure a clear and clean pool in just a couple of hours. 
It's also important to note that you normally can't use flocculants with a cartridge filter unless your pool has special plumbing. It's also essential to have a waste valve, as using flocculant without one will block up your entire filtration system in no time.  
How To Use Pool Flocculant
As explained above, flocculants are very similar to clarifiers, but just require a bit of additional effort.

Here's how you can use pool flocculant:
Step 1: Turn On Your Filter
Make sure you only add flocculant if you have a D.E. or sand filter, as they'll be able to capture larger particles and properly circulate your pool water.
Step 2: Check the Water's Chemistry
It's best to keep your pool's pH levels between 7.6 and 7.4. Make sure you also test your swimming pool's hardness, chlorine levels, and alkalinity before adding any flocculant.
Step 3: Clean the Filter
Thoroughly clean your pool filter only if its pressure gauge rises to seven to nine pounds. 
Step 4: Add Pool Flocculant
Finally, add flocculant according to the volume and size of your pool. Excessive pool flocculant can actually make the water cloudier, so make sure you get the measurements right. If you're unsure about your pool's volume, you can simply use a pool calculator for a quick estimation. 
Step 5: Turn On Your Pump
After adding flocculant, turn on your pump for around two hours to properly circulate the additive.
Step 6: Let Your Pool Sit for a While
Turn off the pool pump and let your swimming pool sit for about eight hours or overnight. This will allow all the particle clumps to settle at the bottom of the pool, where you can then vacuum them up. 
Step 7: Vacuum the Pool
Set your filter valve to "waste" and then vacuum the pool floor. Make sure you go slowly and don't stir up any of the particles. However, if the water does become cloudy again, wait for the particles to settle down before vacuuming again. 
Step 8: Add Water
After vacuuming all the particle clumps, your swimming pool will probably have a decreased water level. To fix this problem, add more water, measure your pool's pH levels, and turn on your filter for proper water circulation before jumping into the pool. 
Tips On Keeping Your Pool Clear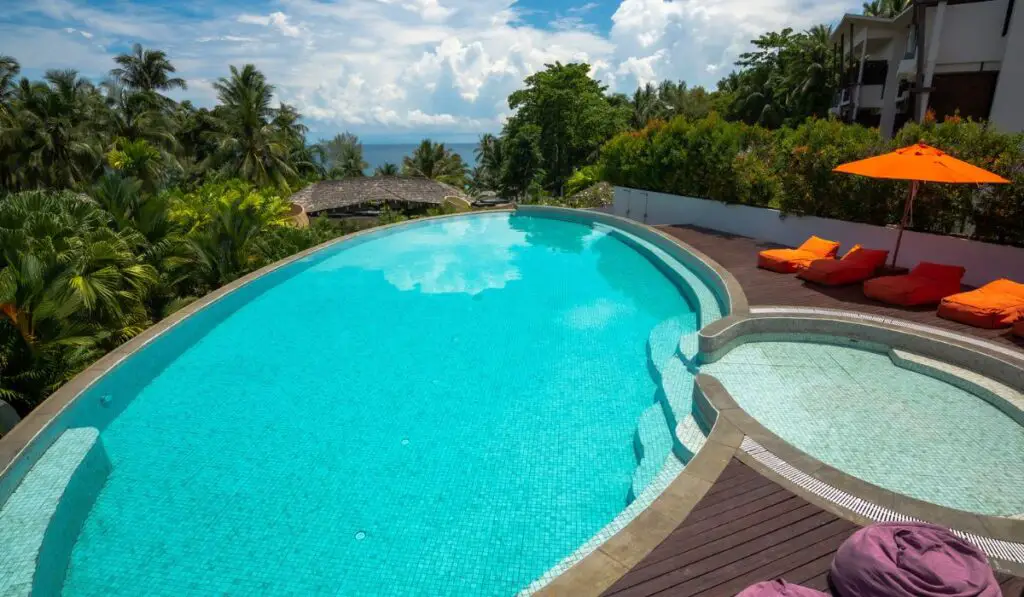 Once you've cleared all the cloudiness from your pool, it's important to keep the water that way. Here are a few tips that can help keep your pool clear at all times:
Regularly Test the Water
Regular testing can help keep your pool clear, clean, and perfectly safe to use, so make sure you invest in a high-quality pool test kit. 
During summers, it's best to test the water's pH and chlorine levels at least twice every week and test for all other chemicals once every week. 
Address Chemical Imbalances
If the chemicals in your pool water are not properly balanced, it's important to fix this imbalance as soon as possible. Restoring a pool's balance usually includes either adding a few chemicals or partially draining the swimming pool and then refilling it with fresh water to dilute the water.
Balanced pool water has free chlorine levels ranging from one to three ppm and bromine levels ranging from two to six ppm. However, if the chlorine or bromine levels in your pool are too low, you can quickly fix the imbalance by shocking your pool. 
You can also increase the alkalinity and pH of your pool with alkaline products, such as sodium bicarbonate, or lower it by adding chemical additives, like sodium bisulfate and muriatic acid. 
Examine Your Pool's Mechanical Parts
Remember to regularly clean out the skimmer basket and thoroughly backwash your pool's pump and filter to prevent clogs. Clogs in the skimmer line can obstruct the water flow and burn out or damage the pump, so make sure you switch off the pump system as soon as a clog occurs.
It's also advisable to check the filter and pump for any broken components that could reduce water pressure or prevent the system from properly cleaning and filtering out debris. If you notice any broken or severely worn-out parts, replace them as soon as possible.
Perform Regular Pool Maintenance 
It's important to ensure that your pool's return jets are angled downwards, so the water at the bottom of your pool can be pushed through the filter. It's also advisable to run the filter and pump for at least eight hours a day during the swimming season. Make sure you backwash your pool's filtration system once every week as well. 
By putting just a bit of time into regular maintenance and testing, you'll be able to minimize pool repairs and spend most of your time lounging around the pool, relaxing in the water, and hosting fun pool parties.