If you lack the funds or space to install a traditional in-ground pool in your home, an above-ground pool is your next best option. And because they are practical and affordable, above-ground pools are becoming quite popular. Even though it won't add to the value of your property, an above-ground pool will provide hours of fun and a fantastic way to cool off during the summer months. But, what would you do during winter? Can you heat an above-ground pool?
Yes, you can heat an above-ground pool with the help of electric heat pumps, solar heaters for above-ground pools, and gas heaters. Depending on the weather conditions, and the type of heater used, heating costs could be ~$1k/yr. Solar heaters are the least expensive, but also rely on the weather.
The first thing to do if you want to heat your above-ground pool is to figure out your budget. After that, you need to consider your options and determine which one will fit your budget and needs. You can also try cheap DIY (do-it-yourself) methods to get your pool heated while saving yourself some money. Let's look at the different methods that you can use as a pool owner to have your above-ground pool effectively heated.
Can Above Ground Pools Be Heated?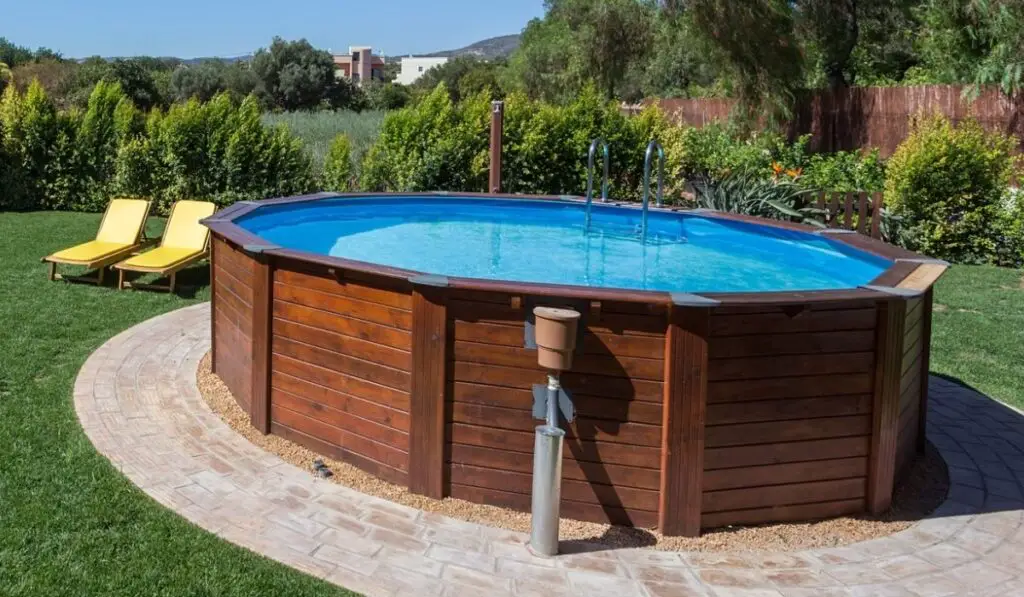 Yes, they can. The fact that your pool is an above-ground type does not mean that you can't taste what enjoying the longer swimming season and heated water you get from in-ground pools feels like. This is because both pool types are quite easy to heat with a pool heater.
You may find heating an above-ground pool very attractive, depending on your region of settlement. A cool benefit of using a proper pool heating system allows you to enjoy a longer swimming season, even if the weather is cold.
What Are Some Ways You Can Heat an Above Ground Pool?
You have various methods available to you if you want to get your above-ground pool heated. We'll be talking about the options you can use to heat your above-ground pools to make it easier for you to select the one that works best for you.
Gas Water Heaters
This particular method has been the go-to method by a lot of people for many years. Not only is it a common solution, but it is also the fastest method of water heating a pool, and even freezing or cold weather can usually be managed with a gas heater.
Liquid Propane Gas or Natural Gas is usually used to fuel the gas water heaters, and options like the Raypak 105,000 BTU Swimming Pool and Spa Heater (on Amazon), while a little pricey, are a great way to enhance the experience of pool ownership by simply allowing you to use the pool during more of the year.
Solar Powered Water Heaters
With people becoming environmentally conscious, solar-powered pool heaters have gained popularity. For proper functioning, solar panels need exposure to adequate sunlight. Hence, they are placed on a raised roof or any surface where they can get enough of the sun.
For proper heating, especially where the sunlight exposure is low, the panels can be increased in size.
Heat Pumps
Even though electric heat pumps work the reverse way of how air conditioning systems do, they do not pose any harm to the environment. This is because after extracting the heat from the air, they transfer it to your above-ground pool.
The machine drags in warm air with the use of a fan via an evaporator coil. The water gets heated and comes out at a higher temperature, completing a process known as a heat exchange. Fibropool Swimming Pool Heat Pump (on Amazon) is a good option that you may like to consider.
Solar Blankets
On average, about 75% of a pool's heat is lost through evaporation, meaning that to keep our pool water warmer, you should slow the evaporation. There are two blanket types that you can use to stop evaporation. One is a solid pool blanket and the other one is a floating blanket.
A solid pool blanket causes a reduction in evaporation to near zero. It is also able to hold the weight of small pets and children who may wander into the pool. As for the floating blankets, they are more affordable than solid blankets.
They also effectively slow evaporation, and you can roll and unroll them with your hands. However, floating blankets do not support any weight and are not designed to prevent children or pets from entering the pool.
The temperature of pool water is increased by solar blankets by around 15 degrees Fahrenheit. Add the good news is that options like Intex Recreation 29025E N/AA Intex Solar Cover (on Amazon), are easy on the pocket, as compared to the gas or electric heaters.
Solar Rings
Solar rings cover the pool through the use of smaller and more practicable pool covers. If you're wondering what solar rings are, they are large discs that float on the top of your pool's water to prevent it from losing heat and evaporating.
What you should do is buy a sufficient number of rings to cover the surface of your pool and toss them in it.
Liquid Blankets
These are the (nontoxic) liquids added to the pool to create a chemical barrier needed to slow evaporation and keep the pool water warm. They are available at pool supply stores but are not as effective as solar rings or traditional covers.
However, they are very friendly and invisible to the eye. They are also safe for pool equipment so they're safe for use.
Wind Shielding
Having your pool shielded from wind is another way of slowing evaporation and heat loss. The size of your pool, the materials used to build the enclosure, and the height of the enclosure itself are what determine the cost of this endeavor.
However, once you install the enclosures, they require very little maintenance and they're very effective. Enclosures enable you to swim in the rain.
What is the Best Way to Heat an Above Ground Pool?
If reducing the costs of heating your above-ground pool is what you have in mind, your best option could be the solar panel heating system. The way it works is similar to how the gas pump does, with the difference being that the sun is its power source, rather than propane or gas.
This can help you save some money that could be spent on waste removal or additional gas or propane cost.
Is it Worth Heating an Above Ground Pool?
Yes, it is. You can enjoy more comfortable swimming in your above-ground pool if you heat it as it elongates your pool season every year. Paint a picture of yourself in the warm swimming pool at night. when the fall chill surrounds you.
Do you now see how you can enjoy more usability of your pool after getting it heated by an above-ground pool heater?
What is the Cost to Heat Your Above Ground Pool?
According to an estimate by the United States Department of Energy, for a gas heater, it costs around $1500 yearly to get an outdoor pool heated in New York at a temperature of 78 degrees.
At 80 degrees, the cost will increase to approximately $1,900, and at 82 degrees, the cost will be close to $2500.
The U.S. Department of Energy gave $740 as the estimated cost per year to heat an outdoor pool in New York when the temperature is 78 degrees with a heat pump. At 80 degrees, the cost increases to somewhere around $900 – $1,000, while the estimate is $1,200 at 82 degrees.