Pools are a much needed addition to your backyard, but finding one that fits your budget and the layout of your space can be a real challenge. If you've been struggling on that front, fiberglass pools might be just the solution you need.
Fiberglass pools allow for both in-ground and above-ground installation. Installing an above-ground fiberglass pool has a number of benefits, including a reasonable cost to install, increase in convenience, overall better durability, and more room for customization.
Is fiberglass starting to sound like a pretty good choice? Let's take a closer look at the costs and benefits of installing an above-ground fiberglass poo so that you can make a decision with confidence.
What Are Fiberglass Pools?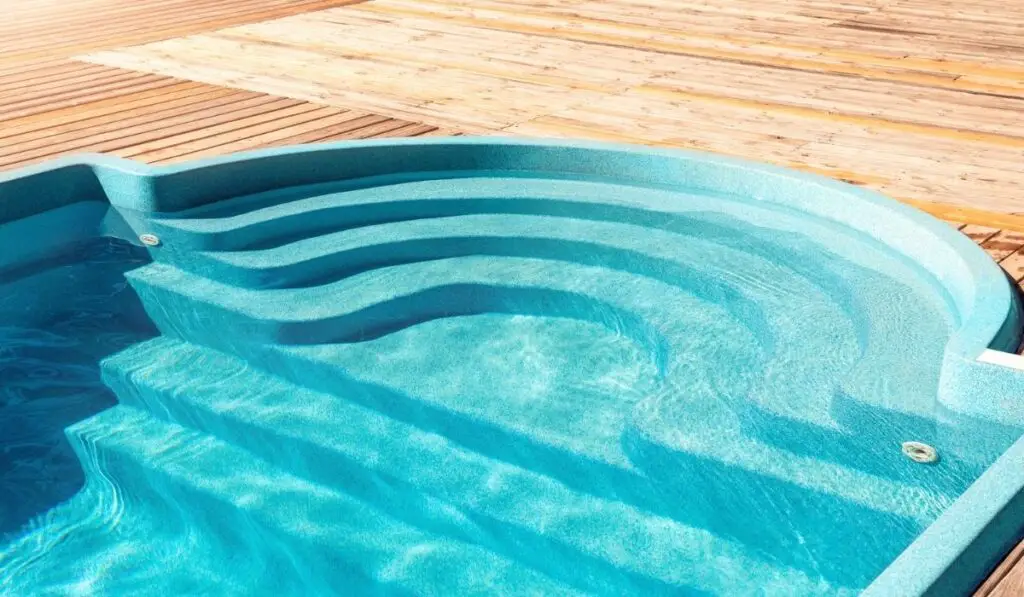 Fiberglass pools are a popular alternative to vinyl liners and concrete thanks to a number of unique features. A fiberglass pool is manufactured using a reinforced fiberglass shell covered in protective gel coats. The exterior is produced off-site and is installed in one piece.
The gel coat that covers the fiberglass shell usually has a blue color and is very rugged. It's also available in other colors, including yellow, red, and green. A black or dark blue gel coat can be ordered to complement the landscape. Darker colors also absorb and hold heat.
According to many manufacturers, fiberglass pools are easy to maintain. They also offer a comfortable pool experience with easy installation and a hygienic structure.
Fiberglass pools are quite durable. Their surface is difficult to damage, and they rarely crack. Ground vibrations don't affect them.
Can You Install a Fiberglass Pool Above Ground?
When installing a pool in your house, it's important to consider all the available options so that you can make a choice that will suit you best. Fiberglass pools have the major advantage of being flexible in their design and installation; they can be customized to fit your needs.
This makes a fiberglass pool a common solution for those worried about the high cost of installing an inground pool, as well as those whose properties may not allow for inground options.
Fiberglass pools can be installed in different ways, including inground, partially above-ground, and fully above-ground.
Inground fiberglass pools are certainly the most popular choice. However, that option isn't always practical when you consider the nature and layout of your backyard. In such situations, having a fully above-ground fiberglass pool is often the better way to go.
Benefits of Installing an Above-Ground Fiberglass Pool
Installing an above ground fiberglass glass pool has a number of important benefits. Let's consider a few of them:
More Convenient to Install
When you opt for an above-ground fiberglass pool, you won't have to wait for the excavation of the land in your backyard, as you do with inground pools.
You'll not only save money from the expenses related to construction, but you'll also avoid waiting around for the installation to be completed.
Above-ground fiberglass pool installation is so convenient that you'll get to enjoy jumping into your brand new pool much faster than expected.
Cheaper Costs
For many people, the cost of installing a pool is a major determining factor in the type of pool to go for, and above-ground certainly wins out in terms of costs.
With an above-ground pool, you won't need to worry about the excavation costs and equipment required for building an inground pool.
More Durable
Above-ground fiberglass pools are made with high-quality fiberglass shells that offer higher tactile strength and greater durability. The shells of the above-ground fiberglass pools are constructed to give them a slight flex and accommodate earth movements to prevent any cracking of the materials used.
Above-ground fiberglass pools last longer and have great structural integrity.
Room for Customization
Recall that fiberglass pools are produced off-site and installed in one-piece. Luckily, this doesn't in any way restrict the client's ability to customize the aesthetics to suit their styles and preferences.
There are several things you can do to increase the aesthetic value of your fiberglass pool. You can opt for different finishing options and several landscaping features that can elevate the aesthetics of your above-ground fiberglass pool.
Your above-ground fiberglass pool should complement your sense of style and taste. As such, you should select features that will contribute to the overall look you're going for.
Above-Ground Fiberglass Pools Prices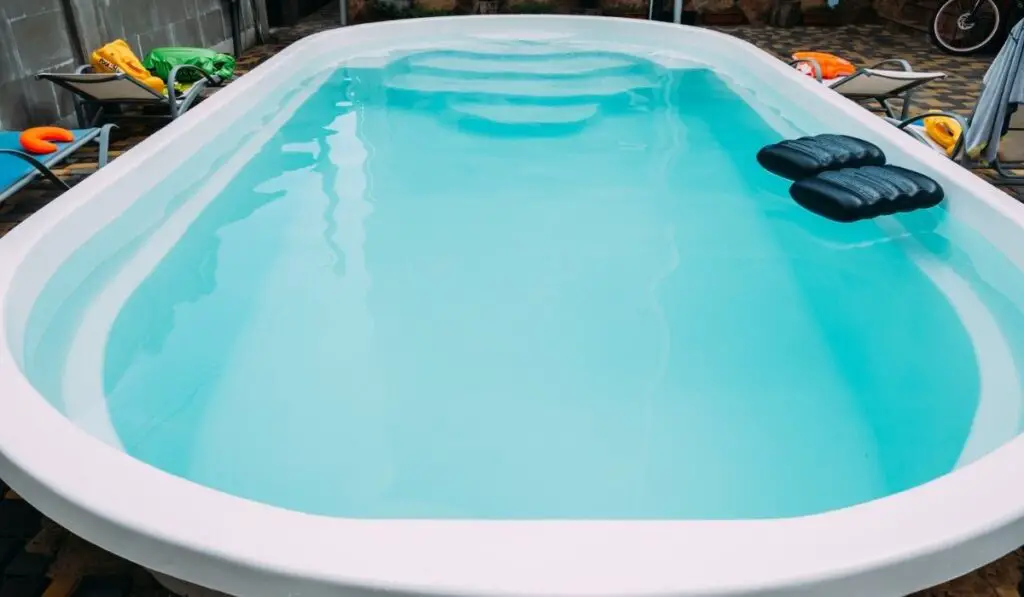 Getting a swimming pool can be compared to purchasing a vehicle or even a home. Different options are available with very different price ranges, and there many factors to consider.
There are two pricing components to take into account when you're about to purchase an above-ground pool: the kit and the cost of installation.
The average price of a fiberglass pool, including its patio and accessories, costs between $65,000 and $85,000. You can also expect spend a few thousand dollars within ten years on pool maintenance.
The cost of installation is also a key factor in determining the total price of above-ground fiberglass pools. Many swimming pool companies only sell above-ground pool kits and won't do the actual pool installation. Above-ground pools typically cost about $2,000 to $5,000 to install, depending on the size and type of pool you want.
It's important to note that installing oval pools usually costs more than installing round pools. Even the purchase of oval kits usually costs more.
There are also rectangular above-ground pools available for sale on the market. These rectangular pools typically have a wrap-around deck necessary for their structural support, and hence they cost about $15,000 more.