There may be a few grounds behind wanting to bury your above-ground pool. It could be because the pool is high off the ground, and you fear neighbors might see you, or you want the pool to fit into the landscape of your yard, or other personal reasons. So, to kill two birds with one stone, many would prefer getting an above-ground pool and burying it. But is that possible?
You can bury an above-ground pool and it's cheaper than installing a traditional in-ground pool. But it isn't recommended because above-ground pools aren't designed to stay in the ground. However, partially burying an above-ground pool, or hiding it with decking, is a better alternative.
While you can smoothly get yourself the traditional in-ground pool, the budget-friendliness of the above-ground pool can be hard to ignore. So let's look at all these in full detail!
Can You Bury Your Above Ground Pool?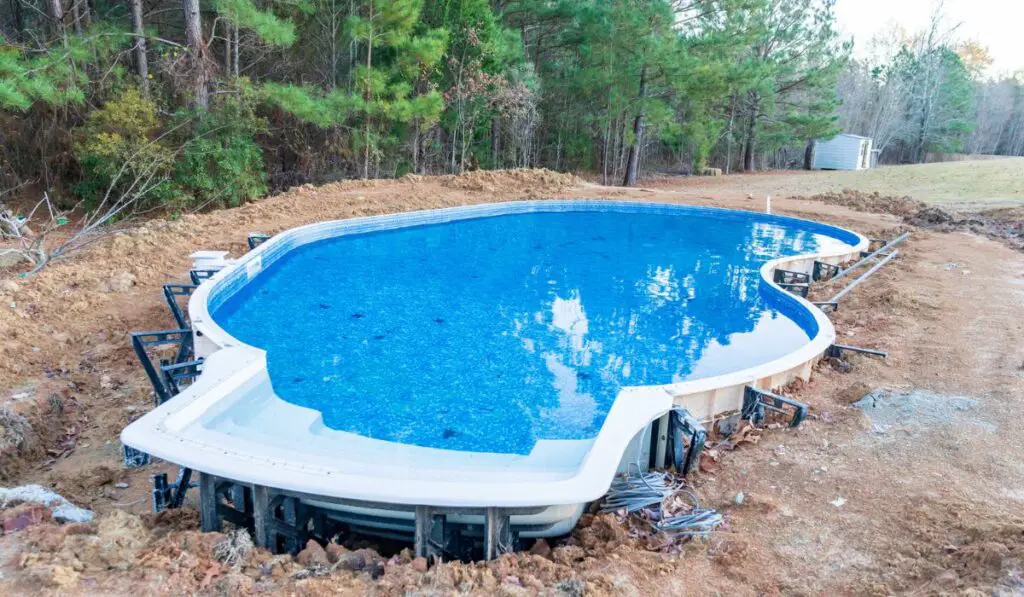 You may bury your above-ground pool, but there are many reasons why you shouldn't.
It is not entirely safe as it was not designed for in-ground installation, even though it may look much more durable.
Above-ground pool pumps must be placed below the watermark as they cannot draw water above the surface compared to in-ground pools.
Unlike in-ground pools that provide shallow and deep ends, you may not enjoy as much flexibility with depth in a buried above-ground pool.
Nevertheless, you can still bury your above-ground pool to save money, and you could get the versatile ones that can be fully installed above ground, in the ground, or partially underground.
What Will Happen if You Bury Your Above Ground Pool?
As convinced as you are about taking the step to bury your above-ground pool, you should also be familiar with what will happen if you do so.
Firstly, the pressure of the earth surrounding the above-ground pool in the soil could crash the pool walls, especially if it is empty.
Secondly, you may void your pool warranty as most pool manufacturers include cancellation terms if the pool is wrongly used. This implies that if you use an above-ground pool as an inground one and a collapse occurs, you will solely bear the repair costs.
Lastly, your above-ground pool can get badly spoilt while installing it in the ground, as the natural earth components could adversely affect the synthetic materials used to create the pool.
What is the Cost?
For an in-ground pool, you need about $3,000 for an 18-foot pool and $7,000 to $8,000 for the larger sizes, including installation.
But, of course, burying an above-ground pool will not require you to spend as much cash compared to the tens of thousands of bucks you will pay for an in-ground pool.
However, while in-ground pools have some to-die-for perks, fortunately for above-ground pool owners, they are now easily attainable as long as the proper procedures involved in burying the said pool are followed.
Alternatives to Burying an Above Ground Pool
The first and foremost alternative to burying an above-ground pool is investing in an in-ground pool, even though it could cost more. Speaking of which, burying an above-ground pool, including its risks and the effort involved, may also equal the resources put into purchasing a traditional in-ground pool.
The second option is to partially bury the above-ground pool in the ground, which is almost similar to the complete ground installation. However, partial burial minimizes excavation costs and reduces the danger of the pool crashing inwards if it requires draining.
In addition, the pool's platform is easily accessible for cleaning, and the enclosed surface will not be too far off the ground.
How to Put an Above Ground Pool Partially in the Ground
A few straightforward steps are involved in partially putting an above-ground pool in the ground, ranging from excavation, sharp backfilling, and creating a safety strategy.
Excavation
You will need to dig a hole larger than the above-ground pool to be installed into the ground but not too deep to leave some parts of the pool out of the ground.
This is so because above-ground pools are built on-site, meaning the pool will be set up inside the dug hole, and the extra space will enable work to be efficiently done on the exterior pool sides.
Generally, the hole should be larger by 1½ to 2 feet to allow more space for all the pool parts.
Sharp Backfilling
While excavating, you must keep some of the dug earth close to backfill around the pool upon completion. However, since most above-ground pools are not created to endure outside pressure, you should never backfill the pool if it is empty of water. Backfilling an empty pool increases the risk of the pool frame collapsing internally.
Creating a Safety Strategy
Given that the edges of above-ground pools are high off the ground and beyond kids' reach, there is an inbuilt safety measure for the pool, including a security ladder.
But in the case of inground pools you are transforming to, you will need to fence the pool entirely, adding a secure gate with child-safe locks. Depending on size, fencing typically costs $1,000 to $5,000, while a gate costs $300.
A bonus tip for placing your above-ground pool partially in the ground is to check the manufacturer's warranty as it may be canceled out if the pool is installed below rating, as you read above.