Inflatable hot tubs are much cheaper than their hard shell counterparts, but there are few things to consider before you invest in one. One important factor to think about is the depth. While a hard shell hot tub is pretty standard with its depth, inflatable hot tubs vary more significantly depending on the brand and size. 
The average inflatable hot tub depth is 22-24 inches, with the largest models being Intex's PureSpa line and Bestway's St. Moritz SaluSpa, at 28 inches. Hard shell hot tubs, meanwhile, are typically around 31 inches deep. Keep in mind that more depth can mean less floor space.
Let's take a closer look at how deep inflatable hot tubs tend to be and how to determine which size is right for your needs.
How Deep Is the Average Inflatable Hot Tub?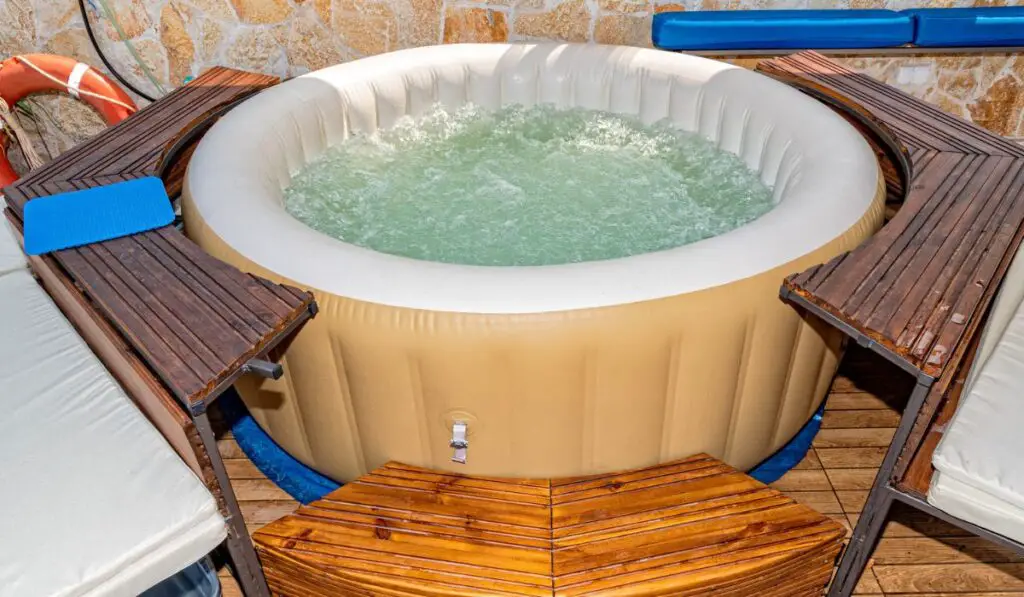 Most inflatable hot tubs have a shallower depth than that of other kinds of hot tubs. On average, you can expect to have a maximum water depth of 22-24 inches in your inflatable hot tub, while a hard shell hot tub is typically about 31 inches deep. 
This might not seem too significant, but it can make a big difference if you get into the hot tub and realize that your shoulders are sitting among the surface.
What's the Largest Inflatable Hot Tub?
The largest inflatable hot tub on the market today measures about 85 inches in diameter and 28 inches tall, which can usually fit between 5 to 7 people.
There are two manufacturers that make inflatable hot tubs this size: Intex and Bestway.
Intex PureSpa
The Intex PureSpa (on Amazon) is the most basic model in their line. It offers a complete soaking experience and has all the features you could want, including 140 bubble jets, a heater, locking cover, chlorine dispenser and two filters. 
The Intex PureSpa also comes with an insulated ground cloth that helps keep the base of your hot tub clean and protects from heat loss and sharp objects that may have gone unnoticed when you set up the hot tub. 
Intex PureSpa Plus
The Intex PureSpa Plus (on Amazon) is an upgrade from the basic model and comes with 170 bubble jets, two headrests and an LED light. However, the headrests are hard to keep in place, making them a hindrance rather than a desired feature. 
The Intex PureSpa Plus is the same size as the basic model, however it does come in a cobalt blue instead of the regular tan color. 
Intex PureSpa Greywood Deluxe
The Greywood Deluxe (on Amazon) hot tub from Intex is the newest model in the PureSpa line and comes in a wood grain pattern. It has a significant price increase but offers a lot of the same features as the PureSpa Plus. 
There are a few subtle differences between the Deluxe and the Plus such as a modernized pump that runs quieter than the pump in the previous model, and it comes with a detectable control panel for ease of use.
The Deluxe also comes with new premium foam headrests that are supposed to improve with the flawed design of the Plus headrests. 
Bestway St. Moritz SaluSpa
The St. Moritz SaluSpa (on Amazon) has the largest diameter of its line, with 6 feet of interior space. It offers an AirJet system with 180 bubble jets and runs similar to the Intex model hot tubs. 
Bestway's inflatable hot tub doesn't come with LED lights or headrests, like its Intex counterparts, but it does offer two filter cartridges for water treatment and the pump can be used for inflating, heating, and filtering.
Are Deeper Hot Tubs More Expensive?
While inflatable hot tubs are generally much cheaper than their hard shell counterparts, the larger ones can top the costs of smaller hard shell tubs. Larger hot tubs are generally considered premium due to their size, regardless of the type. 
However, there are also the maintenance costs associated with the larger end of hot tubs. The water volume, quantity of chemicals, and space needed for them all add up in maintenance costs that might be more expensive than a small 3-4 person hard shell hot tub.
How to Determine What Size You Need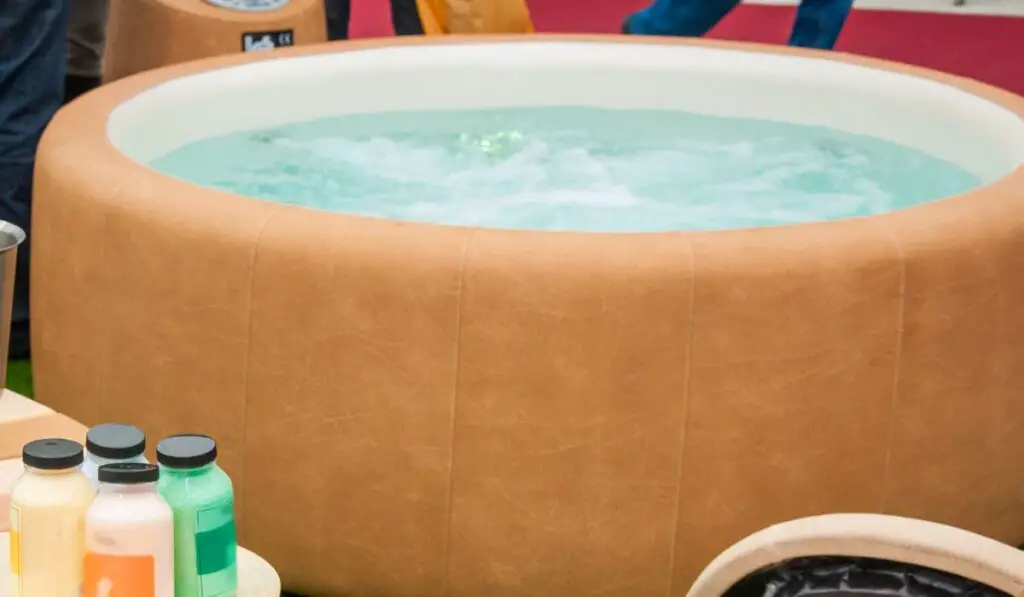 Determining the size of hot tub you need can be tough if you only rely on the advertised capacity. When a hot tub is labeled as a 7 seater, for example, that accounts for 7 adults sitting side by side with little leg room. However, you probably don't actually want to sit like that in your tub.
It's also important to keep in mind that deeper hot tubs sometimes have less actual floor space. This is because bathers won't have to stretch out as much in order to get their shoulders under the water.
If you want to be comfortable and have some space to stretch out, then you can look at a 7 seater as a 4 seater. A quick guide to how to measure actual space is as follows:
A 2 person seater is 71-75 inches across.

A 3-4 person seater is 75-77 inches across.

A 4+ person seater is 77-85 inches across. 
Keep in mind that these dimensions are for the typical round inflatable hot tubs, and alternate shapes will offer different dimensions and seating options.